Demand for appointing sarpanches as persons-in-charge for Gram Panchayats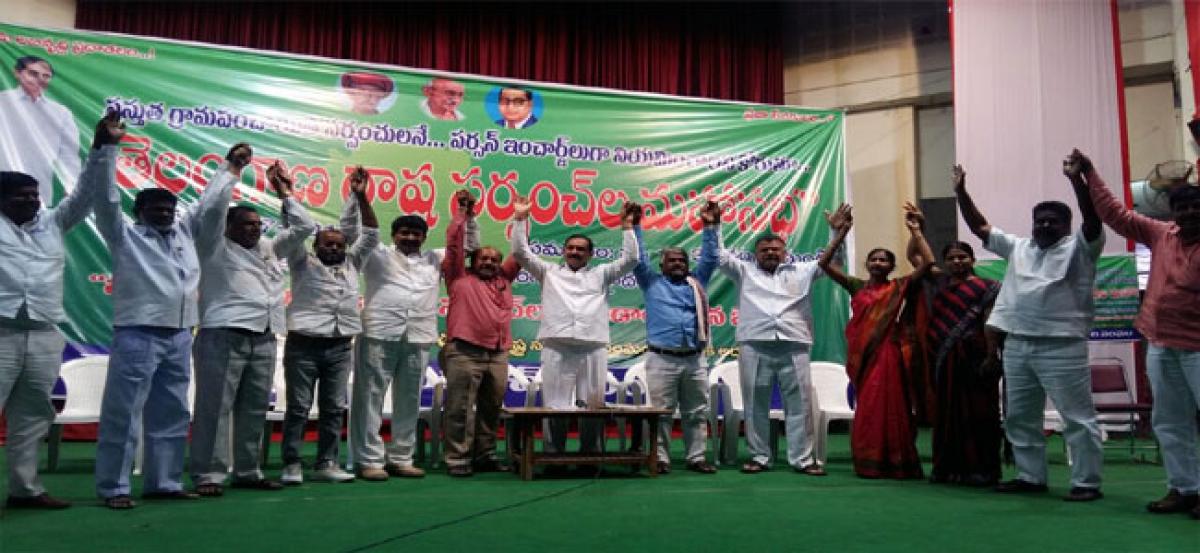 Highlights
The Telangana State Sarpanches Association organised a mahasabha at Sundarayya Vignana Kendram on Friday demanding sarpanches be appointed as personsincharge of gram panchayats, when their term ends by the monthend
Musheerabad: The Telangana State Sarpanches' Association organised a 'mahasabha' at Sundarayya Vignana Kendram on Friday demanding sarpanches be appointed as persons-in-charge of gram panchayats, when their term ends by the month-end.
Addressing the gathering, founder-president of the association Bhumayya Yadav pointed out that there would be serious problems in villages with the administration getting paralysed if the government appointed special officers for the gram panchayats. He recalled that the terms of sarpanches were extended for two years by the government in 1981 and by one year in 1987, while claiming that the government would not lose anything if the term of sarpanches was extended.
Yadav held out a threat that if required all TRS sarpanches were ready to resign en masse. Among those who attended the mahasabha were general secretary Ch Venkat Goud, vice-president B Varalakshmi, secretary Sudhakar Yadav Bhumayya Yadav appealed to the government to extend the term of sarpanches respecting their sentiments. He said depending on the Cabinet's decision on sarpanches on Friday there would be a felicitation meeting if they were appointed as persons-in-charge of gram panchayats. Otherwise. the association with 86,404 sarpanches would announce the future course of action.