Political heat rises in LB Nagar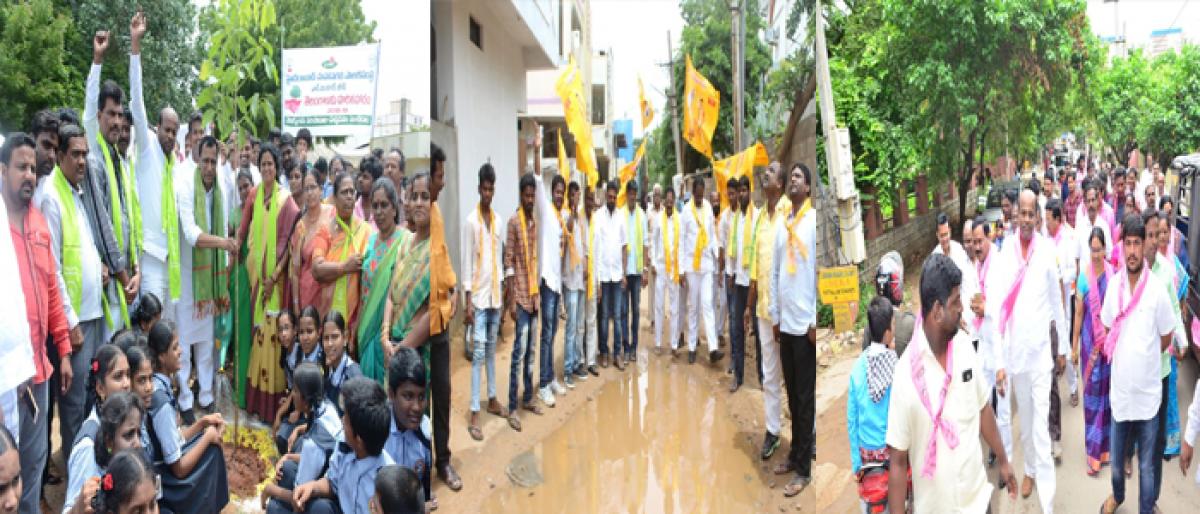 Highlights
Will Telugu Desam Party TDP retain LB Nagar Assembly constituency in the forthcoming elections Will the development works taken by the State government yield any fruitful results to TRS Party Congress Party which claims that it gave Telangana State, able to retain the lost constituency Will the BJPs door to door campaign show any effect on voters
​LB Nagar: Will Telugu Desam Party (TDP) retain LB Nagar Assembly constituency in the forthcoming elections? Will the development works taken by the State government yield any fruitful results to TRS Party? Congress Party which claims that it gave Telangana State, able to retain the lost constituency? Will the BJP's door to door campaign show any effect on voters?
Here is a bird view of the political scenario in the constituency. The TRS party failed to win the constituency in the last elections. The party candidate Muddagouni Rammohan Goud was restricted to second place. At present he is working as party constituency in charge. But the party won all the 11 municipal divisions in the constituency in GHMC elections.
According to sources, under the guidance of Rammohan Goud, ruling party corporators take up various development works and succeeded in winning the hearts of local people. One day or the other, every week they are participating in various government programmes in their respective divisions. They are inviting MP Malla Reddy as Chief Guest. By doing so, they are able to get funds from both MP LADS and GHMC. Based on their own performance, the ruling party leaders are confident of winning the constituency in the forthcoming elections.
But the situation in TDP is different as the party sitting MLA R Krishnaiah is maintaining a distance from the party activities for a long period. According to the party sources, sensing trouble in forthcoming elections, the TDP leadership made senior leader Sama Ranga Reddy to lead the party in the constituency. He is regularly touring various divisions and raising ruling party's failure in implementation of various government schemes.
Former MLA, Congress leader Devineni Sudheer Reddy seems to be busy in conducting get together type meetings with local people. According to party sources, the meetings are gradually getting good response from party cadre and local people. He is utilising them to expose government's failure in various fronts. Sudheer also toured the constituency to project himself as the only person available to the commoner round the clock.
The BJP, without any fan fare and much propaganda, the local leaders are busy with door to door campaign on development and welfare programmes taken by Narenda Modi government at Centre. According to the party sources, they succeeded in creating awareness on how the State government is making schemes introduced by Central government as its own. The BJP leaders are also showing statistics of funds allocated to various schemes which has been implementing in the Country including Telangana.