Fantasy fiction 'The Nucle Saga II' released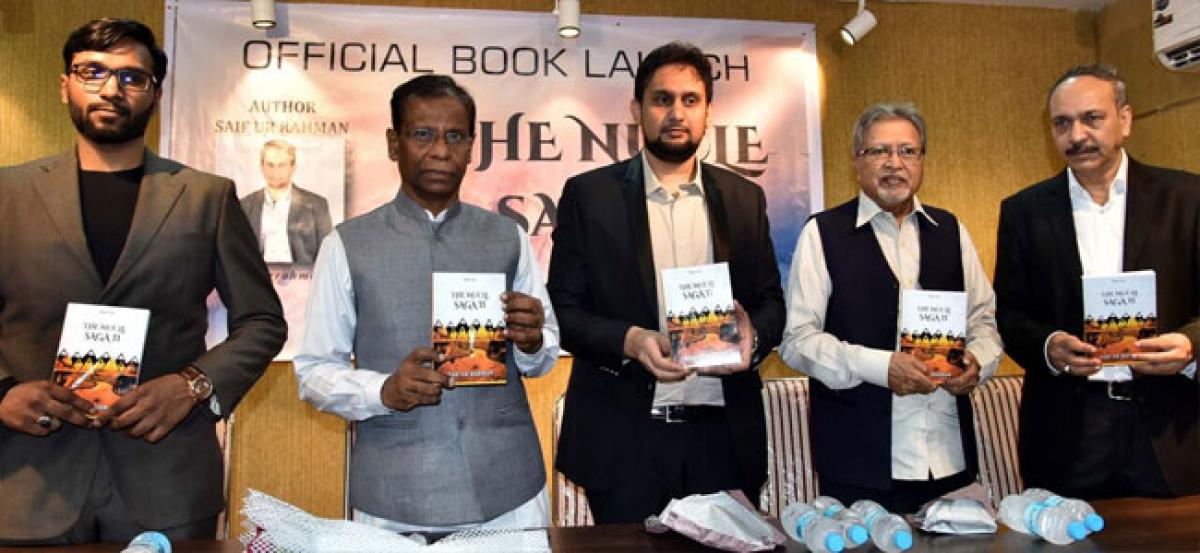 Highlights
A sequel to the fantasy fiction novel The Nucle Saga written by Saudibased Indian author SaifurRahman was released by Advisor to Minority Affairs TS, AK Khan on Thursday
Hyderabad: A sequel to the fantasy fiction novel 'The Nucle Saga' written by Saudi-based Indian author Saif-ur-Rahman was released by Advisor to Minority Affairs (TS), AK Khan on Thursday. At an event organised at the Media Plus auditorium which was attended by Chief Editor, Siasat Daily, Zahid Ali Khan and other noted personalities the book was released.
While unveiling the novel, Khan appreciated the efforts of 27-year-old author Saif and termed it a 'wonderful piece of work'. He who had already read the first book said that Saif's works presents a remarkable maturity and imagination at such a young age. He lauded the author's creative sketch of characters, ceaseless flow of thoughts through each chapter and the concise dialogues of the book's characters. "The imagination and maturity of thoughts the author has shown in the book is excellent", he said. He also appreciated the agenda of 'good and evil' portrayed by the author in this fiction sequel.
While explaining about his work the author said that the book presents the battle of good and evil and deals with a very universal theme pertaining to the 'dissolutions of war'. "Wars may seem thrilling and enticing at first but are in reality 'an invitation to suffering, destruction and death", he added.
The 253-pages book is priced at Rs 250, book pivots around a small kingdom's quest to fight the evil kingdom overpowering the main lands. The author, in the sequel to the maiden edition, sheds light in grey areas wrangling the good against the evil while discreetly discoursing the blackballed aftermaths of war. The book is available as an eBook in 13 and as paperback in 8 countries, and on sale through ecommerce platforms like Amazon.
The author was born in 1990, Saif was brought up in Riyadh, Saudi Arabia. He studied from International Indian Public School, Riyadh. He then graduated from Muffakham Jah College of Engineering Technology, Hyderabad. He first published his fantasy- fiction novel: The Nucle Saga I in 2012, followed by his second book in 2018. The Hyderabadi writer is passionate about the series and hopes to complete it soon.
He plans to experiment his writing in other genres eventually. He is working on the final chapter of the series, the Nucle Saga III. He works as a Project Manager in a company called Comerint KSA (the company specializes in technical assistance to Oil & Gas industry).
Interested in blogging for thehansindia.com? We will be happy to have you on board as a blogger.