Mayor Bonthu Rammohan assures to resolve civic issues in Mallapur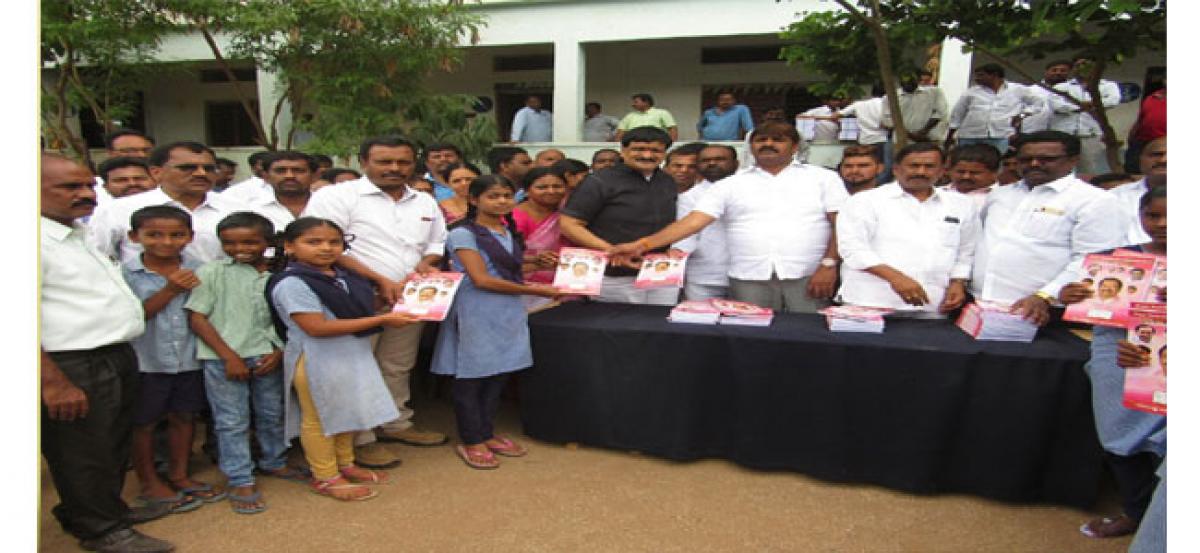 Highlights
Greater Hyderabad Municipal Corporation GHMC Mayor Bonthu Rammohan distributed note books to students at government school on the occasion of TRS Party Uppal constituency incharge Bethi Subhash Reddys birthday here on Thursday
ADVERTISEMENT
Mallapur: Greater Hyderabad Municipal Corporation (GHMC) Mayor Bonthu Rammohan distributed note books to students at government school on the occasion of TRS Party Uppal constituency in-charge Bethi Subhash Reddy's birthday here on Thursday.
Speaking on the occasion, Mayor said that he was happy to participate in the celebrations of Subhash Reddy's birthday and wished him a successful life in future. He advised him to work hard for upliftment poor in the constituency. He said he was delighted to distribute stationery to government students. He assured to build a stage in the school with own expenses. Later, Mayor interacted with the residents of the Uppal and asked the civic problems which they are facing in the area. He assured residents to resolve all civic issues as soon as possible. Corporator Pannala Devender Reddy, Bethi Subhash Reddy, AS Rao Nagar corporator Pavani Manipal Reddy, teachers took part.
Earlier, Pannala Devender Reddy took part in mother milk festival at Durga Nagar. He explained the importance of it. On behalf of Janatha KJR Charitable Trust, Devender Reddy distributed tiffin boxes, plates. CDPO Bhavani, division in-charge Parvathi, school headmaster Sneha Rao took part. Anganwadi worker Jyothi, who spoke to Prime Minister Narendra Modi, was facilitated at Anganwadi centre. Ch Andalu, Durga Madhavi Yadav, teachers were present.