Corporators gear up for completion of works before Bakrid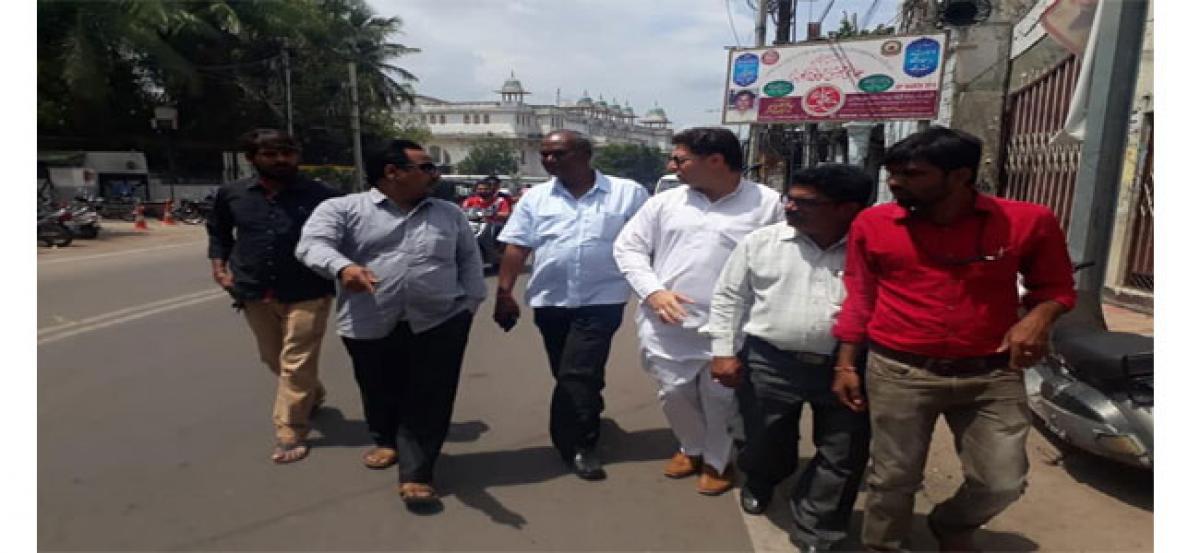 Highlights
In view of the upcoming Bakrid EidulAzha and the month of Moharram, the corporators in Old City have geared up to ensure that all the civic works were completed at the earliest so that the devout do not feel inconvenient
Yakutpura : In view of the upcoming Bakrid (Eid-ul-Azha) and the month of Moharram, the corporators in Old City have geared up to ensure that all the civic works were completed at the earliest so that the devout do not feel inconvenient.
In the last two days, the area corporators of Noorkhan Bazar and Santosh Nagar were seen taking active part in ensuring the works were completed within the stipulated time. On the instructions of Charminar MLA Ahmed Pasha Quadri for the developments in Dabeerpura division, Mirza Riyaz ul Hassan Effendi, Dabeerpura area corporator made 'paidal daura' (padayatra) in the area and inspected Purani Haveli and surrounding areas.
He was accompanied by Nara Hari, Executive Engineer and other GHMC officials. The exercise was for development of area in view of upcoming Bakrid and holy month of Moharram. During the visit, he also zeroed in on a space which could be used as bus bay in the area. He informed that after discussions with the Traffic officials, the space would be finalised. The corporator also inspected the roads and the space for footpath and also enquired with the people about their problems and assured to resolve the same.
Earlier, on Wednesday night, Santosh Nagar corporator Md Muzaffar Hussain inspected the ongoing CC road works in Qalander Nagar, Nehru Nagar and Ramchandra Nagar. Speaking to The Hans India, he informed that the works of drainage pipeline and the pending works of CC roads also were taken up and completed. The works were done with a total sanctioned amount of Rs 13 lakhs, he said.
Hussain also informed that the works of CC road were being taken up till late night to ensure that the works were completed as planned. He along with Syed Tahseen Hashmi, Assistant Engineer (AE) oversaw the works of CC roads in Moulana Azad Nagar where a two-lane road was completed. The amount sanctioned for these works was Rs 8 lakh.
In Old Malakpet, Md Saifuddin Shafi representing the local corporator inspected the ongoing works of CC roads at Masjid-e-Saad and Noor Masjid area, Bara Gali area and also drain works in Afzal Nagar main road and Afzal Nagar community hall in Old Malakpet division on Thursday. He was accompanied by GHMC Assistant Engineer, work inspector and other MIM leaders.
BY M M Farooqui
Subscribed Failed...
Subscribed Successfully...