Iraqi Traveller Battling US Ban Learns To 'Never Surrender'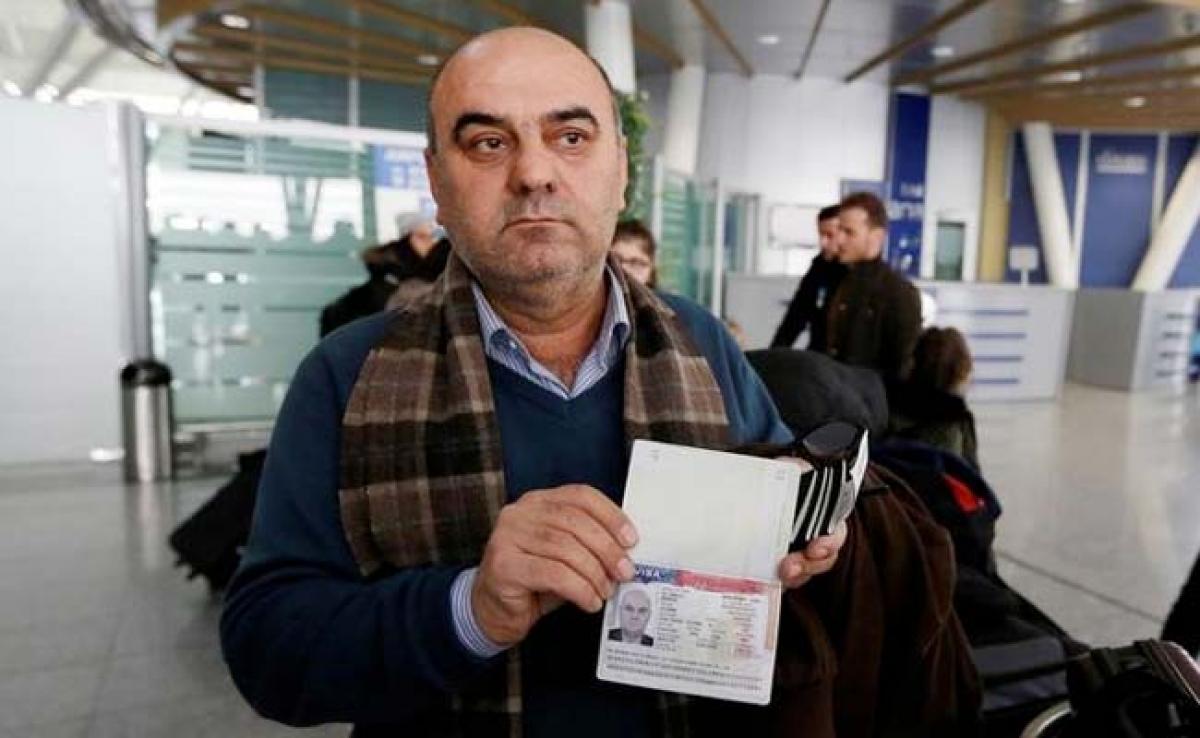 Highlights
Fuad Sharef took one of the first planes out of Iraq with a connection to the United States this past weekend, just hours after a judge in Seattle blocked US President Donald Trump\'s ban on immigrants from seven mainly Muslim countries.
Fuad Sharef took one of the first planes out of Iraq with a connection to the United States this past weekend, just hours after a judge in Seattle blocked US President Donald Trump's ban on immigrants from seven mainly Muslim countries.
Sharef, who worked for a USAID subcontractor in Iraq, was prevented with his wife and three kids from boarding a US-bound flight last week via Cairo after Trump signed a 90-day travel ban on citizens of Iraq, Iran, Libya, Somalia, Sudan, Syria and Yemen.
The US president also imposed a 120-day ban on all refugees.
Sharef said he came out of the tumultuous week with a lesson he wanted his kids to learn as well.
"Yeah, my life changed dramatically. You know, ups and downs, and I learned a lesson that if you have a right, never surrender," he said before he and his family departed Erbil, the capital of the Kurdish region in northern Iraq, on a Turkish Airlines flight with a connection to New York via Istanbul.
Once in the United States, the family will head to Nashville, Tennessee, where the local Tennessee Immigrant and Refugee Rights Coalition [TIRRC] is planning to welcome them at the airport.
"Join us at the Nashville International Airport (BNA) to welcome Fuad Sharef Suleman and his family to their new home in Nashville," the TIRRC said on its Facebook event page.
"Nashvillians fought to bring them home - and now we can show them the very best of Southern hospitality!," it said.
Nael Zaino, a Syrian refugee who worked for the International Organization for Migration (IOM) in Turkey, also received help from Americans.
He was reunited with family in Boston on Saturday after getting a waiver from the State Department, thanks to intervention by US lawmakers who were contacted by Zaino's relatives.
Zaino's arrival was relatively smooth, though he was pulled out of the arrival line, put through "secondary screening" and asked a long series of questions before a US agent stamped his passport and gave him a friendly send-off.
"He said, 'Go on, start your life, and enjoy your time with your son,'" Zaino said. "I didn't believe it until I came out of the airport. At that moment I realized I'm not in a dream."
Zaino had received a visa to join his wife and US-born infant son in Los Angeles on Jan. 27, but was blocked from travelling after Trump signed his executive order the same day, according to his sister-in-law.
"We've been lobbying a lot of senators in the last few days," said Katty al-Hayek, a PhD student in Massachusetts with her own pending asylum claim, who met him at the airport.
"It's been a long, stressful story but senators ... were able to get him a waiver from the State Department."
VALID FOR TRAVEL
Trump said his executive order, which also barred Syrian refugees indefinitely, was needed to protect the United States from Islamist militants. Religious minorities persecuted by the ISIS, and other Iraqis fleeing violence, were among those affected.
The United Nations said the ban would have prevented a total of 20,000 people in "precarious circumstances" in the seven countries targeted from resettling in the United States during the period covered by the suspension.
A ruling by a federal judge in Seattle, Washington, on Friday was the first move in what could be months of legal challenges. It also opened a window of opportunity for some would-be travellers.
"We were booked to travel next week but decided to bring it forward after we heard," said a Yemeni woman, recently married to a US citizen, who boarded a plane from Cairo to Turkey on Sunday to connect with a US-bound flight.
"This is the first time I try to travel to America," she said, declining to be named for fear it could complicate her entry to the United States.
In a statement dated Saturday but published on its website on Sunday, the US embassy in Baghdad said visa processing had resumed and appointments would be scheduled for applicants. Visas revoked by the Trump order "are now valid for travel to the United States," it added.
TWO-YEAR WAIT
Sharef and his family spent two years obtaining US visas.
"Yeah, we are very excited. We are very happy," Sharef told Reuters TV before he and his family boarded their flight to New York. "Finally, we have been cleared. We are allowed to enter the United States."
Sharef said he applied to immigrate to the United States under the Special Immigration Visa program, designed for those who worked for U.S. military and civilian state bodies in Iraq. US Representative Jim Cooper of Tennessee helped clear the hurdles to allow the family to try again, Sharef said.
Baghdad protested against the US ban, calling it unfair and saying no Iraqi had been involved in attacks on US soil.
But it refrained from retaliating as it seeks to maintain US support for Iraqi forces battling Islamic State in Mosul.
Late on Saturday, a San Francisco-based US appeals court denied the US government's request for an immediate administrative stay on the Seattle judge's decision. Iraqi government spokesman Saad al-Hadithi said: "It is a move in the right direction to solve the problems that it caused."
The US State Department and Department of HomelandSecurity said many visitors were expected to start arriving on Sunday, while the government said it expects to begin admitting refugees again on Monday.
Rana Shamasha, 32, an Iraqi refugee in Lebanon, was due to travel to the United States with her two sisters and mother on Feb. 1 to join relatives in Detroit until their trip was cancelled as a result of the travel ban.
She is now waiting to hear from UN officials overseeing their case.
"If they tell me there is a plane tomorrow morning, I will go. If they tell me there is one in an hour, I will go," she told Reuters by telephone in Beirut, saying their bags were still packed.
"I no longer have a house here, work, or anything."
On Sunday, a spokesman for the International Organization for Migration, Leonard Doyle, confirmed that about 2,000 refugees are ready to travel to the United States.
"We expect a small number of refugees to arrive in the US on Monday Feb 6th. They are mainly from Jordan and include people fleeing war and persecution in Syria," he said in an email.
An official at the airport in Beirut said three Syrian families had left for the United States via Europe on Sunday morning. In Cairo, airline sources said that since Saturday, 33 people from the seven countries affected by the US ban had been allowed to board US-bound flights.