Donald Trump says he wants two-state solution for Middle East conflict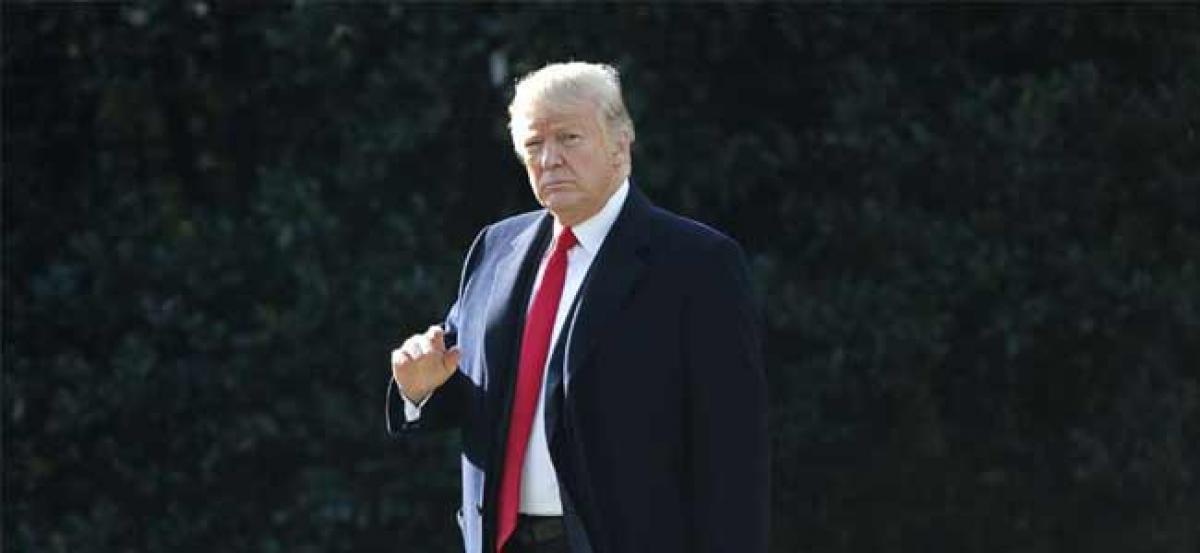 Highlights
US President Donald Trump said on Wednesday he wanted a twostate solution to resolve the IsraeliPalestinian conflict, the clearest expression yet of his administrations support for such an outcome
US President Donald Trump said on Wednesday he wanted a two-state solution to resolve the Israeli-Palestinian conflict, the clearest expression yet of his administration's support for such an outcome.
The Trump administration has said in the past it would support a two-state solution if both sides agreed to it.
Trump also said in a meeting with Israeli Prime Minister Benjamin Netanyahu at the United Nations General Assembly he wanted to unveil a peace plan in the next two to three months.
"I like a two-state solution. That's what I think works best ... That's my feeling," Trump said.
Netanyahu has said any future Palestinian state must be demilitarized and must recognize Israel as the state of the Jewish people - conditions that Palestinians say show he is not sincere about peacemaking.
The United States' Arab allies are strong proponents of a two-state solution.Trump said at a news conference in New York later on Wednesday he would be open to a one-state solution if that was the preference of the parties themselves, a position he had previously stated.
"If the Israelis and the Palestinians want one state, that's OK with me. If they want two states, that's OK with me," he said. "I'm happy if they're happy."
Doubts have mounted over whether Trump's administration can secure what he has called the "ultimate deal" since December, when the US president recognized Jerusalem as Israel's capital and then moved the US Embassy there.
Trump said "it is a dream of mine" to secure an agreement before the end of his term in office in early 2021.
"I don't want to do it in my second term. We'll do other things in my second term," he said. "I think a lot of progress has been made."
'NOT ENOUGH'
Netanyahu said after meeting Trump he was "not surprised" at the US president's preference for a two-state solution for peace with the Palestinians, Israeli media reports said.
Jerusalem is one of the major issues in the Israeli-Palestinian conflict. Both sides claim it as their capital. Trump's move outraged the Palestinians, who have since boycotted Washington's peace efforts, led by Trump's son-in-law and adviser, Jared Kushner.
The Palestinians want to establish a state in the West Bank and the Gaza Strip and East Jerusalem. Israel captured those territories in the 1967 Middle East war and annexed East Jerusalem in a move not recognized internationally. It regards all of the city as its eternal and indivisible capital.
Palestinian foreign minister Riyad al-Maliki said Trump's broad commitment to a two-state solution was not enough.
"He has to spell it clearly... the two states (based on 67 borders), that East Jerusalem is an occupied territory. These (issues) are very important for us in order us to really move forward," Maliki said in New York after meeting representatives of dozens of countries on the sidelines of the annual gathering of world leaders.
US officials did not attend that meeting.
Asked if he would engage with the United States when it released its peace plan, Maliki said: "Not at all."
"As long as he is sticking to his decisions about Jerusalem, about settlements and about moving the embassy, there is no way," he said.
Trump, asked what Israel might have to give up in return for the embassy's move to Jerusalem, replied: "I took probably the biggest chip off the table. And so obviously we have to make a fair deal, we have to do something. Deals have to be good for both parties ... Israel got the first chip and it's a big one."