Haritha Haram leaves tribals landless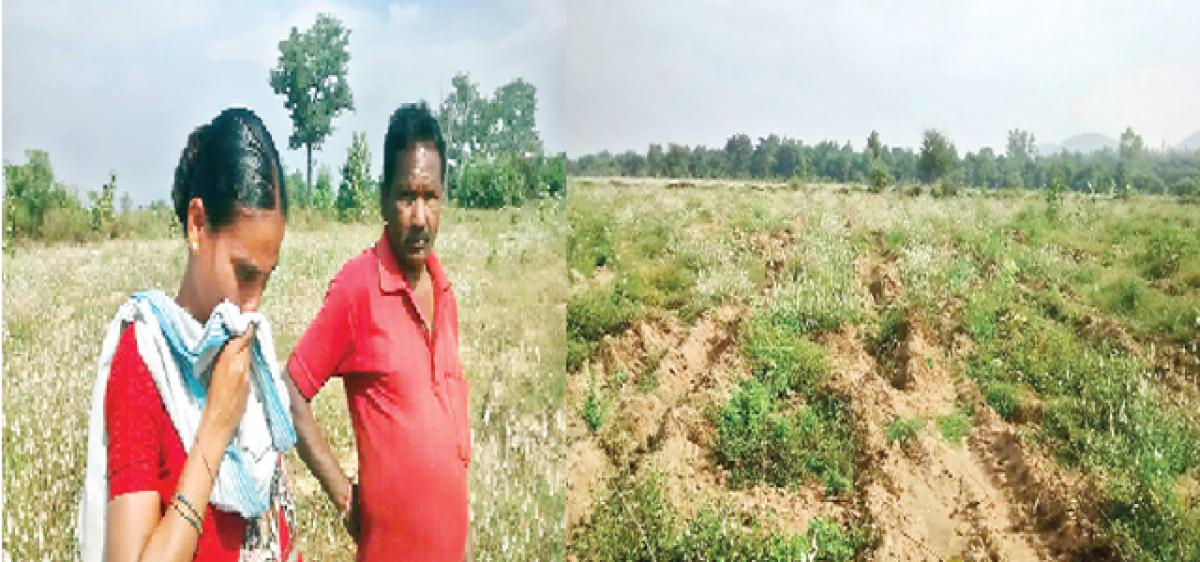 Highlights
Although the officials during the previous Congress government had promised to issue pattas for the 'podu' lands, they failed. Earlier, the TRS administration conducted a survey of the podu lands, but is yet to give pattas. Meanwhile, the podu lands have been taken over by the officials for the Haritha Haram programme, virtually pushing girijans onto streets, depriving of their means of livelihood
Kothagudem: Girijans in Rompedu Gram Panchayat of Yellandu in Bhadradri-Kothagudem district are being deprived of their means of livelihood after the Haritha Haram scheme has been introduced there. The poor tribals have been cultivating 'podu' lands for several years now.
Although the officials during the previous Congress government had promised to issue pattas for the 'podu' lands, they failed. Earlier, the TRS administration conducted a survey of the podu lands, but is yet to give pattas. Meanwhile, the podu lands have been taken over by the officials for the Haritha Haram programme, virtually pushing girijans onto streets, depriving of their means of livelihood.
With no land, they are unable to raise any crops and pay back loans. In the absence of any other means of earning, the tribals told The Hans India that suicide was the only alternative left for them.
They pointed out that after Telangana came into existence, they had high hopes of turning a new leaf in their lives. But now their lives have become a burden. They have appealed to the administration to at least hand over pattas for the survey already conducted.
The girijans further alleged that their crops in these lands, which were cultivated by their ancestors, were being forcibly damaged in the name Haritha Haram by the Forest department staff.
"The officials have shattered our dreams by damaging the crops," said the affected tribals. "With mounting debts, even a family of three is not able to eke out a living," one tribal lamented. "As it has become difficult to survive in such circumstances, either the Forest officials or the administration should conduct the survey of lands again and hand over pattas," the tribal said.
Meanwhile, a Forest department official told The Hans India HI that the girijan lands have been identified only after a Google survey and that their forest rights have not been violated. The department would not touch the lands prior to those surveyed in the year 2005 and also those surveyed earlier.
B Mahender