KCR rips apart Opposition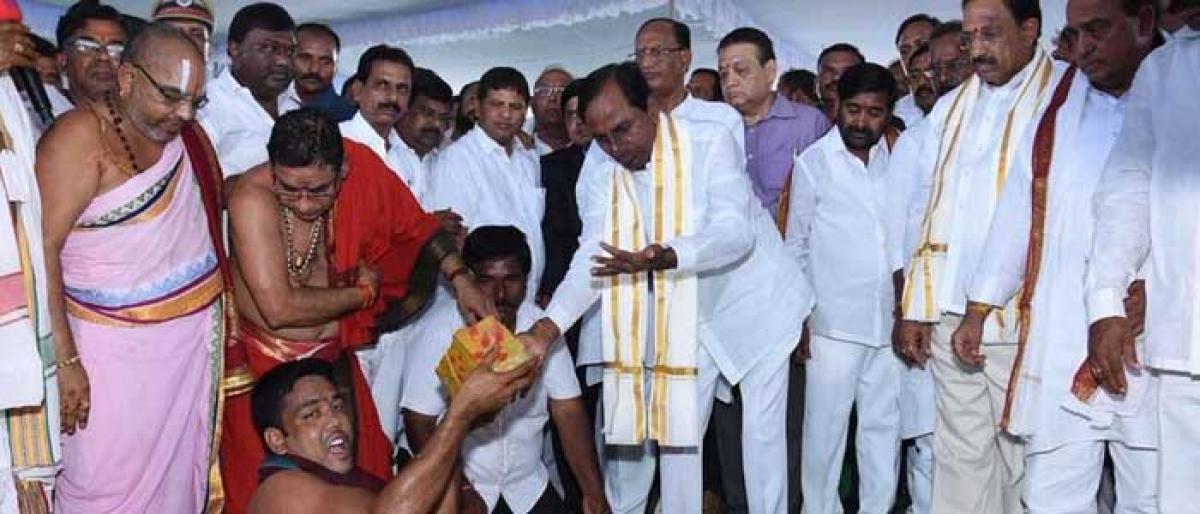 Highlights
Chief Minister K Chandrashekar Rao on Thursday vowed for the development of all regions of the State. Speaking at a public meeting on the premises of Government Junior College in Suryapet, the Chief Minister stated 10 lakh acres in Nalgonda district would have received irrigation waters had Nagarjunasagar project, which should have been named Nandikonda project, was constructed 19 km above the pre
Suryapet: Chief Minister K Chandrashekar Rao on Thursday vowed for the development of all regions of the State. Speaking at a public meeting on the premises of Government Junior College in Suryapet, the Chief Minister stated 10 lakh acres in Nalgonda district would have received irrigation waters had Nagarjunasagar project, which should have been named Nandikonda project, was constructed 19 km above the present location.
He wondered how Burugula Ramakrishna Rao could accept the dam construction at the present site at the cost of interests of Telangana people.
In the united Andhra Pradesh, successive governments bore the power charges of lift irrigation schemes on right canal of NSP, but it was collected from the farmers under left canal. When the TRS fought against it, the then government has announced to pay the electricity charges of lift irrigation schemes on left canal of NSP also, he added.
The CM informed that plans were prepared to see that Musi projects get sufficient water level throughout the district. A project would be taken up to fill Musi project with Godavari water through canals of Baswapuram and Gandamalla project. "By digging 30-km-long canal in Kethepally and Nalgonda mandals, we can release water from Musi Project to Udayasamudram Balancing Reservoir," he said.
He further added that a canal would be built to release water to Peddadevullapally Balancing Reservoir from Udayasamudram. With this, the farmers would get the facility to take up two crops in NSP ayacut. In addition to that, modernisation of Musi Project would be taken up with Rs 65 crore and would be completed in six months.
Coming down heavily on the TPCC president Uttam Kumar Reddy for raising objections to the relief and rehabilitation of oustees of irrigation projects, he questioned why Uttam had maintained silence on the compensation extended to Pulichinthala oustees.
The Chief Minister has also announced that Rs 75 crore would be sanctioned for development of Suryapet town and GOs would be released on Friday in this regard.
"I am ready to extend Rs 1,000 crore for the development of erstwhile Nalgonda district, if required," KCR said. The Chief Minister earlier laid foundation stone for Collectorate complex and police headquarters near Kudakauda village. He has also inaugurated 192 double bedroom houses at Gollaguda, treatment plant of Mission Bhagiratha at Chandupatla village and a 400-KV sub-station at Vatti Khmamphad in the district.
Showering sops on the people of people of erstwhile Nalgonda district, the Chief Minister has announced that Suryapet and Nalgonda districts would get one medical college each. As AIMS was already established at Bibinagar, there was no need for another medical college for Yadadri-Bhongir district, he felt.
He also announced that Rs 15 lakh would be sanctioned to each Gram Panchayat and Rs 10 lakh to each tribal thanda in the district.
Roads and Buildings Minister Tummala Nageswara Rao, Endowments Minister Indrakaran Reddy, Energy Minister G Jagadish Reddy, MPs Boora Narsaiah Goud and Gutha Sukender Reddy, MLA Vemula Veeresham K Prabjakar Reddy, Gadari Kishore, Ravinder Kumar Naik, Pylla Shaker and others attended the programmes organised on the day.