Don't neglect irrigation projects! Harish warns contractors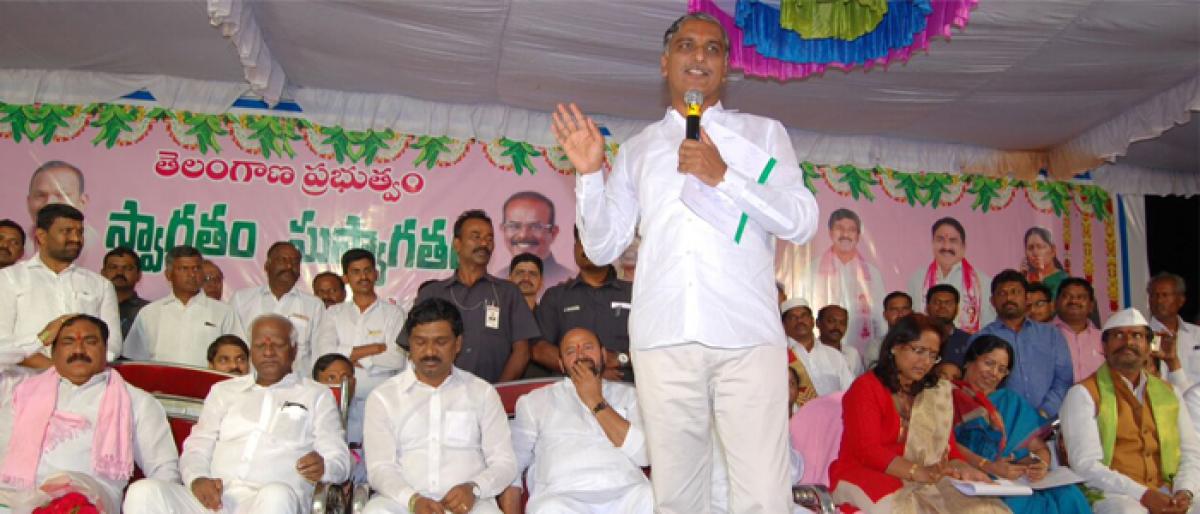 Highlights
Serious action would be taken against the contractors if they were found neglecting the construction of irrigation projects, warned Irrigation Minister T Harish Rao. While asking the contractors to execute the works in a time-bound manner, the Minister cautioned them against any sort of laxity on their part. If needed the government would replace the erring contracting agencies with other agencies
Jangaon: Serious action would be taken against the contractors if they were found neglecting the construction of irrigation projects, warned Irrigation Minister T Harish Rao. While asking the contractors to execute the works in a time-bound manner, the Minister cautioned them against any sort of laxity on their part. If needed the government would replace the erring contracting agencies with other agencies to ensure speedy completion of the projects.
Harish Rao along with Deputy Chief Minister K Srihari, ZP chairperson G Padma, ruling party legislators and officials, has inaugurated Nawabpet reservoir in Lingala Ghanpur mandal of Jangaon district and released water at a programme on Friday. The reservoir was designed to irrigate 66,946 acres in Lingala Ghanpur mandal and neighbouring four mandals with waters from river Godavari as part of Devadula lift irrigation project.
Addressing a public gathering, the Minister asserted that the State government was according utmost priority to early completion of all pending irrigation projects in Telangana. By next crop season reservoirs at Palakurthy, Chennur and Uppagal would be completed, he said. So far 5,000 acres was acquired for Devadula lift irrigation project and spent Rs 2,000 crores, he said while accusing Congress party leaders of creating hurdles in the execution of irrigation projects by going to Green Tribunal.
Harish Rao appealed the farmers and villagers to extend their cooperation in acquiring land needed for irrigation projects in the State. He also told the public to teach a lesson to Congress leaders, who were trying to thwart construction of Kaleshwaram project.
Congress leadership, which failed to develop Telangana during its past ten years' rule, was unable to digest the progress that the TRS government is achieving. If all the pending projects were completed, Warangal district would become a hub of agriculture activity, he hoped.
Deputy CM Srihari thanked the Chief Minister K Chandrashekar Rao for ensuring irrigation facility to drought prone Jangaon district. After Lingampalli-Malkapur reservoir was completed, Jangaon would become a fertile district, he felt.
Hitting at Congress, he said the Jalayagnam programme launched by Congress regime was marred by commissions and percentages earned by that party leaders from contractors. Congress leaders amassed wealth while projects remained unfinished, he alleged.
Srihari also asked the public to support the CM's efforts to irrigate one crores acres in the state. Festive atmosphere prevailed at Nawabpet with thousands of men and women arriving to attend the public meeting by performing kolatam and dance. MLAs A Ramesh, E Dayakar Rao, T Rajaiah, G Sunitha, M Yadagiri Reddy, MLC B Venkateshwaralu, district collector A Devasena were present.