SVIHE holds workshop on organic farming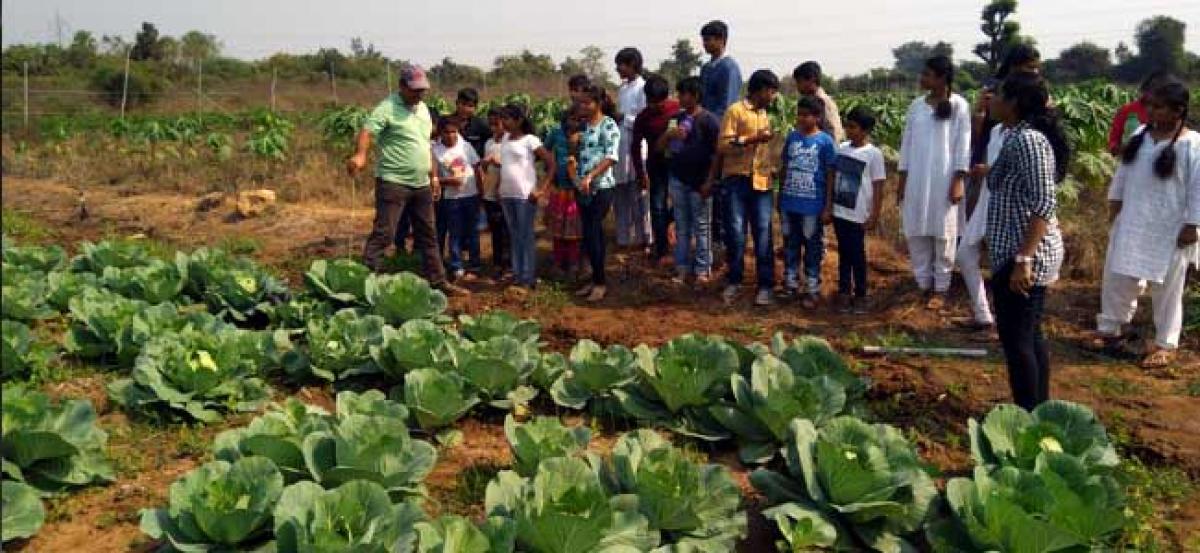 Highlights
Swami Vivekananda Institute of Human Excellence takes students from various educational institutions for the field trip to educate them on the advantages of pesticide-free farming
Swami Vivekananda Institute of Human Excellence takes students from various educational institutions for the field trip to educate them on the advantages of pesticide-free farming
Khammam: Swami Vivekananda Institute of Human Excellence has organised workshop on organic farming for students drawn from various educational institutions.
The workshop was held here on Sunday as part of series of programmes being conducted by the Institute for the past 25 weeks for students. The programmes are known as "personality Development Classes." The organisers took the students for the field trip to Koyachalaka village here in the district on Sunday.
The teachers, who accompanied the students, explained to them about the benefits of organic farming. The organic farming is friendlier to the environment, besides yielding higher returns to farmers.
The students evinced keen interest on various types of crops, such as tomato, brinjal, cucumber, cabbage, carrot, methi, papaya, etc., which are grown using organic manures, and enquired the farmers about various the methods like drip irrigation they adopted.
The students were also told that organically-grown products contain more nutrients like calcium, iron, magnesium and zinc. The organic farming would reduce soil erosion, prevent pollution of water sources, besides with protecting bio-diversity, the students were told.
The representatives of Swami Vivekananda Institute of Human Excellence Keshava Patel and Ragini organised the workshop.