Youth told to imbibe fighting spirit of Netaji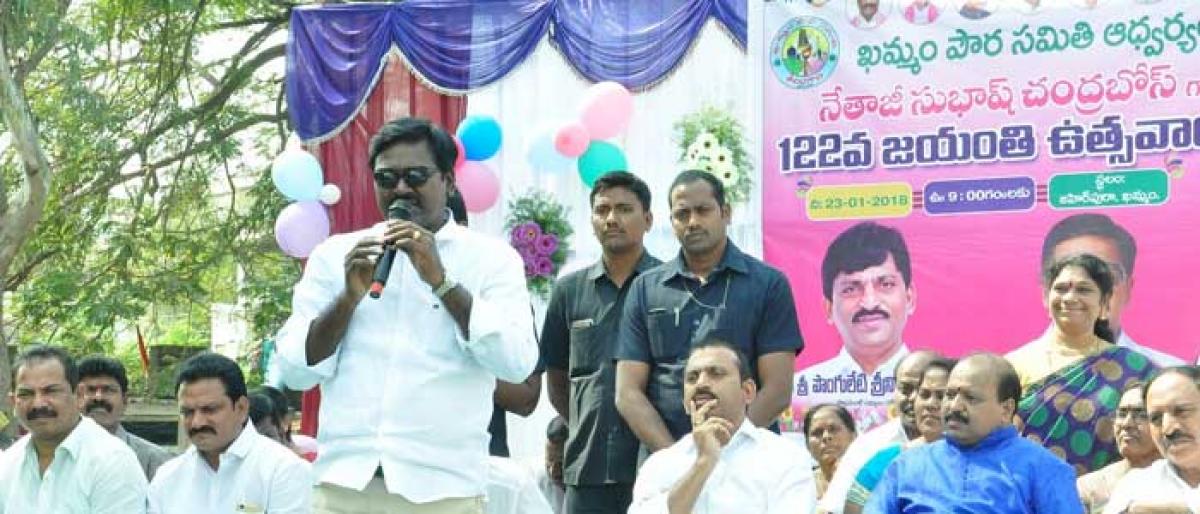 Highlights
Recalling the contributions of Netaji Subhash Chandra Bose to the country, the Khammam Paura Samiti on Tuesday celebrated the freedom fighter's 121st birth anniversary on a grand note here in Khammam. Taking part as chief guest to a special programme organised
Khammam: Recalling the contributions of Netaji Subhash Chandra Bose to the country, the Khammam Paura Samiti on Tuesday celebrated the freedom fighter's 121st birth anniversary on a grand note here in Khammam. Taking part as chief guest to a special programme organised on the occasion at the Bose statue centre in the city, local MP Ponguleti Srinivas Reddy recalled the contributions of Netaji towards India's struggle for freedom.
Speaking on the occasion, the MP said instead of opting for a good job after achieving 4th rank in IAS examination, Netaji took the responsibility of fighting for India's freedom by establishing Indian National Army and laid firm foundations for the modern Indian State.
"When Gandhi and Nehru were motivating people in their own ways, Netaji opted a different path to achieve independence. By taking Netaji as inspiration, Chief Minister K Chandrashekar Rao achieved separate Statehood for Telangana," he said.
Khammam legislator Puvvada Ajay Kumar stated that Netaji was one of the dynamic leaders of the country who frightened the British with his unique way of freedom struggle. The youth of present generation must take Netaji as inspiration to achieve mighty goals in their lives, he added.
Founder president of Khammam Paura Samiti Dr Pulipati Prasad said to inspire youth of present generation and to inculcate the fighting spirit among them like that of Netaji, the organisation was celebrating Netaji's birth anniversary on a grand note. The cultural activities performed by the children of various educational institutions on the occasion enthralled many.
City Mayor Dr Papa Lal, District Library Corporation Chairman Qamar, former Chairman of Agricultural Market Committee RJC Krishna, Deputy Mayor B Murali Prasad, K Suresh Kumar, Corporators Rama Devi, advocate Niranjan, A Radhika, G Venkateshwarlu and V V Subba Rao were present along with others.