Welfare schemes highlighted at Independence Day celebrations: Minister G Jagadish Reddy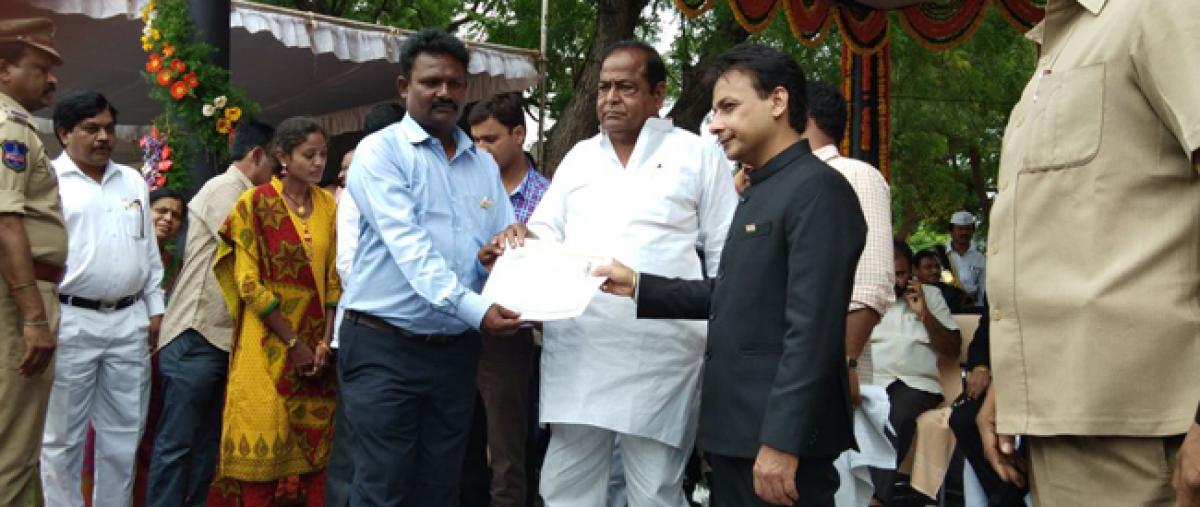 Highlights
Patriotic fervour marked the 72nd Independence Day celebrations across Nalgonda, Suryapet and Yadadri Bhongir districts on Wednesday
Nalgonda/ Suryapet/ Yadadri- Bhongir: Patriotic fervour marked the 72nd Independence Day celebrations across Nalgonda, Suryapet and Yadadri- Bhongir districts on Wednesday.
Legislative Council Deputy Chairman Nethi Vidyasagar hoisted the national flag at police parade grounds in Nalgonda. Energy Minister G Jagadish Reddy, Government Whip Gongidi Sunitha unfurled the national flag at the headquarters of Suryapet and Yadadri- Bhongir districts respectively.
After receiving the police honour, addressing the gatherings, the leaders listed out the development works completed and welfare schemes undertaken for the welfare of the people.
For the last four years Telangana State has been witnessing rapid progress in all aspects and attracting the attention of all the States in the nation.
The leaders said the development was due to the vision of Chief Minister K Chandrashekar Rao.
The leaders besides throwing light on government flagship programmes Kanti Velugu, financial aid of Rs 8,000 per acre per year under Rythu Bandhu scheme and Rythu Beema, Mission Bagirtaha and Mission Kakatiya.
They explained to people about the ongoing irrigation projects and welfare schemes including 24 hours power supply to agriculture sector, Shadhi Mubarak, Kalyana Laxmi, Sheep distribution to Yadav Community , Fish Seedlings, Asara pensions, 2 BHK houses and 3 acres land distribution to Dalits etc.
Employees of various government departments were given appreciation certificates in reorganization of their services. Scores of children representing different schools presented the cultural programs depicting freedom movement and both nation and state.
Assets were distributed to the beneficiaries by the departments under different schemes. Tableaux of various departments illustrated the ongoing development and welfare activities to the public.
District Collectors Gaurav Uppal, K Surendra Mohan, Anitha Ramachandran, police chiefs AV Ranganath, Prakash Jadav, Ramachandra Reddy , ZP chairman Balu naik ,MPs Bhoora Narsaiah goud, Badugula Lingaiah Yadav, Gutha Sukender Reddy MLAs vemula Veeresham, Kusukunatla Prabhakar Reddy, Gadhari Kishore, Shekar Reddy and other public representatives and officials participated.