Sacked leader sets own car on fire near Dhinakaran's house, two injured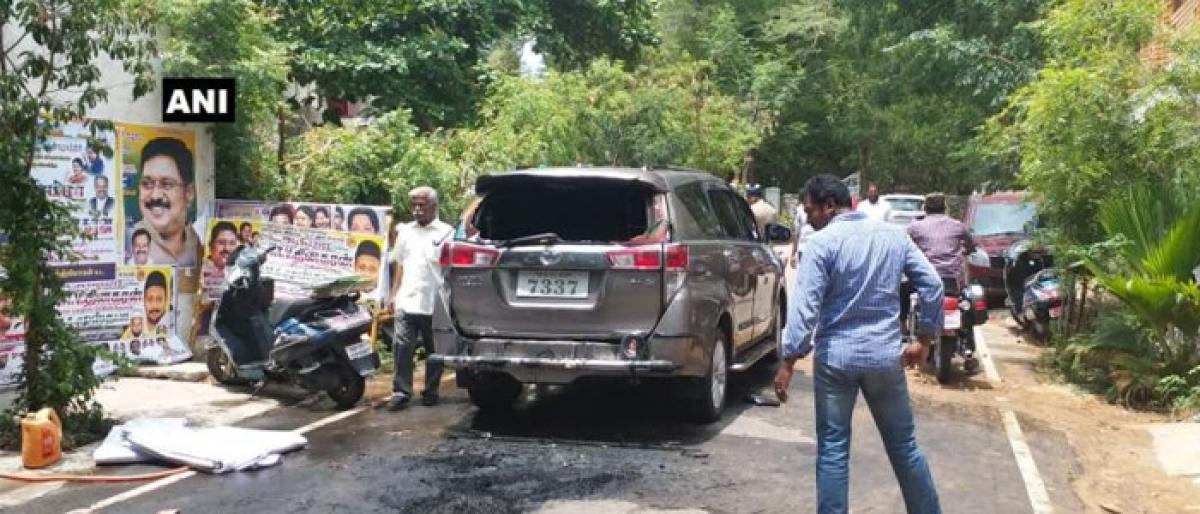 Highlights
A car in which a recently sacked AMMK functionary travelled caught fire outside the residence of party leader T T V Dhinakaran here today with his supporters claiming it to be a botched petrol bomb attack
Chennai: A car in which a recently sacked AMMK functionary travelled caught fire outside the residence of party leader T T V Dhinakaran here today with his supporters claiming it to be a botched "petrol bomb attack."
While police said it was suspected that expelled functionary 'Bullet' Parimalam himself set the car on fire on reaching Dhinakaran's house, the supporters of the AMMK leader alleged he intended to hurl a petrol bomb which went off accidentally.
A senior police official said Parimalam came to the RK Nagar MLA's house apparently to protest the action against him.
After reaching the place, he was suspected to have suddenly set his own car on fire using petrol, before fleeing the spot, the official said.
His driver had been detained and was being interrogated, the official said.
Two supporters of Dhinakaran sustained minor injuries and sent to a hospital for treatment, police said adding the car was damaged partially.
Supporters of Dhinakaran who were present at the spot claimed that Parimalam had come with an intention to "hurl petrol bomb" at Dhinakaran's house and it exploded accidentally in the car itself.