Harish Rao lashes on Congress for obstructing Kaleshwaram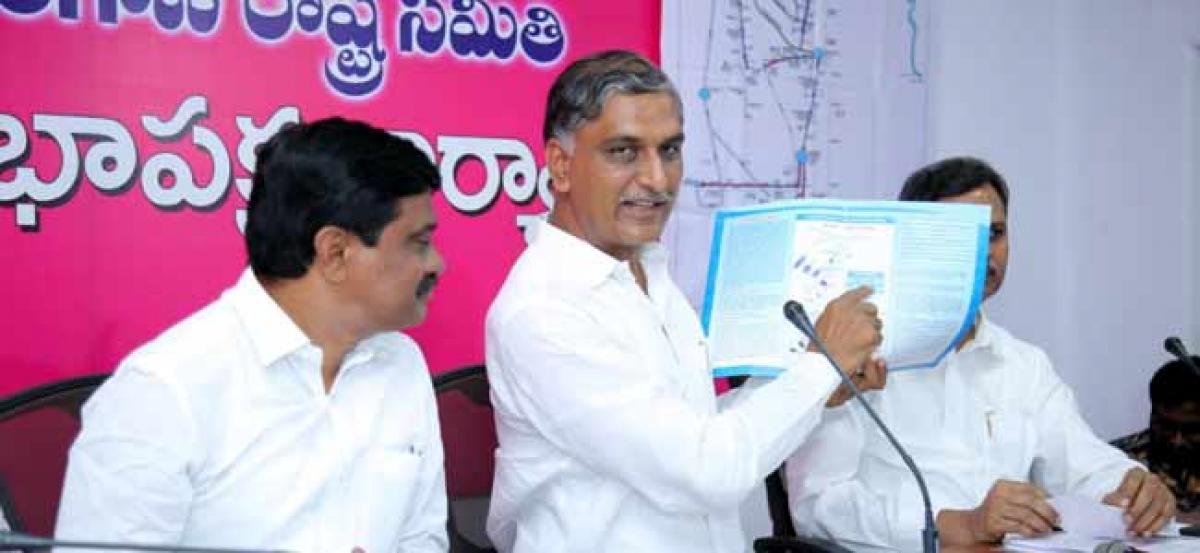 Highlights
Irrigation Minister T Harish Rao on Tuesday lashed onto the Congress party for the raising doubts on the Kaleshwaram Irrigation Project and said that the main opposition party does not want the project to get completed
Hyderabad: Irrigation Minister T Harish Rao on Tuesday lashed onto the Congress party for the raising doubts on the Kaleshwaram Irrigation Project and said that the main opposition party does not want the project to get completed.
Addressing a press conference here at the TRSLP office here, Harish Rao said that the Congress party was adopting the same approach on Kaleshwaram, which they had on Telangana. They are acting against the interests of the people of Telangana. "One can can understand if Andhra Pradesh Chief Minister N Chandrababu Naidu raises objection on the Kaleshwaram project but we dont understand why the Congress is working against the people of Telangana. It is clear that the Congress party do not want water going to the fields of the farmers," said Harish Rao.
Rao said that the Congress party is afraid that they will be wiped off if the Kaleshwaram project gets completed and were trying to stop the works by filing cases in the courts. He said that government wants to utilise its share of 954 TMC of water from Godavari. He questioned whether the Congress party constructed single irrigation projects on Godavari River.
The irrigation minister said that the Congress leaders were behind TJS president Prof M Kodandaram. He said that logistics were being provided by the Congress leader Damodar Rajanarsimha for the project site visits of Prof Kodandaram. He showed the proof of the car number belonging to Rajanarsimha and air tickets booked by Ch Srinivas Reddy, who is son of Congress senior leader Ch Muthyam Reddy.