KCR meets PM Modi, seeks help for various development projects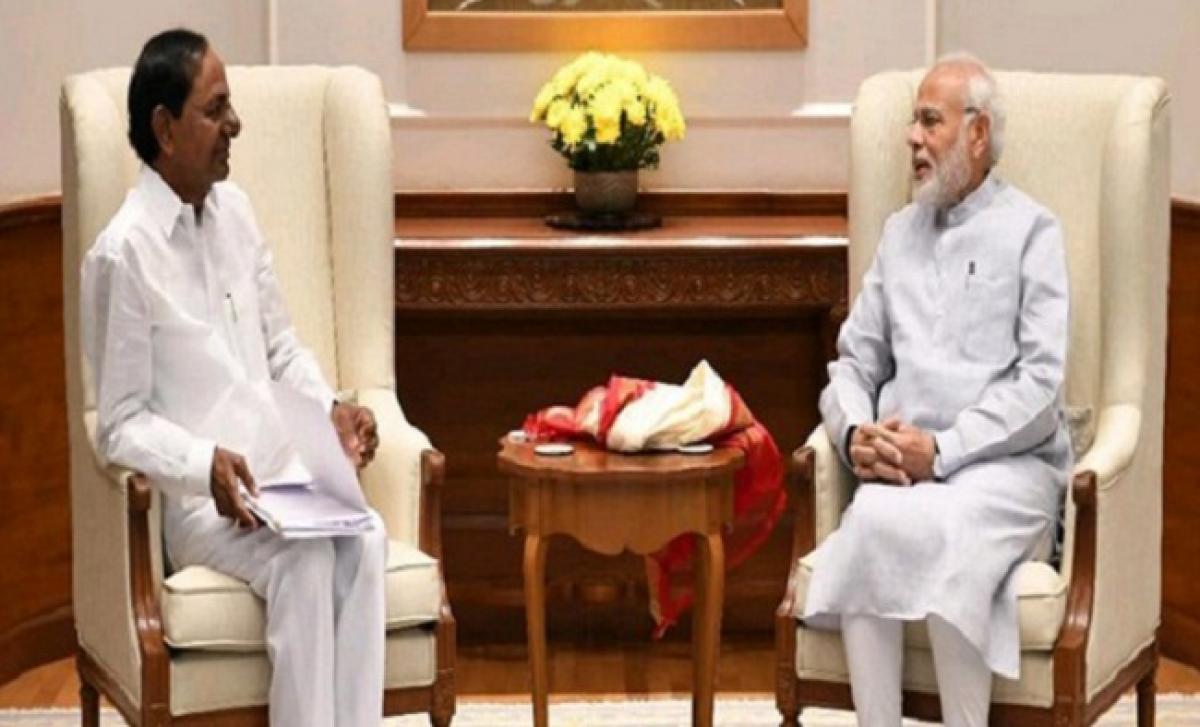 Highlights
Telangana Chief Minister K Chandrashekhar Rao on Saturday met Prime Minister Narendra Modi and discussed various issues including revaluation of the reservation percentage for backward communities in education and jobs
New Delhi: Telangana Chief Minister K Chandrashekhar Rao on Saturday met Prime Minister Narendra Modi and discussed various issues including revaluation of the reservation percentage for backward communities in education and jobs.
The Chief Minister also submitted a letter in this regard, requesting the Ministry of Home Affairs to relook at the percentage of reservation as the proportion of the backward communities has increased post bifurcation and expedite the process.
A bill titled 'Telangana Backward Classes, Scheduled Castes and Scheduled Tribes (Reservation of seats in Educational Institutions and of appointments or posts in the services under the State) Bill 2017' was passed by the state assembly in April 2017 to provide reservations in state-run educational organisations and state government jobs.
Rao also submitted a proposal which sought assistance for the development of backward areas of the state.
He also requested an early completion of several railway projects stating that the railway network in Telangana is below average.
The Chief Minister also made a few requests to the Ministry of Human Resource and Development (HRD) regarding the establishment of an Indian Institute of Management (IIM) and Indian Institute of Information Technology (IIIT) in the state.
He further requested the Central Government to sanction 21 Jawahar Navodaya Vidyalaya to cover all the districts of the state and, modification in the Information Technology Investment Region (ITIR) scheme, and implement it in the state. The ITIR scheme was recently dropped by the Centre.
The state government made another request to the Ministry of Home Affairs to amend the Presidential Order on Zonal system and issue a fresh Presidential Order adjusting zones, multi-zones, and State cadre etc., under section 371-D of the Constitution of India.
Rao also requested for a separate High Court for the state and transfer of defence lands to the state government for construction of a new Secretariat building for the state.
He also demanded a grant of Rs 20,000 crore for Kaleshwaram Project on Godavari river as it would provide drinking water and industrial water for irrigation to over 18 lakh acres land in 20 districts.