YS Jagan promises sweeping reforms in education Sector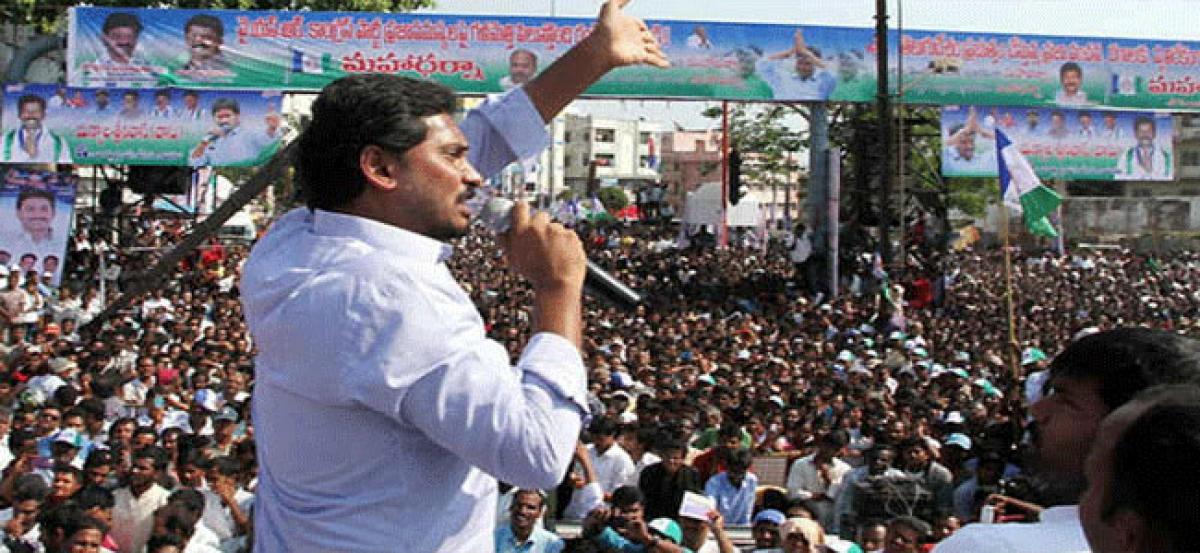 Highlights
Assuring sweeping reforms in education sector, YSR Congress President YS Jagan Mohan Reddy has said that government schools would be revived and its past glory would be brought back on one hand and stringent action would be taken against private schools that were charging exorbitant fees driving parents into debts
Kathipudi : Assuring sweeping reforms in education sector, YSR Congress President YS Jagan Mohan Reddy has said that government schools would be revived and its past glory would be brought back on one hand and stringent action would be taken against private schools that were charging exorbitant fees driving parents into debts.
Addressing a large public meeting here on Sunday as part of the Praja Sankalpa Yatra, the Leader of Opposition said, action would be taken against private schools that are fleecing parents by charging exorbitant amount as fees and are flouting all norms.
At the same time when out government comes to power, we will take maximum care to revive all government schools and bring back the past glory making them the most sought after institutions. English medium would be introduced and we take the quality of education to higher levels setting high standards in government schools.
The State Government has failed to announce the dates of DSC (District Selection Committee) exams for recruiting teachers as Chandrababu Naidu has been keen on promoting private education institutions belonging to his cabinet colleague. Aspirants are being taking coaching and getting ready for the DSC exams for long time and there has been no sight of the exams causing hardships to the aspirants and their family members who have been sending money for the coaching and stay.
This trend will be reversed and we will ensure that quality education is provided in government schools which will compete with private institutions and the high fees structure in private institutions would be regulated, he said.
There have been farmer suicides and many tenant farmers have been put to hardships. We will ensure that tenant farmers will also get all the benefits announced to farmers including loans. Chandrababu Naidu has gone back on many counts in fulfilling his poll promises and with elections round the corner, he will come and promise moon.
Use your discretion while voting, he said.
After coming to power we will implement Aarogyasri and bring quality medicare within the reach of every common man and will also give allowance during the post-surgery and recovery period, he said.