All set for TRS 'big' meeting Pragati Nivedana Sabha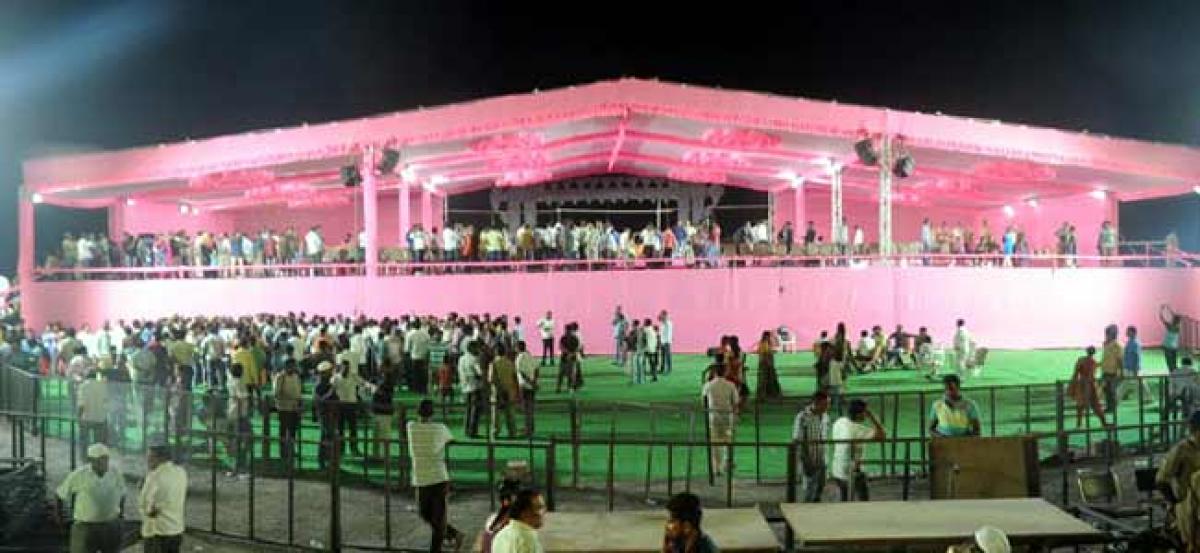 Highlights
Aiming a presence of 25 lakh people 25,000 from each constituency, TRS proposed a massive public meeting at Kongara Kalan on September 2 The meeting will start around 1 pm after the public gathering
Aiming a presence of 25 lakh people -- 25,000 from each constituency, the TRS proposed a massive public meeting is all set to take place at Kongara Kalan on September 2. The meeting will start around 1 pm after the public gathering.
The government is planning to organise the meeting in a grand manner without causing any inconvenience to the people. Roads leading to the meet have been decked up with TRS flags and the city police have already notified the routes to reach the meeting. 19 roads have been cleared for the people to attend the meeting from different parts of the state.
Basic needs like transport, drinking water, toilets are also arranged for the public. It is learnt that 20,000 buses are provided to carry the people to the meeting of the 6000 were TSRTC buses. And the party has arranged special enclosures for the women public at the venue.
The government also built sheds to the public who reach the venue a day before meeting providing them with food and other needs. Sound systems, floodlights, LED screens -- everything was arranged at the venue along with 30 ambulance services.
14 parking slots were allocated to park the vehicles which are expected to be in lakhs. The TRS party also notified the people coming through ORR not to pay any toll fare which will be paid through the party funds.
KCR speech
Amidst the speculations on early elections, the Pragati Nivedana Sabha caught the attention of different parties in the state. The highlight of the meeting will be the Chief Minister's K Chandrasekhar Rao's two-hour speech. According to Nizamabad MP Kavitha, KCR showcases the party's progress report in its four and half years of rule.
The speech also includes development works being carried out in the state which are pending from decades.
In addition to this, there were also speculations that the CM KCR will announce his decision on early elections in the state. Before beginning the Pragati Nivedana Sabha, CM KCR will hold key discussions with the party cabinet regarding the early polls, it is learnt.
The people who are not attending the meeting are advised to stay indoors due to the heavy traffic on the roads. Traffic restrictions will be imposed from morning 10 am to 12 am.