TRS leaders urge KCR not to give party ticket to Choppadandhi MLA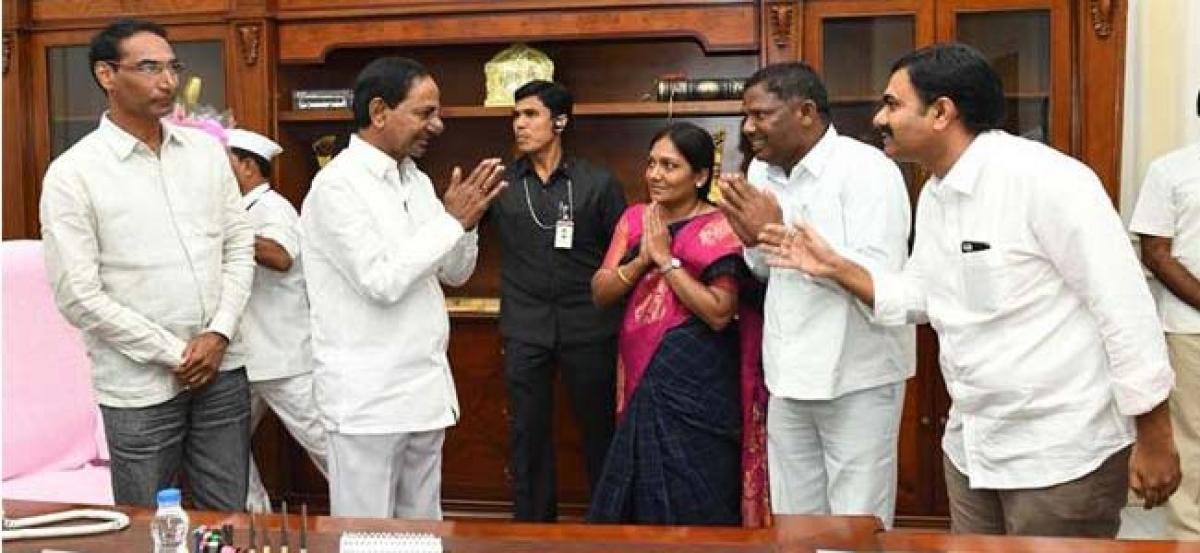 Highlights
TRS leaders of Choppadandi on Wednesday met chief minister K Chandrasekhar seeking action against the constituency MLA Bodige Shobha, who had insulted a public representative at an inauguration ceremony of a fire station They urged the CM not to give the party ticket to the MLA and sought disciplinary action against the MLA
TRS leaders of Choppadandi on Wednesday met chief minister K Chandrasekhar seeking action against the constituency MLA Bodige Shobha, who had insulted a public representative at an inauguration ceremony of a fire station. They urged the CM not to give the party ticket to the MLA and sought disciplinary action against the MLA.
The leaders also complained that the detrimental manner of the MLA is damaging party's reputation in the constituency. In addition to it, Bodige Shobha also set up a private army called Shobhakka Gallanna Sainyam (SGS) to threaten the people and party representatives. Amidst the speculations of dissolution of Telangana assembly today, the meeting of Choppadandi leaders has become a talk of the town.
It may be recalled that MLA Bodige Shobha pushed Arnakonda single window director Gaddam Chokka Reddy from cracking the coconut in the presence of finance minister Eatela Rajendar and Karimnagar MP B Vinod Kumar.
MLA Shobha also remained unattended the oath-taking ceremony of Chokka Reddy's wife Sumalatha who is currently serving as an Agricultural Market Committee chairperson.