Roja proves she has heart of gold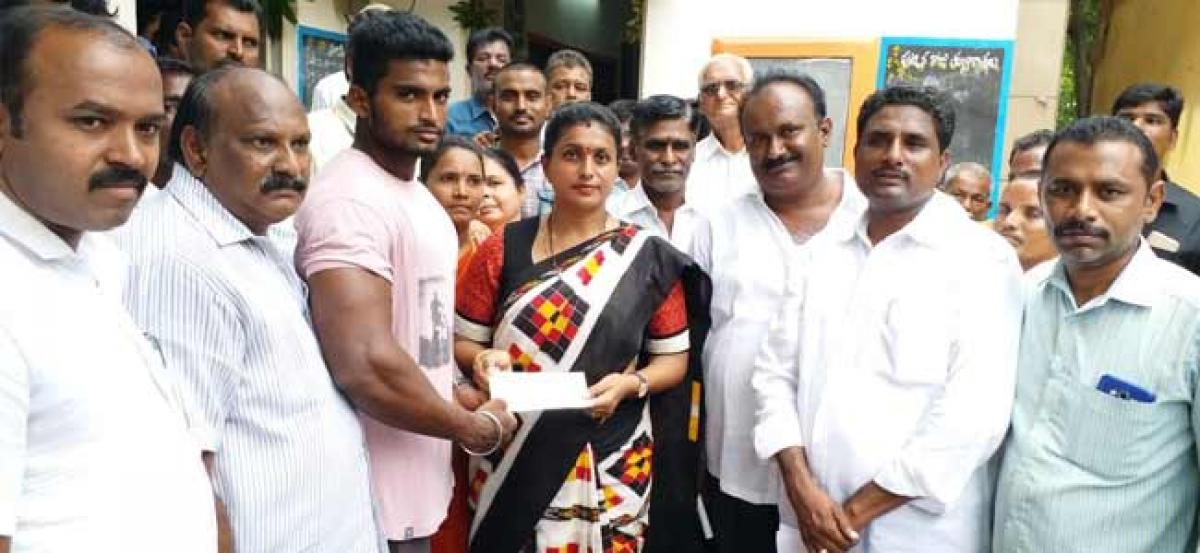 Highlights
It is said that the hands that help are better than the lips that just pray YSRCP senior leader and Nagari MLA RK Roja has shown this adage to be true by encouraging a sporting talent from the poorest family Roja, who is always in the forefront of nurturing talent and encouraging youth in all their endeavours
It is said that the hands that help are better than the lips that just pray! YSRCP senior leader and Nagari MLA RK Roja has shown this adage to be true by encouraging a sporting talent from the poorest family. Roja, who is always in the forefront of nurturing talent and encouraging youth in all their endeavours.
Hari, a youth from Kayampet village in Vadamala mandal of Nagari assembly constituency has won a gold medal at the national level in wrestling. He had also won several awards in Chittoor. Recently, he had got an opportunity to take part in the Body Building – Mr India contest in Bangkok. But, poverty and lack of resources has hit him so hard that he had to abandon his dreams of medal pursuit at Bangkok. His applications to the Government and the officials have also proved futile.
Roja came to know about the plight of the Dalit youth and had gone over to his residence to offer Rs 1 lakh to him from roja charitable trust. Thanks to her largesse, Hari can now pursue his dream of achieving sporting excellence. Speaking on the occasion, Roja said that the government, which should encourage the budding sporting talent, has abdicated its responsiblitiy. She demanded that the Government develop a sports policy to promote excellence.
The locals are praising her for her initiative.