Kondas keep everyone guessing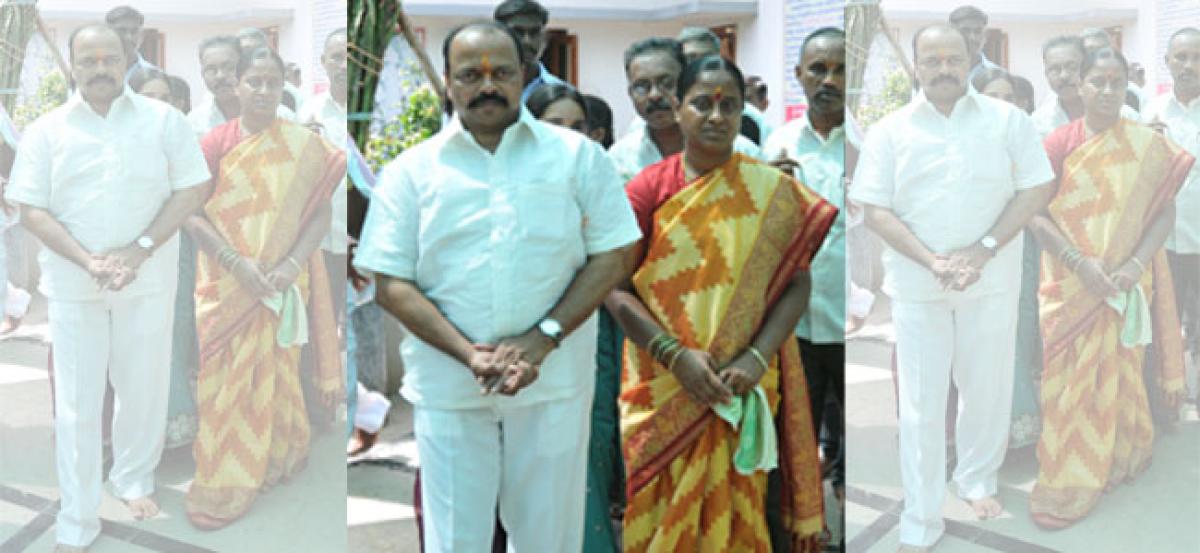 Highlights
Though it seems improbable, speculation is rife in political circles here that Konda couple will return to the TRS fold burying the hatchet that sprouted after the party leadership denied Warangal East ticket to Konda Surekha
Warangal: Though it seems improbable, speculation is rife in political circles here that Konda couple will return to the TRS fold burying the hatchet that sprouted after the party leadership denied Warangal East ticket to Konda Surekha.
Since that press conference in Hyderabad on September 8, in which Konda couple went hammer and tongs against the party leadership, especially Municipal Administration and Urban Development Minister KT Rama Rao, demanding reason for denial of ticket in the first list that contained 105 candidates, a lot has been heard in the political circles.
Initially, there was speculation that Konda couple struck a deal with the Congress and only a formal announcement is awaited. Despite Konda couple's statement that they will announce their future course of action only after September 22, all kinds of calculations and permutations are doing rounds.
It's learnt that Konda family usually goes incommunicado and maintain low profile during Ganesh Navaratri festivity as they consider it inauspicious for them. In spite of this, it's reported that Konda couple has been in touch with their followers and manoeuvring their forces to be ready for any eventuality.
For the last one week, a host of second rung leaders owing allegiance to Konda couple have been active organising constituency-level meetings and press conferences demanding the TRS leadership to field Konda Surekha again from Warangal East seat.
The social media platform, especially WhatsApp, is also agog with the political developments surrounding East constituency. While a few people predicted that the TRS leadership has second thoughts about Kondas, the others speculated that Congress had already promised two tickets to them. Adding fuel to the speculation, the Minority leaders had organised a meeting and sought the TRS leadership to field Konda Surekha again from the East constituency.
Similar meetings took place across the constituency demanding the return of Kondas to TRS fold. While this is on in the constituency, it's reported that a senior TRS leader is holding parleys with the leadership and Konda couple to clear hurdles for the latter's re-entry.
On the other hand, a majority of leaders and East ticket aspirants, who gave Konda couple a mouthful in last few days, appeared to be anxious. It may be noted here that after Konda Surekha held a press conference targeting KTR, all the top brass of TRS leaders in Warangal lambasted Konda couple.
Albeit these leaders didn't express their opinion over Konda couple's return to party, it's said that they are a confused lot about what was going to happen and how to rally around Konda couple in case TRS leadership allows them. "In any case, Konda couple is expected to end the uncertainty surrounding their political future in a few days," a senior TRS leader told The Hans India.