NRI TDP service centres to be opened soon: CM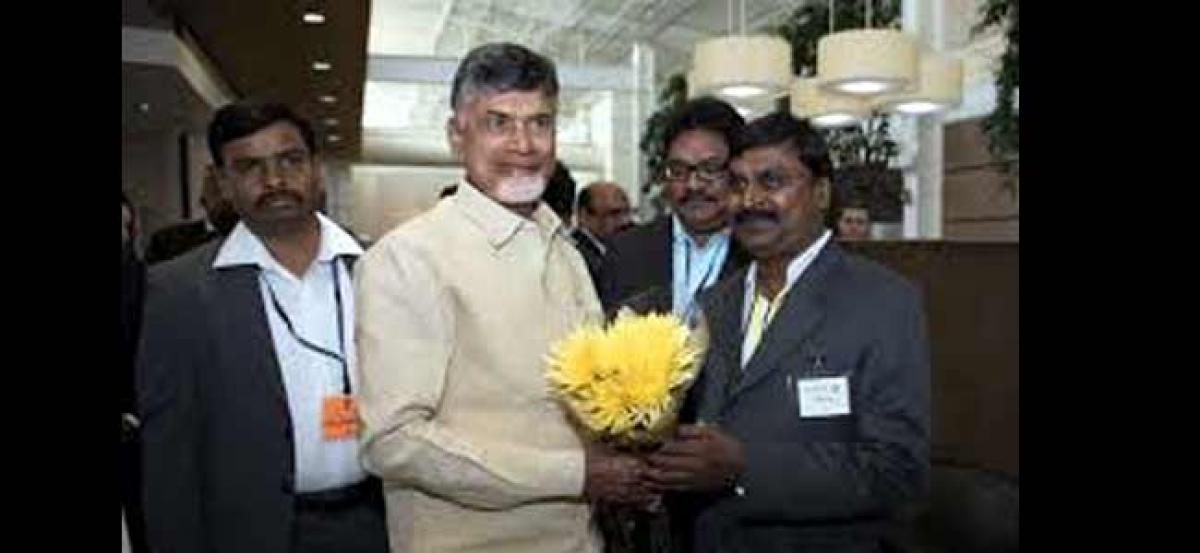 Highlights
Permanent representative of India to UNO ambassador Sayyed Akbaruddin impressed over the zero budget natural farming practices being adopted in Andhra Pradesh When the UNO representative met the Chief Minister at a luncheon meet, the Chief Minister explained on natural farming practices of AP
New York : Permanent representative of India to UNO ambassador Sayyed Akbaruddin impressed over the zero budget natural farming practices being adopted in Andhra Pradesh. When the UNO representative met the Chief Minister at a luncheon meet, the Chief Minister explained on natural farming practices of AP. He said a target was set to spread the natural farming 2 cr acres covering 60 lakh farmers. Akbaruddin praised the natural farming practices of AP to increase the revenue of farmers.
Later the Chief Minister addressed the NRI Telugu association members at New Jersey institute of technology students senate. He explained on the investment opportunities in AP.
Addressing the NRIs, the Chief Minister condemned the killing of Araku MLA and former MLA by Maoists. He said everyone should condemn the ghastly act of Maoists. Stating that he will not confine to politics, the Chief Minister said TDP should come to power again and appealed to the NRIs to campaign for TDP in addition to voting in support of TDP. He said NRIs voting right bill passed in Lok Sabha and it will be introduced in Rajya Sabha soon.
The Chief Minister said that he gave priority for IT and increased the number of engineering colleges and as a result of majority of people settled in IT profession around the world. He said NRIs should extend cooperation to develop infrastructure in Villages. He explained on how Hyderabad developed as IT destination with his initiatives in developing cyber towers.
The Chief Minister appealed to NRIs to take part in social service in their native place. He said Jewish stands first in innovating thinking and the world should talk of Telugu people in innovative thinking. He said AP is ahead in using technology in all sectors and he wish to develop trillion dollar economy in AP by 2029. He said despite of non cooperation from central govt, the state govt is making efforts to develop the state in all sectors.
The Chief Minister appealed to NRIs to utilise their technology for development of villages in AP. He said efforts are on to provide wifi to all villages and AP fibrenet services introduced providing Cable TV, phone and Net services at Rs 149 per month. He said NRI TDP service centres will be opened soon to coordinate the service programmes of NRIs. He said sustainability will be possible with viability.