Major mishap averted when a school bus overturned near Podili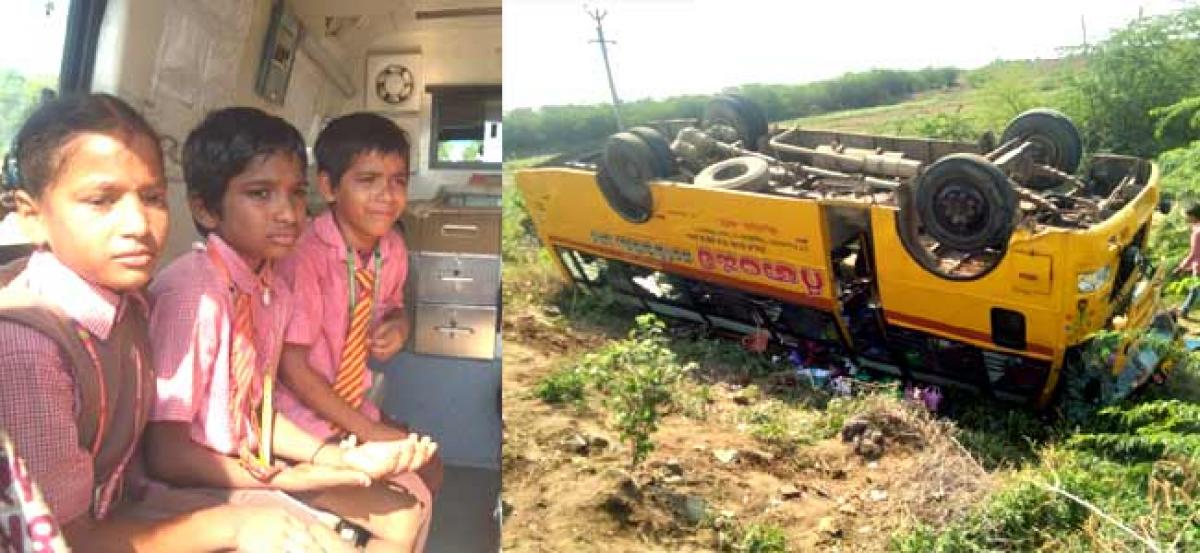 Highlights
A major mishap was averted, when a school bus carrying 80 students was turned turtle in Podili mandal of Prakasam district on Tuesday morning
Podili: A major mishap was averted, when a school bus carrying 80 students was turned turtle in Podili mandal of Prakasam district on Tuesday morning.
The bus, belongs to Geethanjali English Medium School, is carrying students enroute from Pannur village in Marripudi mandal to the school in Viswanathapuram of Podili mandal. About 80 children from the villages on the route already boarded the bus while the driver lost control of at a culvert near Katurivari Palem village and the bus turned turtle onto road side. The locals hurried to the spot from the nearby fields and brought the children out of the bus immediately. Four children were injured in the accident and were shifted to the Podili hospital in the ambulance.
The parents of the students, who reached the spot, accused the management of the school for using the single bus to carry nearly 120 students in the same route. They also alleged that the driver Subbaiah is very negligent and continuously talks over mobile phone while driving. However, the principal Bhagya Lakshmi didn't agree to comment on the accident and allegations of the parents.