IT officials recovered a suit case containing bunch of documents from the house of Rajya sabha member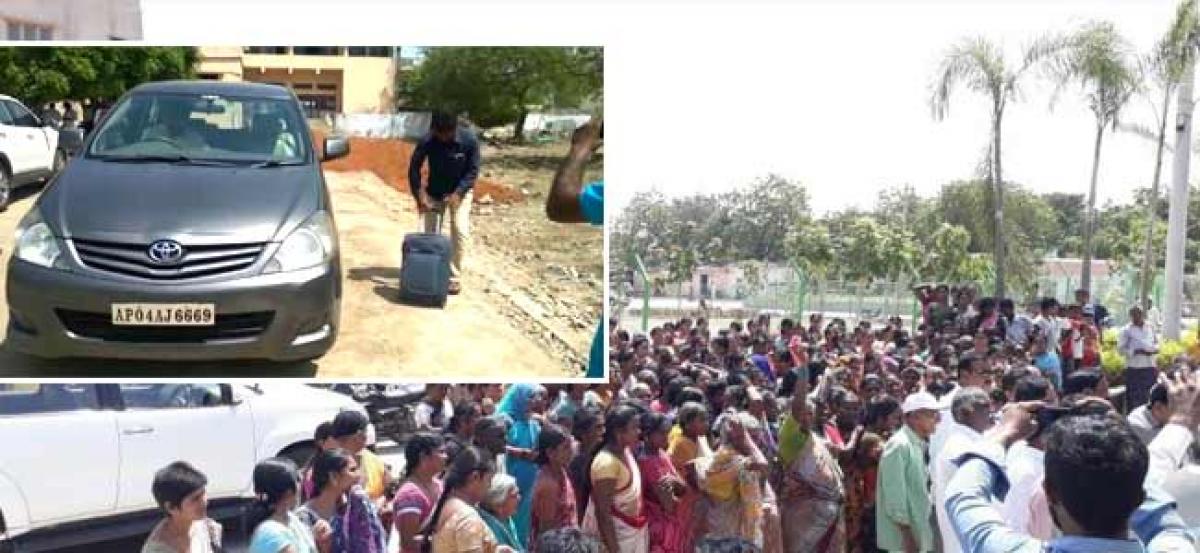 Highlights
As part of ongoing searches at the official residence of Rajya Sabha member CM Ramesh located in Potladurthy village of Yerraguntla mandal Income Tax Depart officials have seized a bunch of documents reportedly related to various contract works of Handri Neeva Sujala Sravanthi HNSS Galeru Nagari Sujala Sravanthi GNSS Veligonda tonnel works, Gandikota rehabilitation package etc works being perf
Kadapa: As part of ongoing searches at the official residence of Rajya Sabha member CM Ramesh located in Potladurthy village of Yerraguntla mandal Income Tax Depart officials have seized a bunch of documents reportedly related to various contract works of Handri Neeva Sujala Sravanthi (HNSS) Galeru Nagari Sujala Sravanthi (GNSS) Veligonda tonnel works, Gandikota rehabilitation package etc works being performed Rithwik project owned by CM Ramesh family members.
After two hours searching operations around 11.15Am one IT official carried out a movable suitcase from the house of Rajya Sabha member as he placed it in the income tax department car dickey under tight security after accepting taking signatures of two witnesses proposed by CM Ramesh.
Meanwhile tension prevailed Potladurthy village when the people and TDP activits in large numbers have gathered at the residence of Rajya Sabha member after news on IT raids spread over like wild fire on Friday morning. Once in movement party activists raised slogans against BJP lead NDA government of initiating such move. Speaking to media persons party Yerraguntla secretary R.Subba Reddy said conducting raids on the companies and houses of the Rajya Sabha member is nothing but political vendetta as the BJP is planning is terrorize party leaders through such acts. He said that this is retaliate step being implemented under the guidance of BJP against CM Ramesh as he is responsible in intensifying the agitation for establishment of steel plant in Kadapa district.
Meanwhile searching operations by IT officials were continuing at the houses of CM Ramesh brother CM Ramesh Suresh as there was no reports of recovering any kind of documents so far.