Not to franchise your vote in favor of YSR Congress or Janasena party in the ensuing elections: HRD Minister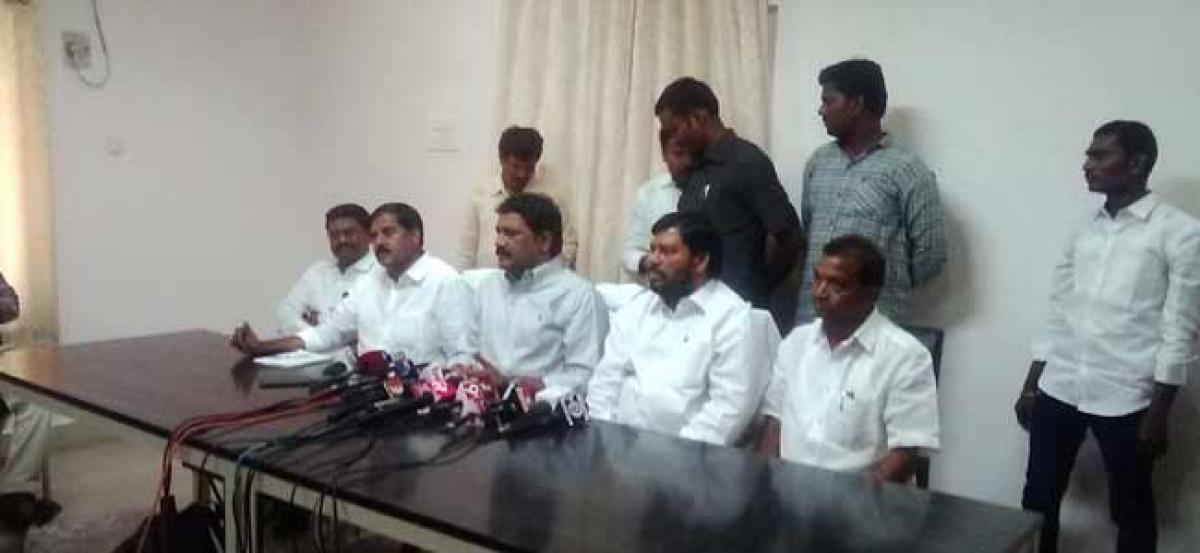 Highlights
HRD Minister Ganta Srinivasa Rao has urged the people not to franchise their vote in favor of YSR Congress or Jana Sena parties in the 2019 elections as the duo were responsible joining hands with BJP which is restricting the development in Andhra Pradesh
Kadapa: HRD Minister Ganta Srinivasa Rao has urged the people not to franchise their vote in favor of YSR Congress or Jana Sena parties in the 2019 elections as the duo were responsible joining hands with BJP which is restricting the development in Andhra Pradesh.
Speaking to media persons here on Friday he said despite there was injustice was being made by the BJP lead NDA government the due parties were least bothered over stand still the BJP instead they are targeting the TDP for their political existence.
The HRD minister recalled during the 2014 elections Narendra Modi who addressed in 7 public meetings in AP state has assured of extending financial assistance to the state after his party has emerged to power in the elections. He said instead of keeping his promises he is restricting the de elopement of state in undemocratic methods.
He said central government has extended financial assistance Rs 1500 crores for AP new capital, where as it has spent Rs 3,500 crores for construction of Sardar patel statue. Defending the step of chief minister N.chandra Babu naidu in joining hands with congress, the minister the move of which Chandra Babu taken only in protecting the nation's interest preventing BJP emerging to power in 2019 elections.
Saying that during its four and a half year rule BJP has lost the public confidence as it was clearly proved as that party has bagged only 7 seats against 30 contested these years and totally lost its existence in Karnataka elections by confining only one seat with hard effort. Marketing minister C.Adinarayana Reddy has said it was the history as the state government is going to establish steel plant of its own in Kadapa district despite central government not extending support. He said steel palnt would set up in Mylavaram mandal in Jammalamadugu constituency as there was no second though in it.
The minister pointed that being as Kadapa man the role of YSR congress president YS Jagan Mohan Reddy over steel plant is highly unfortunately as he least bothered over the issue. Party district president R.Srinivasulu Reddy party leaders P.Govardhan Reddy and others were present.