Book Release - The History of Telangana Movements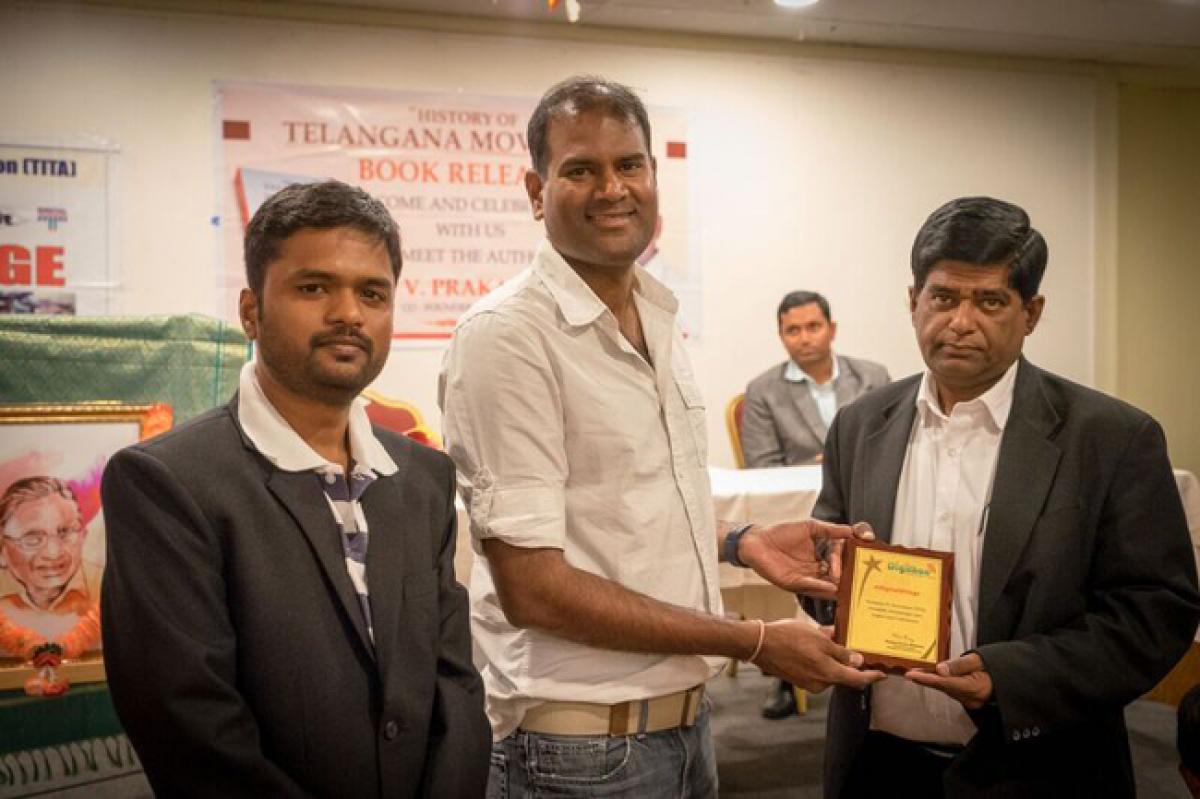 Highlights
Telanganites in Bay area gave a warm welcome to Mr.V Prakash who came to have his English version of the book The History of Telangana Movements...
Telanganites in Bay area gave a warm welcome to Mr.V Prakash who came to have his English version of the book " The History of Telangana Movements " inaugurated. 'The meet and greet - book release' event was organized by Santosh Addagulla, Swathi Yerram, Srinivas Ponnala and Abhishek Dodda on 7th July 2016 at ' The Birayaniz ' restaurant in Sunnyvale which was successfully attended by over 50 Telanganites even being on a weekday.
Chief Guests at the events included Sundeep Kumar Makthala, President of TITA ( Telangana Information Technology Association ) and Yugandhar Reddy Karakala along side the author of the book Mr. Veeramalla Prakash. The book was released on behalf of the author by Yugandhar Reddy Karakala a hardcore Telanganite who has been part of almost all the support events for Telangana in the bay area during the struggle of a separate Telangana State.
Sundeep Kumar Makthala explained about the TITA and their projects in Telangana State, the most appealing to the Telanganites was their flagship project Digithon which is in collaboration with the IT ministry of the T-State. Yugandhar Reddy spoke about how difficult it was to achieve Telangana State and the role of NRI's in making Telangana a golden state.
MR. V. Prakash spoke at length about how the history of Telangana was deliberately hidden by vested interests and the research that went from his side to write his book with substations on every topic with proofs. He talked about how much he had to edit to make the book precise and also announced his intentions to write a second edition soon. He applauded and talked about various projects undertaken by the govt of Telangana under the able Chief Ministership of Mr. KCR, he further talked on how KCR garu's vision and determination is needed for making the state a Bangaru Telangana and requested T-NRI's to trust in the govt as nothing can be achieved or judged in a short span of 2 years as most of the issues are age-old pending issues such as Irrigation, Power etc. He also suggested T-NRI's to help be a knowledge bank and pass on the information about various innovative methodologies and best practices followed in different countries to the govt of Telangana in it's best interest.
By Santosh Addagulla
Subscribed Failed...
Subscribed Successfully...