PM Modi reviews performance of key infrastructure sectors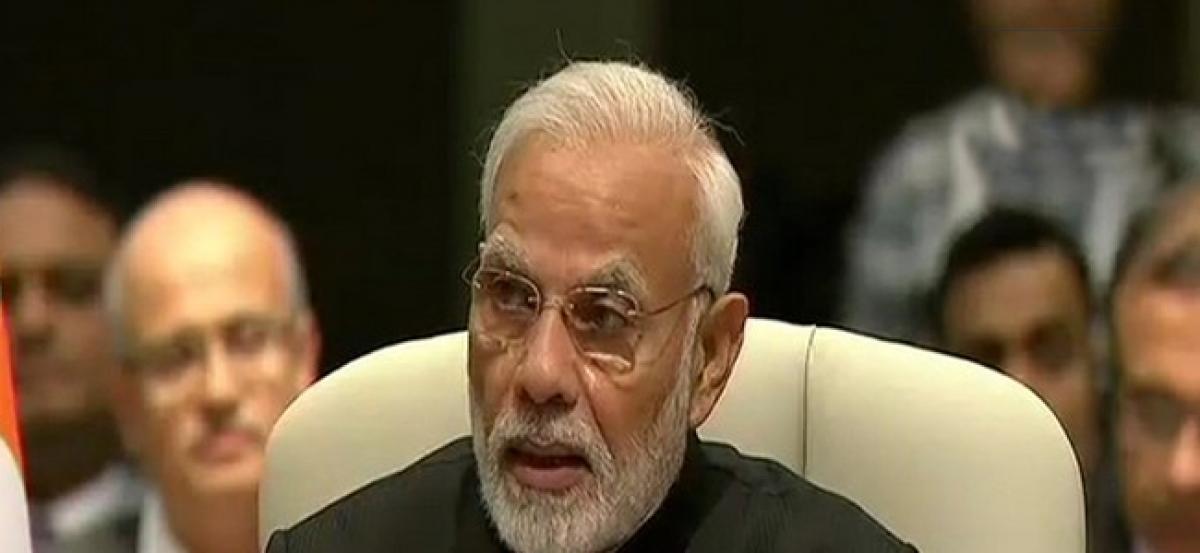 Highlights
New Delhi Prime Minister Narendra Modi on Thursday reviewed the progress of key infrastructure sectors of roads, Pradhan Mantri Gram Sadak Yojana PMGSY, rural housing, urban housing, railways, airports and ports
New Delhi : Prime Minister Narendra Modi on Thursday reviewed the progress of key infrastructure sectors of roads, Pradhan Mantri Gram Sadak Yojana (PMGSY), rural housing, urban housing, railways, airports and ports.
The review meeting was attended by top officials from infrastructure-related Ministries, NITI Aayog, and Prime Minister Office.
According to the presentation, made by NITI Aayog CEO, Amitabh Kant the average road length constructed per day in the fiscal year 2013-14 was 11.67 km which increased to 26.93 km in the fiscal year 2017-18
For digitization in the transportation sector over 24 lakh radio frequency identification (RFID) tags had been issued which resulted into 22 percent of toll revenue collection from electronic toll. Moreover, the "Sukhad Yatra" App, which provides information about road conditions and facilitates lodging of complaints, saw over one lakh downloads.
Under the PMGSY, rural roads connected over 44,000 villages form 2014 to 2018. The "Meri Sadak" App was launched in 10 regional languages which saw 9.76 lakh downloads. Apart from this GIS Mapping of roads is underway and 20 states have been hosted on the Geospatial Rural Road Information System (GRRIS).
In the railways sector, there have been additions in new lines and extension of 9528 kilometres has been made between years 2014 and 2018.
Similarly, in the aviation sector, passenger traffic has grown by 62 percent. Under the UDAN scheme, 27 airports are now operational in tier 2 and tier 3 cities.
In the ports sector, traffic volume in major ports increased by 17 percent.
In the rural housing sector over one crore houses have been constructed. This has boosted employment in the housing sector and construction industries. According to an independent study, the average construction completion time dropped sharply from 314 days in the fiscal year 2015-16, to 114 days in the fiscal year 2017-18.
In urban housing, the emphasis is being laid on new construction technologies. Under Pradhan Mantri Awaas Yojana (Urban), 54 lakh houses have been sanctioned.