Karunanidhi laid to rest at Marina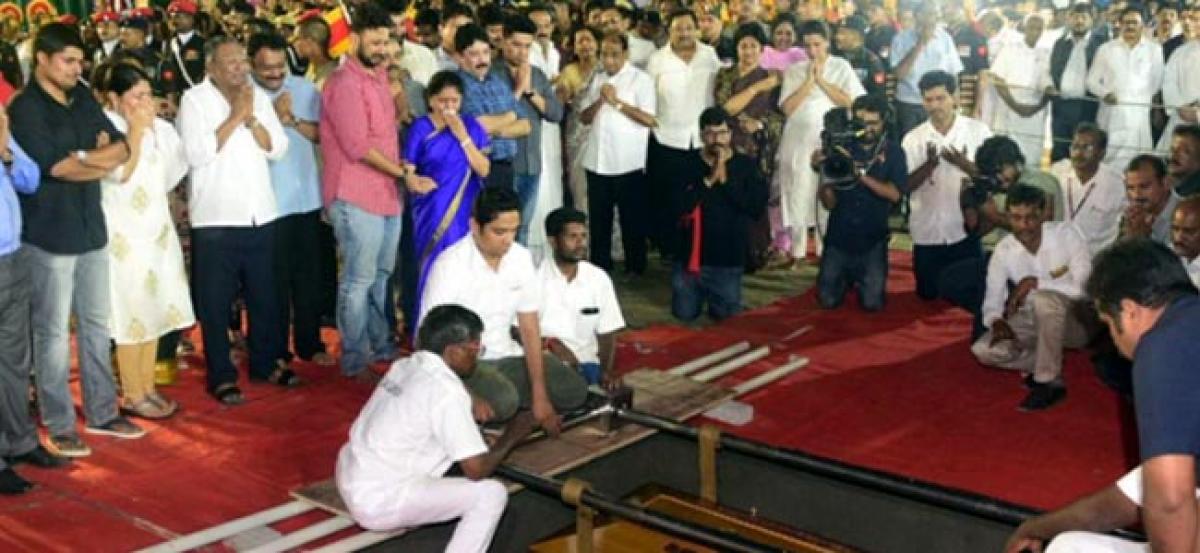 Highlights
On Wednesday, after a two and a half hour journey from Rajaji hall to Anna memorial on Marina beach, which usually takes ten minutes, former CM Karunanidhi finally rested through ocean of people The roads appeared as if they were laid by petals
CHENNAI: On Wednesday, after a two and a half hour journey from Rajaji hall to Anna memorial on Marina beach, which usually takes ten minutes, former CM Karunanidhi finally rested through ocean of people. The roads appeared as if they were laid by petals.
33 years ago, Karunanidhi, who is a prolific writer, wrote, "The one who toiled without rest takes eternal rest here." Many leaders and ministers attended including PM Modi, Congress president Rahul Gandhi, Karnataka CM H D Kumaraswamy and CMs of Kerala, Telangana and AP.
After 11 hours of being in state, the journey had begun at 4pm. After the Madras High Court gave its verdict allowing his burial on Marina beach. 10ft deep grave was dug next to his mentor and DMK founder C N Annadurai.
Army personnel took over the funeral proceedings at Rajaji Hall at 2:30pm. Later at 3:45pm, the electric ice box with his body was lifted and placed on a gun carriage as wails of the multitude and shouts of 'thalaivaa'.
They reaches Marina around 6:15pm. Various leaders paid their tribute to him and people cried as his casket was lowered in the ground. M K Stalin, working president of DMK, paid a teary tribute to thousands of cadres participated in Karunanidhi's last journey and told that he would only go to home and sleep after the cadres reached their homes safely.
4 people lost their lives in the stampede outside Rajaji Hall and injuries were recorded as 52.
Chennai: M #Karunanidhi being laid to rest at Marina beach, next to Anna memorial pic.twitter.com/aGiFXr8xY4

— ANI (@ANI) August 8, 2018