RS Prasad suggests WhatsApp CEO measures to contain fake news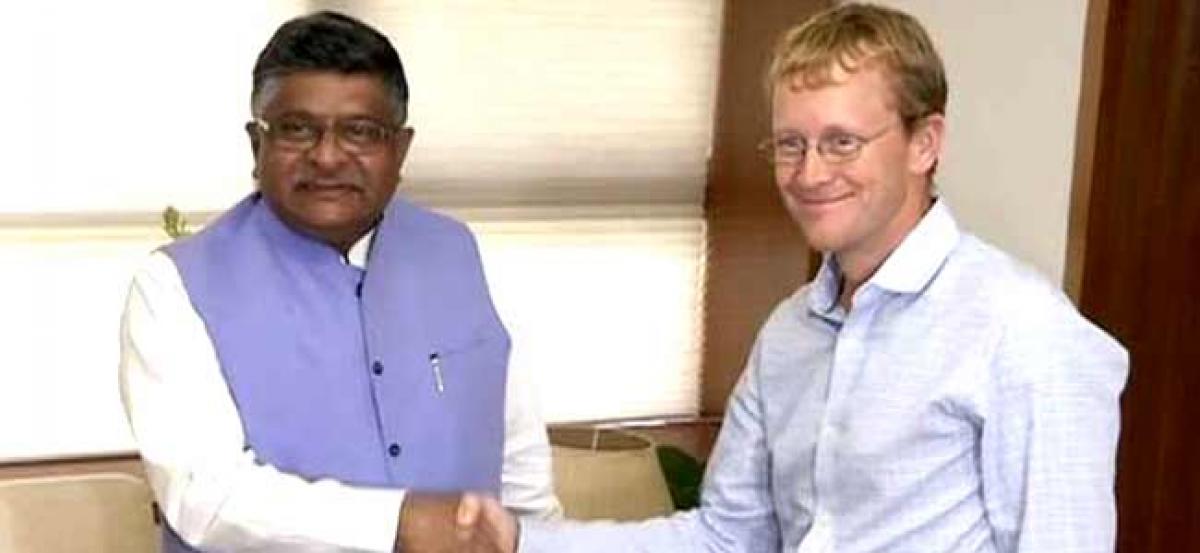 Highlights
Union Information Technology and Law Minister, Ravi Shankar Prasad on Tuesday held a productive meeting with WhatsApp CEO, Chris Daniels and suggested few measures to check circulation of fake news through the messaging app
New Delhi: Union Information Technology and Law Minister, Ravi Shankar Prasad on Tuesday held a "productive meeting" with WhatsApp CEO, Chris Daniels and suggested few measures to check circulation of fake news through the messaging app.
Addressing the media following the meeting, Prasad said, "I had a very productive meeting with Chris Daniels.
I complimented him for the extraordinary technological awakening that WhatsApp has led in the country for education, healthcare, for information about cultivation and farming, and for relief work in Kerala. These are positive developments."
"But, there are also very sinister developments, that provoke crimes like mob lynching, revenge porn, and you must find solutions to these challenges which are downright criminal and violation of Indian laws," he added.
The minister further said that in order to take strict action against the crimes triggered by false incendiary messages on various social media platforms in India, the government has put forward three suggestions before the WhatsApp CEO.
"WhatsApp must have a grievance officer in India. Then you must have a proper compliance of Indian laws. We won't appreciate a scenario where any problem will have to be answered in America. Lastly, WhatsApp has become an important component of India's digital storage. Therefore, it must have a proper corporate entity located in India," Prasad suggested.
The minister also informed that the WhatsApp CEO promised to look into these issues and find a solution accordingly. The CEO of the messaging app is on a five-day visit to India.
"We have also asked him to have a detailed mechanism to trace the origin of any sinister message. He said that they will try to find a solution to that too. I am very happy that he said that we are working with law enforcement agencies to develop our system. They will do a big campaign to educate the people of India," the minister added.
WhatsApp, which has nearly 200 million users in India has recently come under fire for being misused to circulate fake news, that led to rampant incidents of mob lynching and many violent incidents across the country.
Taking note of these incidents, WhatsApp recently introduced several updates and new features for its platform. On July 20, it introduced a feature in India to limit forwarding of messages on the application.
In a statement, Whatsapp had said, "In India - where people forward more messages, photos, and videos than any other country in the world - we will also test a lower limit of 5 chats at once and we'll remove the quick forward button next to media messages."
In July, the app also added a new feature to its platform to make it easier for users to identify messages or content which is being circulated across groups and individual chats by labeling them 'forwarded'.
These updates came after the Indian government mounted pressure on social media sites and messaging apps to regulate norms accordingly to handle the menace of rumours and fake news.