Opposition targeting AIADMK government due to vendetta: CM K Palaniswami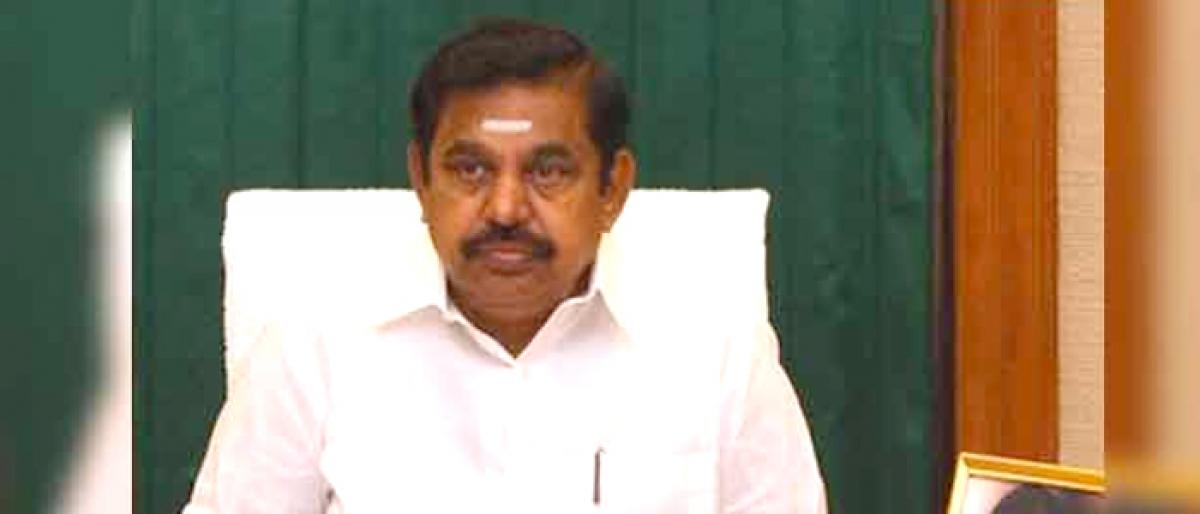 Highlights
Tamil Nadu Chief Minister K Palaniswami on Friday hit out at opposition parties for levelling corruption and other charges against the AIADMK government due to political reasons and vendetta and asserted that it was functioning efficiently
Salem: Tamil Nadu Chief Minister K Palaniswami on Friday hit out at opposition parties for levelling corruption and other charges against the AIADMK government due to "political reasons and vendetta" and asserted that it was functioning 'efficiently'.
All sectors in Tamil Nadu were witnessing growth and the state had been receiving honours such as Krishi Karman award for record food grain production from the Centre for good performance, he told reporters here.
"They are faulting the government due to political reasons and vendetta. The Amma's government has been functioning efficiently and all welfare schemes initiated by Amma (late Chief Minister J Jayalalithaa) were being implemented expeditiously," he added.
He was responding to a question about repeated corruption charges made by opposition parties and their claim that AIADMK government was subservient to the BJP.
In his address after taking over as DMK president, M K Stalin had on August 28 called the Palaniswami ministry a "spineless" dispensation which needed to be "thrown out".
DMK had been consistently targeting the AIADMK of being "subservient" to the Centre after the death of its supremo Jayalalithaa and compromising on the rights of Tamil Nadu.
On simultaneous elections to the Lok Sabha and the state assemblies, Palaniswami said the AIADMK had already conveyed its stand that the present Tamil Nadu assembly's term ended in 2021 and it should not be disrupted.
"I feel that a consensus has not been reached on holding simultaneous elections," he said.
However, he added that AIADMK was ready to face elections, whenever they were held.
To a question on the demand for reverting to holding polls through ballot papers, he said the AIADMK did not see any "wrongs," in the functioning of electronic voting machines.
"As far as we are concerned we have no doubts (on the functioning of EVMs or ballot boxes). We are ready to accept any mode, be it ballot boxes or EVMs."