Arrest of bishop Franco Mulakkal supported by the Christian community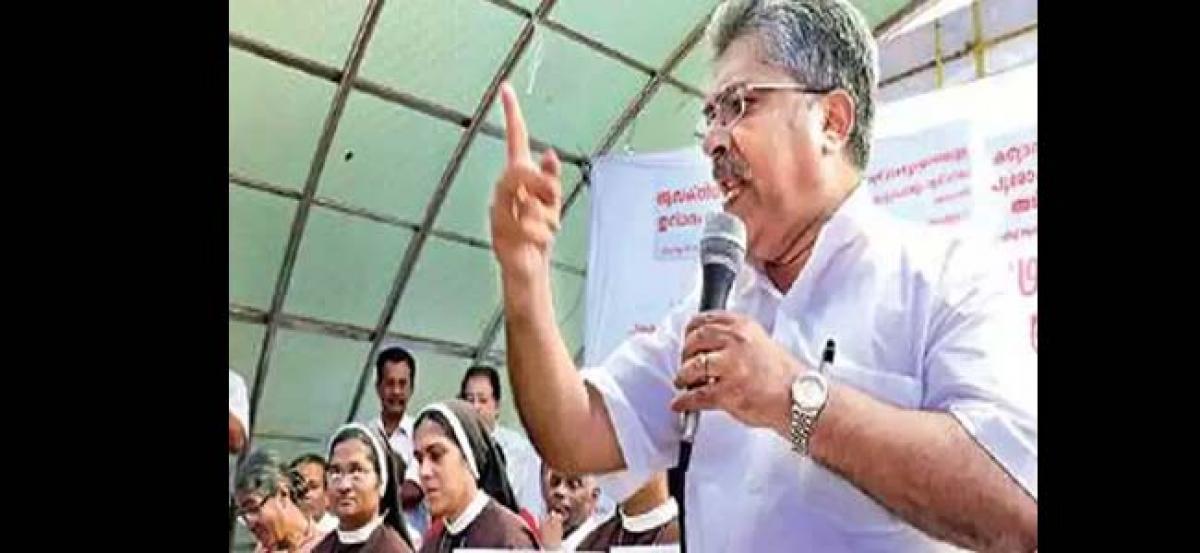 Highlights
After five nuns belonging to the Missionaries of Jesus announced publicly against the churchs attempt to coverup the rape of a nun by Jalandhar Bishop Franco Mulakkal, people from within the Christian community and others offered their support and solidarity for the bishops arrest
KOCHI: After five nuns belonging to the Missionaries of Jesus announced publicly against the church's attempt to cover-up the rape of a nun by Jalandhar Bishop Franco Mulakkal, people from within the Christian community and others offered their support and solidarity for the bishop's arrest.
Various priests and nuns joined the sit-in at Vanchi Square. Fr Paul Thelakkat, Fr Benny Maramparambil, Fr Shaji Karimplanil, Fr Jijo Kurian, Sr Jessy Joseph and Sr Molly Devassy were among the prominent members of the clergy who attended the protest meet. PT Thomas, MLA, retired Justice Kemal Pasha and activist CR Neelakandan addressed the gathering.
In a similar development, Kerala Latin Catholic Association, the official laity organisation of Kerala Latin Church, wrote to the president of the Conference of Catholic Bishops in India (CCBI) Oswald Cardinal Gracias and the Apostolic Nuncio Archbishop Giambattista Diquattro, urging them to take urgent measures "in accordance with the provisions of canon law and to let civil law take its own course".
Justice Kemal Pasha criticised the police department for not making the arrest. "...We can see a 'nexus' between police and accused here. This man has not sought anticipatory bail till date ... Police must have told the accused that he wouldn't be arrested...," he said.
Nuns from the same convent of the rape survivor, meanwhile, came out strongly against DGP Loknath Behera and IG Vijay Sakhare on Sunday, alleging that they both are trying to sabotage the case. The nuns also opposed the decision of handing over the investigation to the crime branch.