If Hindu Rashtra has no place for Muslims, it's not Hindutva any more: RSS chief Mohan Bhagwat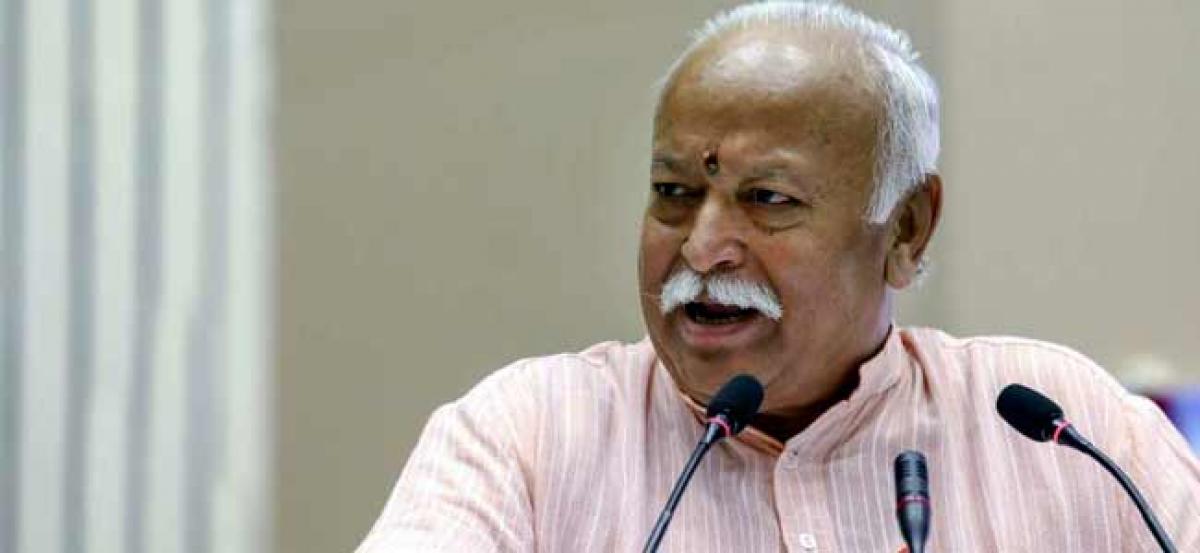 Highlights
RSS chief Mohan Bhagwat Tuesday said a Hindu Rashtra does not mean it has no place for Muslims as this concept is inclusive of all faiths and religionsThe Sangh works towards universal brotherhood and the cardinal principle of this brotherhood is unity in diversity This thought comes from our culture, which the world calls Hindutva Thats why we call it a Hindu Rashtra, he said
RSS chief Mohan Bhagwat Tuesday said a 'Hindu Rashtra' does not mean it has no place for Muslims as this concept is inclusive of all faiths and religions."The Sangh works towards universal brotherhood and the cardinal principle of this brotherhood is unity in diversity. This thought comes from our culture, which the world calls Hindutva. That's why we call it a Hindu Rashtra," he said.
Asserting that the RSS' philosophy is to take everyone along, he said, "Hindu Rashtra doesn't mean there's no place for Muslims. The day it is said so, it won't be Hindutva any more. Hindutva talks about Vasudhaiva Kutumbakam." Hindutva is the essence of Indian cultural values and is aimed at fostering brotherhood among people of different faiths and views, Bhawat said on the second day of his three-day lecture series here.
The RSS chief said that in one of his speeches in the constituent assembly, B R Ambedkar talked about universal brotherhood and emphasised on promoting fraternity among countrymen.Ambedkar also talked about ensuring the dignity of individuals and the integrity of the nation, he said.
Bhagwat said Hindutva is synonymous with the concept of Bhartiya, which is used to define all Indians and is reflective of unity in diversity.
The Sangh also believes in the same universal brotherhood and it is based on the idea of unity in diversity. This idea comes from an ideology which world describes as of Hindu Rashtra, Bhagwat said, drawing a parallel between the RSS's ideology and Ambedkar's suggestion. Describing Hindu Rashtra, the saffron organisation's head said the concept is inclusive of all faiths and religions as it is based on Hindutva.
The Sangh believes in Sarvepi Sukhinah Santu, which goes beyond the concept of 'maximum good of maximum people', he said, adding that no single language or God bind us together.
"We (people of India) are divided in various states, languages and castes. In spite of this, we claim to be the progeny of Bharat Mata and the followers of universal human values," he said.
Bhagwat spoke at length about Hindus and Hindutva. He said Dr Ambedkar suggested that religion is not a code but a set of values and Hindutva is based on that set of values.
Citing the example of a Muslim player who was facilitated by Hindus in 1881, Bhagwat said even believers of Islam had said that there methodology of worship might be different, but they were sons of 'Bharat Mata' only.
Representatives of the foreign missions of the US, Singapore, Germany, Japan and Serbia among others attended the RSS chief's lecture Tuesday.
Union ministers Prakash Javadekar, Giriraj Singh and Vijay Sampla, KC Tyagi of the JD(U), retired judges and former army commanders were also in attendance.