Nuns declare that Parish priest tried to manipulate them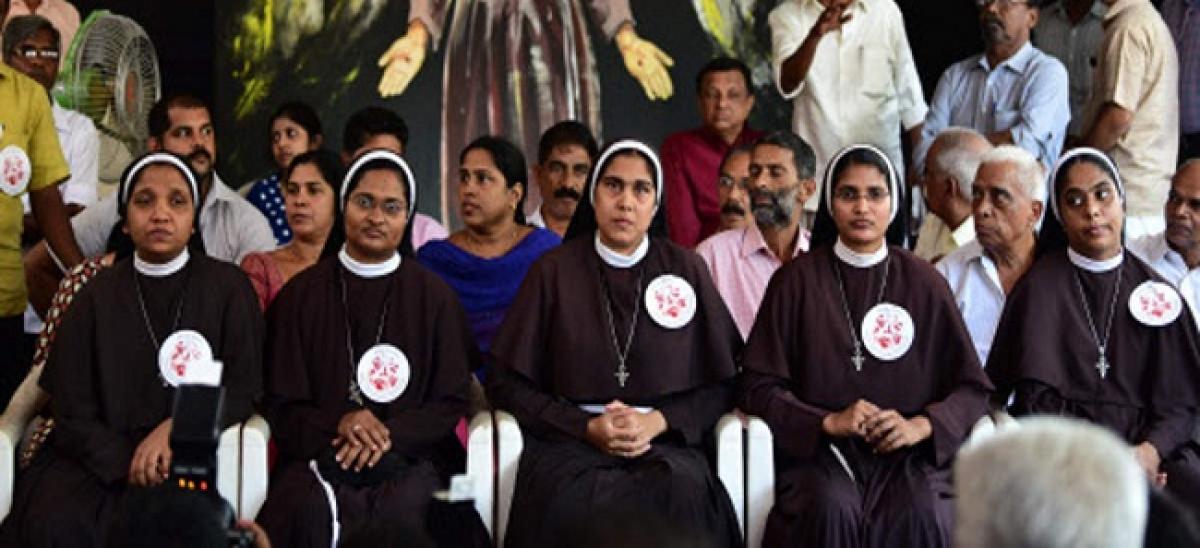 Highlights
The nuns alleged that Fr Nichlavoss visit was part of a move to put them under mental pressure However, we will not fall for such tactics and will go ahead with the case, reacted the nuns,the parish vicar of St Antonys church in Kodanad, has been accused of trying to manipulate the survivor and the five nuns who started an agitation demanding arrest of bishop Franco MulakkalThe five nuns had
KOTTAYAM: The nuns alleged that Fr Nichlavos's visit was part of a move to put them under mental pressure."However, we will not fall for such tactics and will go ahead with the case," reacted the nuns,the parish vicar of St Antony's church in Kodanad, has been accused of trying to manipulate the survivor and the five nuns who started an agitation demanding arrest of bishop Franco Mulakkal.The five nuns had informed the probe team about their willingness to give affidavits in the nun rape case before the magistrate.Based on this the probe team had moved the chief judicial magistrate court here on Friday to record their statement under section 164 of the CrPC.
The Vatican had deprived Mulakkal, who was the bishop of the Jalandhar parish of Missionaries of Jesus despite shedding his administrative role, of his pastoral duty temporarily.
Fr Nichlavos Maniparambil reached at the convent in Kuravilangad at 11.30 PM on Saturday. The vicar spoke to the nuns for around half an hour.He told reporters that there was nothing unusual about the visit. "I was in Pala and decided to meet two of the nuns residing here since they belong to my parish," he said.
Incidentally, the vicar till recently was standing by the nuns and had also said that they have imminent proof against bishop Franco Mulakkal.
Then later he did a flip-flop saying that the nuns have cheated him regarding their claims about the proof against the bishop.Meanwhile, Kaduthuruthy CI valuated the statement of the survivor on a compliant given by her against MLA P C George on Friday. George in a press conference here told the survivor a 'prostitute'.At Pala sub-jail, the bishop had five visitors on Saturday, with three priests and two other friends.
The bishop was arrested on September 21st, after 22 hours of questioning that lasted for three days in Tripunithura.The bishop had said that the nun's complaint was in revenge to him giving permission for an inquiry averse to her.