"Show account of work done by 4 generations": Amit Shah to Rahul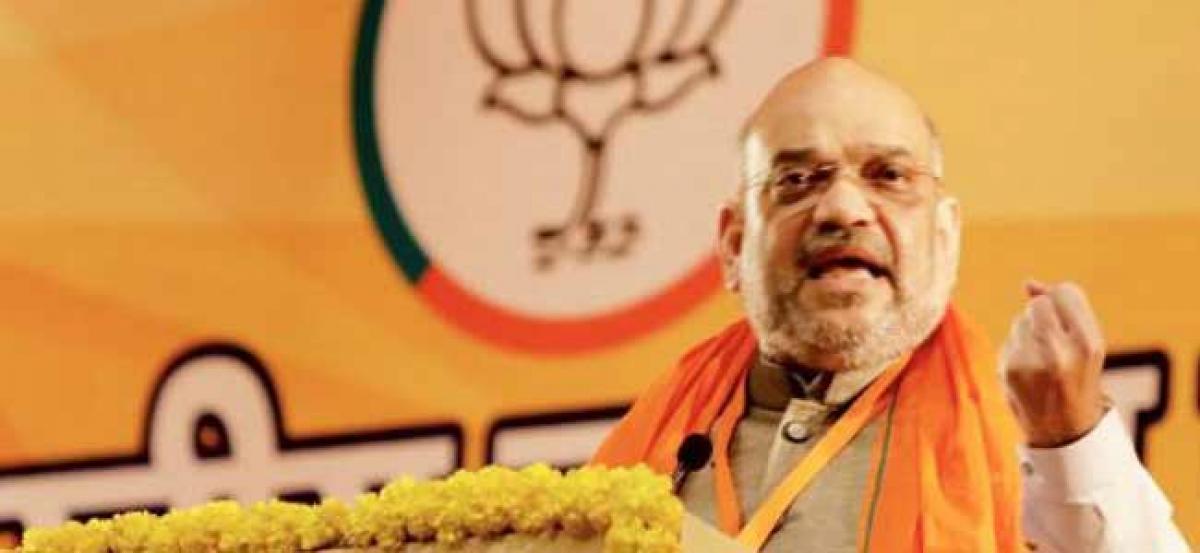 Highlights
Launching BJPs Mahajansampark mass contact campaign in the MalwaNimad region, Shah tore into the Congress top trio of Kamal Nath, Jyotiraditya Scindia and Digvijaya Singh, saying the 2018 assembly election was a war between king, corporate and Mr Bantadhar and a farmers son and wellwisher of people, Shivraj Singh Chouhan
INDORE: Launching BJP's Mahajansampark (mass contact) campaign in the Malwa-Nimad region, Shah tore into the Congress top trio of Kamal Nath, Jyotiraditya Scindia and Digvijaya Singh, saying the 2018 assembly election was a war between "king, corporate and Mr Bantadhar" and a "farmer's son and well-wisher of people, Shivraj Singh Chouhan"."Rahul Gandhi, who does not know the value of martyrdom, alleged that the PM was doing 'Khoon Ki Dalali'. He has Italian spectacles on his eyes and can't see the importance of surgical strike," he said, vowing that after winning the 2019 general election, the BJP government will "root out every single intruder from the country as national security is of utmost priority".
BJP chief Amit Shah on Saturday hit the party's poll campaign with a scathing attack on AICC president Rahul Gandhi, asking him to give an account of work done by "four generations" of his family instead of questioning PM Narendra Modi."Gandhi asks us (BJP) to give an account of the work done in the last four-and-a-half years of BJP government. We don't need to give you an answer, but the people of this country want you to give an account of the work your family did over four generations," Shah told a gathering of party workers at Dussehra Maidan.
"Opposition parties support the intruders for political mileage. Congress allowed infiltrators, while Mamata Banerjee, who was earlier against intruders, changed her stand and is now advocating for them to stay in the country because they vote for her," Shah told a gathering of 8,000 party workers and booth-level coordinates of Indore division.
The BJP chief accused the Congress-led UPA government of keeping mum over terrorism by Pakistan in 1990s, "when terrorists used to cross the border and take away heads of Indian soldiers". "With actions like the surgical strike, India has joined USA and Israel, who avenge killing of their soldiers," Shah said.