Teary farewell to GITAM icon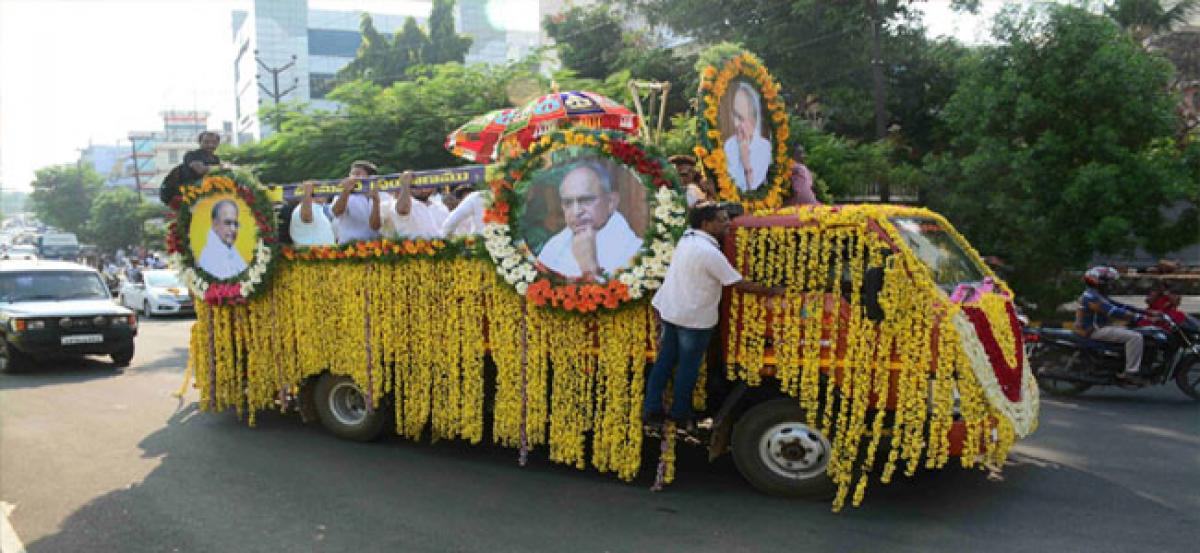 Highlights
The mortal remains of founder president of GITAM University and MLC MVVS Murthi, who died in a car accident last Tuesday in the US, was cremated with state honors on the beachfront near GITAM campus on Sunday After arrival of Murthis body at 730 am, ministers and MLAs offered floral tributes to the departed leader
Visakhapatnam: The mortal remains of founder president of GITAM University and MLC MVVS Murthi, who died in a car accident last Tuesday in the US, was cremated with state honors on the beachfront near GITAM campus on Sunday. After arrival of Murthi's body at 7.30 am, ministers and MLAs offered floral tributes to the departed leader.
Then the body was shifted to his residence at Kanchana in Waltair Uplands. A large number of Telugu Desam Party leaders, friends, relatives and educationists paid tributes to him. In the afternoon, the body was placed at the TDP office at Daspalla Hills, where the party cadre came out in large numbers to pay their last respects. Thousands of people followed the last journey of Murthi from the party office to the funeral site. The state government allotted 1,200 sq yards land to the family members to construct a memorial for the departed educationist.
Vice-President M Venkaiah Naidu and Chief Minister N Chandrababu Naidu paid tributes to the departed educationist and later comforted the grieving family members. The Vice President, speaking to mediapersons, lauded Murthi's services to the nation, state and also to the education sector. He was all praise for the establishments and development of GITAM University as an internationally-renowned institution. "He led a life of ethics, morals and values. As an industrialist, educationist and politician, Murthi had discharged his responsibilities.
"He has helped in the establishment of Swarna Bharathi Trust," Venkaiah Naidu said. Chandrababu Naidu said Murthi was a real statesman. "Before going to the US, Murthi met me and informed me about his tour. He said he wished to spend a few days with his family members who settled in the US and also to participate in GITAM alumni as chief guest. Though there was no need for him to inform me, he did which only shows the kind of disciplined life he led," Chandrababu Naidu said.