Rahul Gandhi trying to revive 'Brand name?'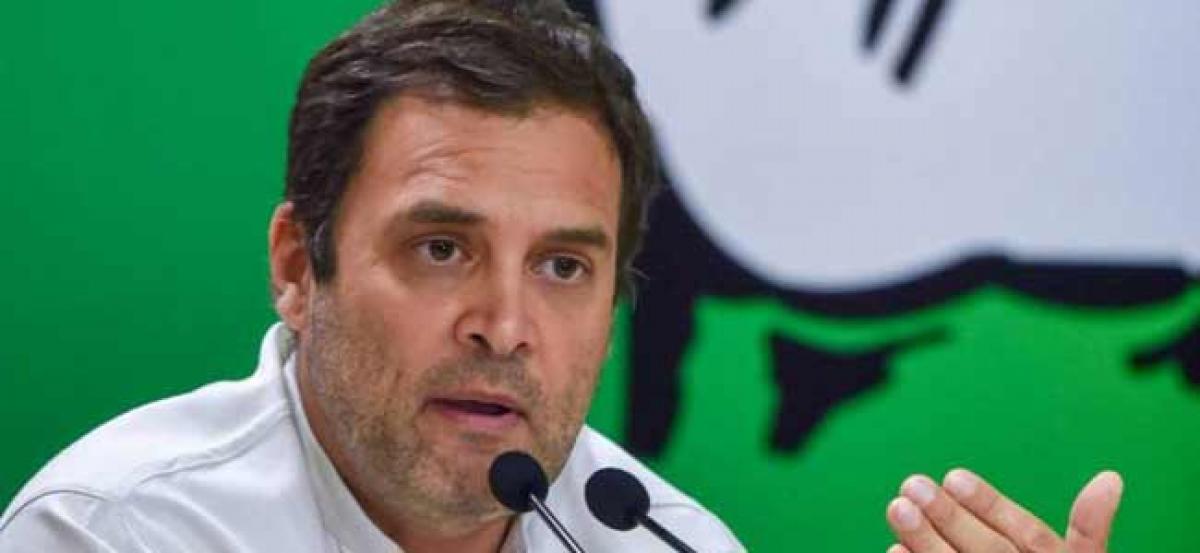 Highlights
On Wednesday in a bid to sustain the attacks on Prime Minister Narendra Modi over corruption issues, the Congress president Rahul Gandhi asked the youth Congress members to go to the masses with the partys stand on matters like the Rafale aircraft deal and rich industrialists fleeing the country with bank money
JAIPUR: On Wednesday in a bid to sustain the attacks on Prime Minister Narendra Modi over corruption issues, the Congress president Rahul Gandhi asked the youth Congress members to go to the masses with the party's stand on matters like the Rafale aircraft deal and rich industrialists fleeing the country with bank money.
Rahul attended Youth Congress' national executive meeting at a city hotel here on Wednesday before flying to Bikaner where he addressed a public rally at the end of his two-day election campaigning in the state that will go to polls on December 7.
"The Congress president asked us to expose the corruption that the Modi government has committed in Rafale aircraft deal and in allowing businessmen Vijay Mallya, Nirav Modi and Mehul Choksi to flee with the public money in banks. Rahul ji asked us to create awareness among masses about how PM Modi cheated the youth and farmers by letting influential industrialists loot public money in the banks," Ashok Chandna, Rajasthan Youth Congress president told reporters after the ANC's national executive meeting.
Chandna said the Congress president urged youth Congress workers to take the corruption issues to villages and the remotest parts of the state before the assembly elections in December. "The PM is favouring 15-20 industrialists and not paying heed to the plight of farmers or the poor. Rahul ji wants the youth Congress members to let the common man know," Chandna said.
Outgoing panchayati raj minister and BJP senior leader Rajendra Rathore's son Parakram Rathore was among the young entrepreneurs who Congress president Rahul Gandhi addressed at a star-hotel on Wednesday.
The incident turned out to be embarrassing for the Congress, as the junior Rathore addressed media, which was not allowed in the programme, and dismissed Rahul as an 'uninspiring' leader. Rathore attended the event as member of the Entrepreneurs' Organisation (EO), which organised the meeting with Rahul.
"I was to attend a marriage in the family of Muslim BJP workers at Churu today but I stayed back just to listen and see how to get inspired by the man who calls himself the nation's future. But after hearing him (Rahul), I am totally disappointed that I wasted my time. If you do not take it as a political comment, the truth is Rahul's talk today was stuck on the hatred issue. He is trying to revive his (family) 'brand' name and was here trying to tell the young entrepreneurs what he has to offer to us. But he did not come up to our expectations. I had come with lots of hope but am leaving disappointed." Parakram told reporters.