Broadway-style Ramlila : Epic retold with a mix of dance, drama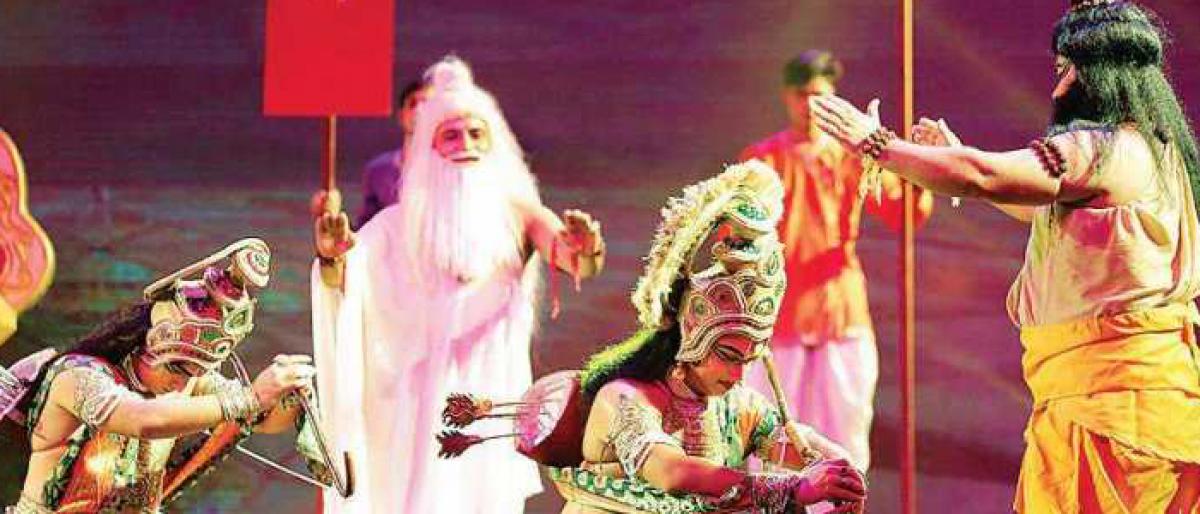 Highlights
With a mix of dance and drama, the celebration of chapters from Hindu lord Ramas life began in a Broadwaystyle Ramlila here on Saturday evening
New Delhi: With a mix of dance and drama, the celebration of chapters from Hindu lord Rama's life began in a "Broadway-style" Ramlila here on Saturday evening.
Organised by the Delhi-based NGO Aryan Heritage Foundation, "Sampurn Ramayana" staged the mythological epic with an aim to "convey the teachings and moral values embedded in this extraordinary scripture to the young generation of India" at Netaji Subhash Place in Pitampura.
With the opening song by famous Bollywood singer Udit Narayan and narration of the story by actor Mukesh Khanna, as the voice of sage Valmiki, the theatrical show claimed to be "first of its kind in India".
"The theatrical has been woven into a Broadway style fabric and embellished with Massive Multi-layer LED Screens in order to give depth to the scenes and a 3-D effect to all visuals.
"This level of technology is used only in massive scale productions at Broadway and was introduced to India by Kingdom of Dreams," the organisers said.
In its fourth year, "Sampurn Ramayana", for the first time, used dance and music during important episodes in the story.
The show witnessed performers dancing on 16 original soundtracks, including "Ye Hai Ramlila" sung by Udit Narayan.
"It works as a vehicle to portray not just the events of the epic but also the various points of view of the characters and their reasoning behind every action," the organisers said.
Directed by dance and theatre veteran Shashidharan Nair and choreographed by Papiha Desai, the show is performed by over 120 professional actors and dancers from the National School of Drama.
The Foundation next plans to bring a similar theatrical production based on Hindu scripture Bhagavad Gita.
"Sampurn Ramayana is just the first step towards many spectacular shows about to come to reach out to the next generation.
Our next project would be based on the Bhagavad Gita, which will again be a 2-3 hour show, aimed mainly at the youth," Rajender Mittal, president of Aryan Heritage Foundation, said.
"Sampurn Ramayana" will conclude on October 18.