Activists call for ouster of BJP govt; march for missing JNU student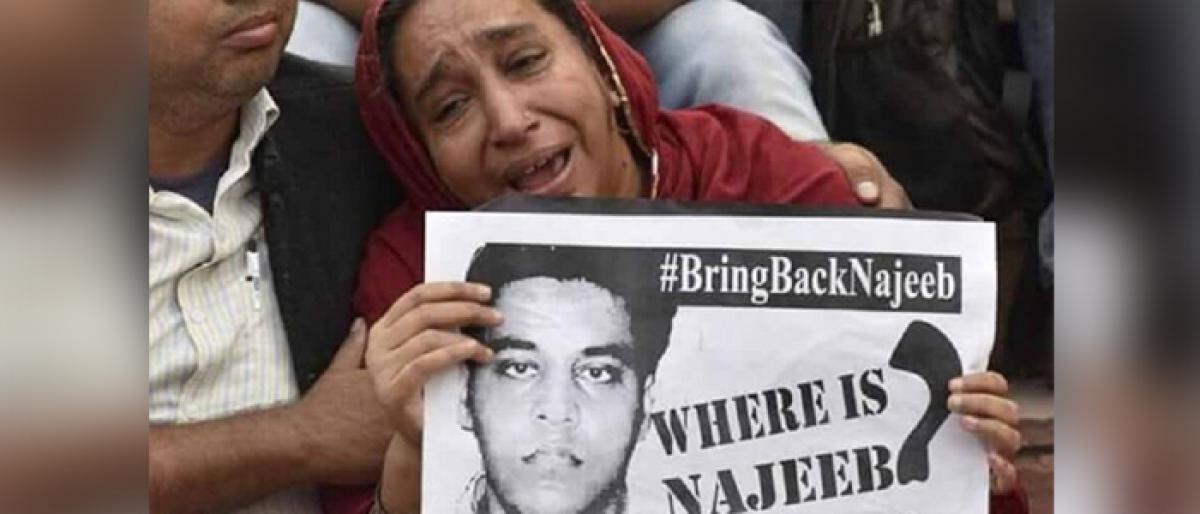 Highlights
Fatima Nafees, the mother of missing Jawaharlal Nehru University JNU student Najeeb Ahmed, Monday said no one from the government came to her aid even ...
New Delhi: Fatima Nafees, the mother of missing Jawaharlal Nehru University (JNU) student Najeeb Ahmed, Monday said no one from the government came to her aid even after she challenged them to support her cause, on a day the CBI filed a closure report in the case of her son's disappearance.
She was speaking at a protest march organised from Mandi House under the aegis of the "United Against Hate" campaign, during which politicians and activists urged people to oust the Bharatiya Janata Pary (BJP) government in the 2019 Lok Sabha election.
Nafees said 2019 will bring something new and give us happiness. "Has the 56-inch chest shrunken to 26 inches? I had heard about 'sabka sath sabka vikas'.
It is all jumlebaazi (gimmickry) and false promises. I had challenged the government to come and join me, but nobody came. Where is sabka sath?" she said, taking a dig at Prime Minister Narendra Modi's slogan and the "56-inch chest" quotes.
Nafees claimed that the Central Bureau of Investigation (CBI) never probed her son's case and added that she would continue to look for Najeeb.
"There are only false promises. The CBI never opened the case. So, there is no question of filing a closure report. The CBI worked at the behest of the government. But I will not give up," she said.
Congress leader Sharmistha Mukherjee said it was saddening to see the JNU, a place where they were taught the culture of having a debate between different ideologies, was being billed as anti-national, while questioning if there was a "jungle raj" in the country.
"Is there a jungle raj in the country? Despite evidence against certain people, they are being shielded. Where is Najeeb? Are the country's investigating agencies so bad that they cannot trace him?," she said, addressing the protest.
Ashiyana Theba, the pregnant wife of Majid Theba, who went missing in July after he was picked up by the Bhuj 'A' division police officials in Gujarat, said she had been running from pillar to post seeking justice for her husband.
"I am pregnant and I can understand the pain Najeeb's mother is going through. My husband disappeared in front of my eyes. These politicians literally come begging for votes at the time of elections but where are they now? Bring my husband back to me," she said.
Jawaharlal Nehru University Students' Union (JNUSU) president N Sai Balaji alleged that there were efforts to give a communal colour to Najeeb's case.
"This government wants to shut democracy inside the jails. But if you do not give us justice, we will uproot you in 2019," he said, while shouting "We are Najeeb" and "Justice for Najeeb".
Communist Party of India (CPI) leader Annie Raja said there was a need to save the tricolour from fascist forces. "We have to snatch our tricolour from the killers of Akhlaq and Junaid, from the rapists of the minor girl in Kashmir.
The tricolour is in the hands of fascist forces. This is not only a battle for Najeeb, but for everyone. Save the Constitution, save our country," she said. Samajwadi Party (SP) leader Javed Ali Khan said some fascist forces wanted to shut down the voices rising against them.
"But fascism is very cruel. Fascism sees an end. This fascist government will definitely see defeat. Our country's legal system has double roles.
There are some decisions it makes, which go way ahead of the Modi government and show its true colours," he said, taking a dig at the Delhi High Court allowing the CBI to file a closure report in Najeeb's case.
Former JNU student leader Umar Khalid criticised the Delhi Police and CBI for not carrying out a thorough investigation in Najeeb's case. He said the voices demanding justice would not die.
Radhika Vemula, mother of Dalit scholar Rohith Vemula who committed suicide, said the CBI should be banned because it did not matter whether the central probe agency existed or not, while urging the voters not to vote the BJP back to power.
Subscribed Failed...
Subscribed Successfully...