Rahul Gandhi blames PM Modi yet again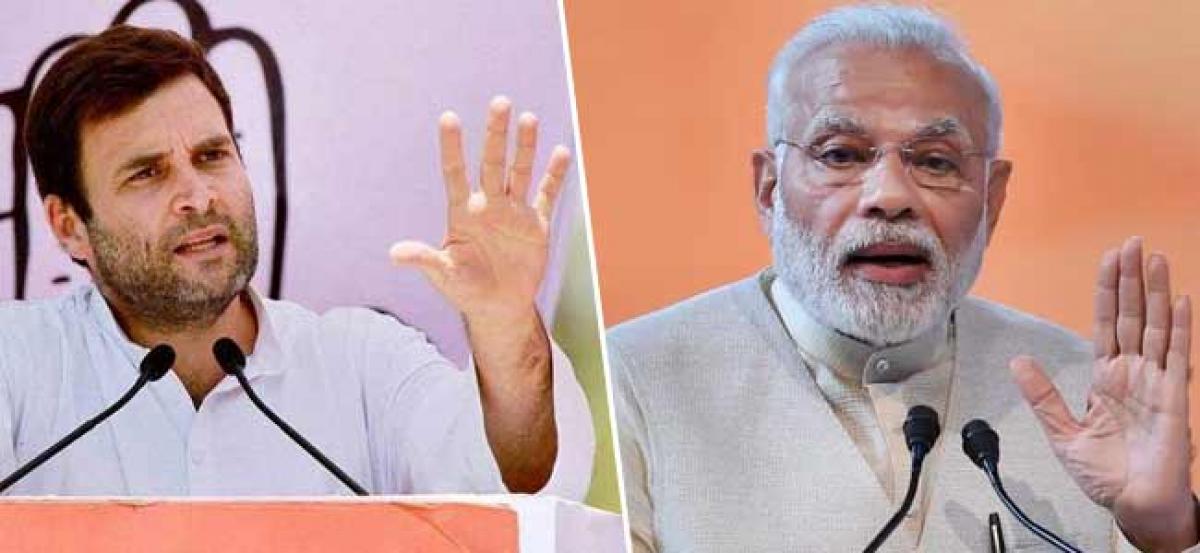 Highlights
On Tuesday Rahul Gandhi the Congress president targeted Prime Minister Narendra Modi while referring to the allegations of sexual harassment which are made against MJ Akbar the minister of state for external affairs
MORENA: On Tuesday Rahul Gandhi the Congress president targeted Prime Minister Narendra Modi while referring to the allegations of sexual harassment which are made against MJ Akbar the minister of state for external affairs.
"Modiji says 'beti padhao, beti bachao' but it so happens that when complaint against his minister comes, he keeps quiet," the congress president said while addressing at a public meeting in Joura area of Morena district of Madhya Pradesh.
The Congress leader did not name any minister in particular but was apparently referring to Akbar who is caught up in a storm because of the allegations of sexual harassment levelled against him by a number of women journalists. Akbar, a former journalist, has denied the allegations made against him and has filed a defamation case against one of the complainant journalists.
Gandhi, in his address, continued to attack Modi over several issues. "When an Uttar Pradesh MLA rapes a woman, UP CM Yogi (Adityanath) keeps quiet and the prime minister keeps quiet. Their true slogan should be 'beti padhao aur beti ko BJP ke neta, mantri aur MLA se bachao," he said.
Among the state leaders, Gandhi has been mostly accompanied by state Congress president Kamal Nath and the party's campaign committee chief Jyotiraditya Scindia during his programmes in Madhya Pradesh.
Rahul Gandhi continuing with his blame game against the prime minister, he said that Modi had "claimed that he wants to be a 'chowkidar' (watchman of the country) but he actually proved to be a 'chowkidar' of Anil Ambani, Mehul Choksi and Nirav Modi and has been working for them since last four years."
He said the cost of petrol and diesel has shot up drastically. "They pull out money from your pocket and put it in the pockets of 15-20 big businessmen. I have not come here to make false promises. You have got in the habit of hearing lies from Modi ji and Shivraj ji (Madhya Pradesh chief minister Shivraj Singh Chouhan). But I assure you that Rahul Gandhi does not speak lies from the stage but makes honest promises which I am going to fulfill," he said.