Contentious Metro expansion gets Rs 500 crore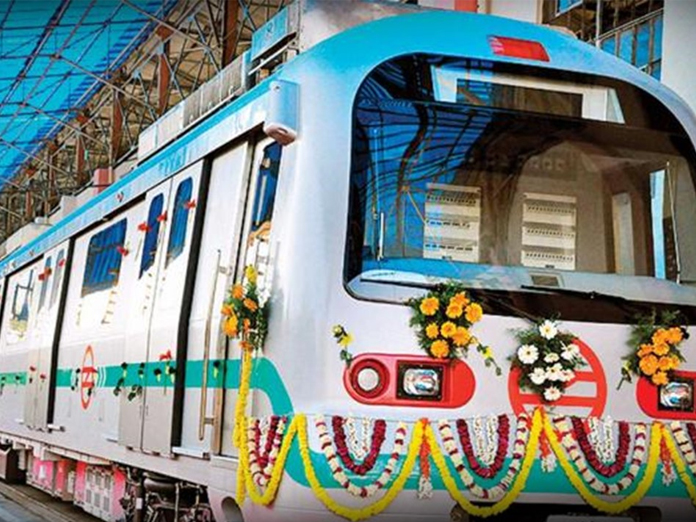 Highlights
Delhi Metros Phase IV, which has become a bone of contention between the city government and the Centre, was allocated Rs 500 crore in the budget presented on Tuesday
New Delhi: Delhi Metro's Phase IV, which has become a bone of contention between the city government and the Centre, was allocated Rs 500 crore in the budget presented on Tuesday.
Deputy Chief Minister Manish Sisodia presented Rs 60,000 crore budget for 2019-20 in Delhi Assembly laying emphasis on the education, health and transport sectors. The 104-km-long Metro Phase-IV project was estimated to be completed by 2021 after Delhi government's in-principle approval to it in February 2016.
It has yet to start despite approval of the Delhi cabinet. "I propose Rs 500 crore in the Budget 2019-20 for Metro Phase-IV project," Sisodia said.
The Delhi Metro had been given a grant of Rs 414.70 crore in the Union Budget 2019-20 as against Rs 50 crore in the last fiscal. The Arvind Kejriwal government had cleared the Phase-IV project in December 2018 and sent it to the Ministry of Housing and Urban Affairs.
The Union government sources in January had claimed that the AAP dispensation had "stonewalled" the progress of the Delhi's Metro's Phase-IV project, leading to "substantial delay" and inconvenience to people.
Union Housing and Urban Affairs minister Hardeep Singh Puri in January accused the AAP government of having a "behavioural pattern of creating hurdles" in response to conditions imposed by the Delhi government while clearing the project.
Sisodia, after the approval of Phase-IV project, had said the city government would give its share of Rs 9,707 crore towards the construction work under the project, which is estimated to cost around Rs 45,000 crore.
The fresh accusation had come amid an apparent tussle between the Centre and the Delhi government after Kejriwal imposed a condition of 50-50 per cent operational loss sharing while giving approval to the Phase-IV of the Metro network late December.
A Delhi government official had recently said, "In the past one year, the ridership has gone down due to various reasons.
So, if Delhi has to pay 100 per cent of the operational loss, it will not be financially viable for it". Also, there are certain corridors that may not be profitable in the future or even do not reach the break-even level, the official had said.
Local bodies allocated Rs 6,380 crore
Government allocated Rs 6,380 crore as financial support to the local bodies, including the three municipal corporations, in the 2019-20 budget presented in the assembly.
Manish Sisodia who presented the budget in the assembly said the Delhi government has decided to implement the recommendations of the Fifth Delhi Finance Commission effective from April 2016.
"Accordingly, we have provided for Rs 4,575 crore in our budget as devolution to local bodies, which is 12.5 per cent of estimated net tax collection for 2019-20," Sisodia said.

This amount includes Rs 2,331 crore as 'tied fund' for implementation of schemes, programmes, and projects by the local bodies and Rs 2,244 crore as basic tax assignment (BTA), he said.
Additionally, an amount of Rs 1,805 crore has been provided for local bodies as share in stamps and registration fee and a one-time parking fee. The government is thus giving a total financial support of Rs 6,380 crore to local bodies in the 2019-20 Budget.
Excise Department to open online window to check bootlegging
Delhi Excise department is developing an online window for Delhi Police to track import permit and transport permit to help in reduction of bootlegging activities.
Sisodia said the total revenue from excise during the year 2018-19 (up to January) is Rs 4,015.64 crore with a growth of 12.2 per cent. To check illegal smuggling of liquor into Delhi and bootlegging activities, regular intelligence is being gathered, he said.
Suitable action, including registration of 585 FIRs and 585 arrests were made during the fiscal up to January 8 and action was taken under appropriate provisions of the Excise Act.
"About 2.88 lakh illegal bottles of liquor have been seized. In view of complaints of consumption of liquor in open area and creation of chaotic situation by drunkards, 467 persons were apprehended during a drive undertaken during November-December, 2018," he said.
An online window is being developed in Excise Supply Chain Information Management System (ESCIMS) for Delhi Police to track the import permit and transport permit which should help in reducing the bootlegging activities, the Minister said.
The Excise revenue target proposed for 2019-20 is Rs 6,000 crore with a growth of 15.38 per cent over proposed revenue of Rs 5,200 crore in 2018-19, Sisodia said.
"The Excise Department is committed to maximise transparency, objectivity and professionalism in its functioning. Accordingly, its various procedures have been put on auto-mode," he said.
Registration of foreign liquor suppliers, who are not supplying liquor to retail vends in Delhi, has been introduced in order to enable the department to track the movement of the foreign liquor, management of inventory and checking pilferage and evasion of the excise duty, the Minister said.
In order to facilitate "ease of doing business", the process for renewal and grant of fresh licenses has now been made online. Excise inspectors have been given an app to check non-duty paid liquor (NDPL).
"This app helps the Excise Inspector to fetch detailed information. Also, 'MLiquorSalecheck' app has been developed and is freely available to citizens so as to enable them to check that the liquor sold to them is authentic and duty paid," Sisodia said.