S-400 missile deal: India reasserts independent foreign policy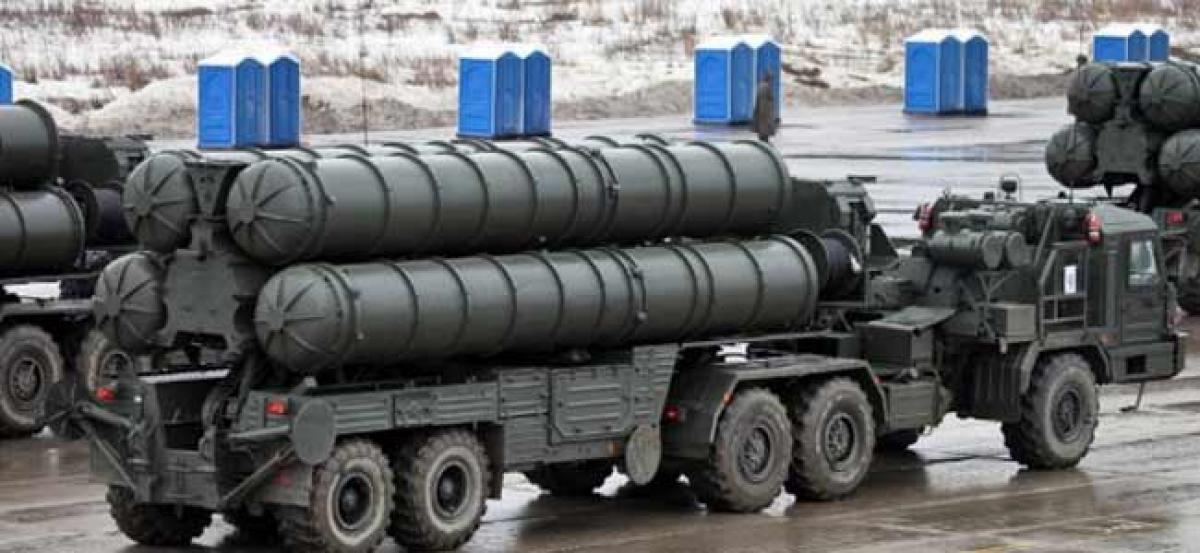 Highlights
By concluding the S400 Triumf longrange surfacetoair missile system deal with Russia in the face of Washingtons sanctions on Moscow, India reasserted its independence on foreign policy in adherence with New Delhis stated stand that its ties with one country are free of that with a third country
New Delhi: By concluding the S-400 Triumf long-range surface-to-air missile system deal with Russia in the face of Washingtons sanctions on Moscow, India reasserted its independence on foreign policy in adherence with New Delhis stated stand that its ties with one country are free of that with a third country.
After the signing of the deal during the course of the 19th India-Russia Annual Bilateral Summit between Prime Minister Narendra Modi and Russian President Vladimir Putin here on Friday, a top source pointed out that India's negotiations for the S-400 missile system began several years before the current US sanctions on Russia came into effect.
This was basically implying that New Delhi will not give up on its defence cooperation legacy with Moscow in the face of another country's actions.
The S-400 missile deal has been an issue of much speculation after the Trump administration's Countering America's Adversaries Through Sanctions Act (CAATSA) law came into effect in January. CAATSA targets countries doing business with Russian, Iranian and North Korean defence companies.
A group of US senators imposed the sanctions on Russia over what they called Moscow's continued involvement in the wars in Ukraine and Syria and its alleged interference in the 2016 US presidential election.
Following the signing of the S-400 deal, the US Embassy spokesperson here said that the intent of her country's implementation of CAATSA was "to impose costs on Russia for its malign behaviour, including by stopping flow of money to Russia's defence sector".
Spokesperson Jinnie Lee said that CAATSA was "not intended to impose damage to the military capabilities of our allies or partners".
Her comments came after a senior US State Department official said last month that there will be no blanket waiver for defence trade with Russia.
"On the S-400, there is no blanket waiver or country-specific waiver," Principal Deputy Secretary of State for South and Central Asia Affairs Alice Wells had said while briefing the media about the first ever 2+2 India-US Ministerial Dialogue.
External Affairs Minister Sushma Swaraj, Defence Minister Nirmala Sitharaman, US Secretary of State Mike Pompeo and Defence Secretary Jim Mattis held the 2+2 Dialogue here on September 6.
Wells also referred to Pompeo's remarks to the media here after the 2+2 Dialogue in which he said that no decision has been taken on the S-400 deal.
"We continue to have conversations with the Indian leadership on ways we are working to hold Russia accountable for its behaviour," she stated. "As Secretary Pompeo said, the sanctions are not intended to adversely impact countries like India. These are designed to impact Russia."
The most significant outcome of the 2+2 Dialogue was the signing of the Communications Compatibility and Security Agreement (COMCASA) by the two sides. COMCASA guarantees India access to critical US defence technologies and communication networks to help the militaries of the two countries in their interoperability.
Though India and the US maintain a robust Global Strategic Partnership with the two countries being major defence partners, by signing the S-400 missile deal, New Delhi has now sent a clear signal to the world that its bilateral relationship with one country is independent of that with a third country.
This was also evident when Modi went to Wuhan in China in April at the invitation of Chinese President Xi Jinping for an informal summit after Indian and Chinese troops were in a face-to-face situation at Doklam on the India-Bhutan-China trijunction for 73 days last year.
India and China are now also in talks to update a 12-year-old defence agreement and establish a hotline between their defence ministries.
Putin, too, after being re-elected President for the fourth time, hosted Modi for a similar informal summit in the Russian resort city of Sochi in May. Following that meeting, Modi said that India-Russia bilateral ties have been taken to a new level.
New Delhi also made its foreign policy independence in West Asia clear when Modi made separate visits to Israel in July last year and to Palestine in February this year.
These were the first-ever Indian prime ministerial visits to the two countries.
Despite developing strong ties with Israel, India in December last year voted with the rest of the world in the UN General Assembly against US President Donald Trump's unilateral decision to recognise Jerusalem as the capital of Israel.
Now, what remains to be seen is how India handles the fresh US sanctions on Iran that are set to come into effect on November 4.
The US pulled out of the Joint Comprehensive Plan of Action (JCPOA) that Tehran had signed with the five permanent members (P5) of the UN Security Council, Germany and the European Union and imposed the new sanctions on the West Asian nation over its nuclear programme.
Under the sanctions, the US wants all countries in the world to stop importing oil from Iran.
This has sparked concerns in New Delhi as Iran is a major supplier of crude oil to India.
According to Wells, expert-level discussions are going on between India and the US on issues related to crude oil exports from Iran and ways to bring those exports down.
Stating that these conversations are ongoing, she said that the US is "working very hard with our partners so that there are no disruptions in the market and adequate supply is available to substitute for Iranian oil".
But can India afford to forego crude supplies from Iran in the face of the spiralling oil prices? This is the next big foreign policy challenge for New Delhi.