Is talk of Roadmap just rigmarole?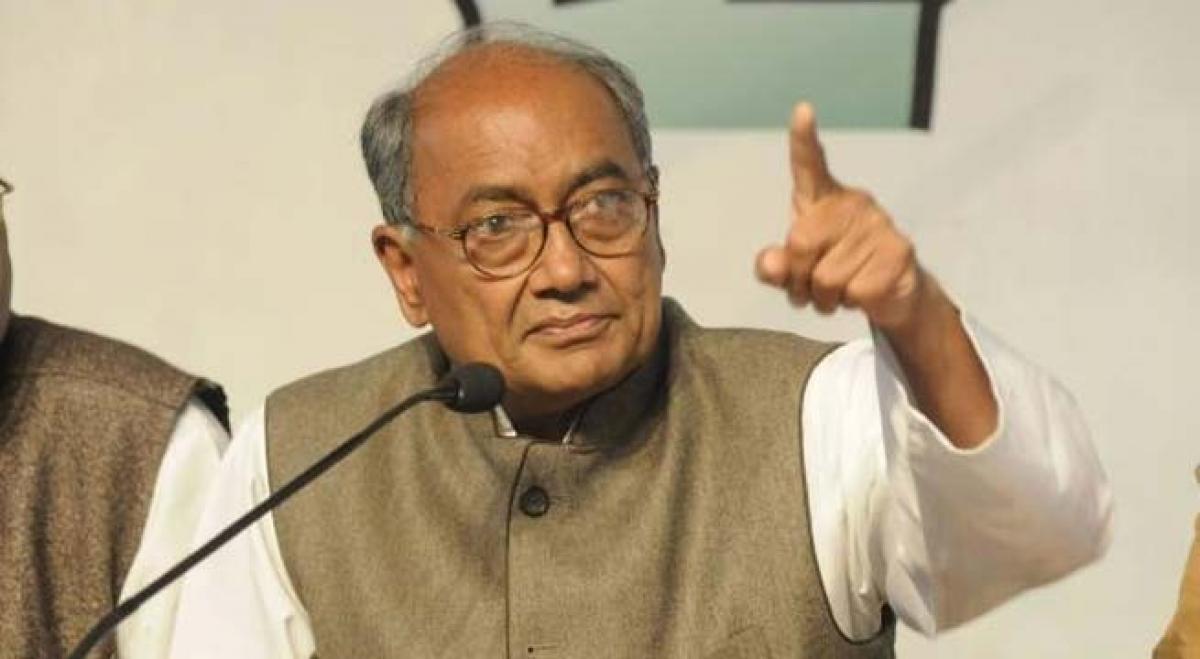 Highlights
Ever since Digvijay's visit and his diktat to Congress leaders in both the regions of the State to suggest a road map, there has been a flurry of...
Ever since Digvijay's visit and his diktat to Congress leaders in both the regions of the State to suggest a road map, there has been a flurry of activity in Congress camps. Leaders have gone into a huddle and, according to grapevine, services of professional writers or professors or activists are being sought to draw these so-called maps to suit their respective perceptions and positions about the options.
The AP in-charge also said that there are two options, one to maintain the status quo and the other the much-awaited and elusive Telangana. This is interpreted by both camps as a significant step forward. The status quoist camp sees it as yet another opportunity to stall the process of Telangana while separatists see it as fait accompli on Telangana statehood. Therefore, both camps are doing their best to draw the map as best as they can.
However, to perceptive observers this diktat comes as a surprise. The Congress and the Union government had heard both sides on countless occasions and mountains of information are available at all conceivable places and in all conceivable forms in the party or government. Not to be outdone, the core committee discussed it when it suited it. It is not as if the consequences of both options are beyond the imagination of the high priests of the Congress party or Sonia Gandhi. Therefore, one wonders why this diktat. Skeptics think it is yet another ploy to gain time and to wear down the agitators and perhaps to dissipate their time and energy and divert their focus. It could also mean going through the motions only to justify an a priori decision.
Therefore, activists do not see any value in the exercise of preparing a road map. They are neither excited nor euphoric about it. For them it is a mere rigmarole. The issues that are seen as stumbling blocks to declaration of Telangana have been removed repeatedly only to be erected by the status quoists. But the Telangana Congress leadership cannot afford to ignore the diktat or lose an opportunity to prove its intentions. Therefore they are busy drawing this map.
They will do well to depict that Andhra Pradesh is a conditional and contractual state with Telangana as its partner. Since the experience of co-existence has not been a happy one, it is time to part ways and annul the contract. In the process of doing so, the oft-repeated apprehensions have to be addressed. The solutions available have to be reiterated.
Typically, the apprehensions have revolved around sharing river waters, status of Hyderabad, economic viability and safety of Andhra-Seema people living in Telangana, in general, and Hyderabad, in particular.
The Constitution provides for the setting up of Central Water Regulating Authority to address issues of river water sharing and adjudicate on riparian rights of stakeholders. Article 246, Schedule VII and Entry 56 may be invoked in the event of issue becoming intractable. Hyderabad will remain an integral part of Telangana. Taking any other route would be violation of history and geography. However, Hyderabad has been a crucible of culture of India and will remain so. Andhra-Seema people living in Hyderabad will form part of that rich cultural tapestry.
Designers of the route map will also do well to dwell on the economic angle as part of the exercise. An empirical study shows that de-merger will not deprive any region of its revenues and one will not gain at the cost of the other or become a burden to the nation. The contribution of major sources of revenue, such as sales tax on goods (VAT), excise, stamp duty, motor vehicle taxes and royalty on minerals, is almost equal in both the regions.
Also, re-emergence of Telangana will unleash economic forces in the region; they have remained dormant all these years owing to structural bias coupled with lack of political will and support. This, in turn, will generate employment opportunities to millions of skilled, unskilled and educated youth of the region and wean them away from activities disrupting developmental process. Likewise, in the Andhra-Seema region the need for creating infrastructure creates demand for jobs. It will trigger economic activity in industry, trade and service sectors as well. Thus the ripple effect is a win-win situation for both the regions.
A road map drawn without signs of political gain will be incomplete. Telangana Congress leadership states that de-merger will be an insurance against political debacle in the ensuing elections, be they local or national. It may, however, be a challenge to the Andhra-Seema Congress leadership to sound so upbeat given the inroads of other political forces and erosion of confidence of people of their ability to meet their aspirations.
It will be equally a challenge to deny breach of the pact entered into at the time of merger and all the subsequent violations that have taken place. Perhaps the Andhra-Seema road map will promise an El Dorado to Telangana in the days to come!
Ideally the road map should depict the fact that the demand of Telangana is for de-merger and not an issue of creating a new State. Therefore, it cannot be equated with similar demands existing or imagined to arise in the near or distant future. This demand has arisen as a result of brazen breach of contract in political, economic, social and cultural spheres to an extent that Telangana society as a whole has come to feel that its identity as a cultural entity is threatened. A map minus these signposts is a road to nowhere and will prove itself rigmarole.
T Vivek
(The writer is associated with Telangana History Society)
Subscribed Failed...
Subscribed Successfully...