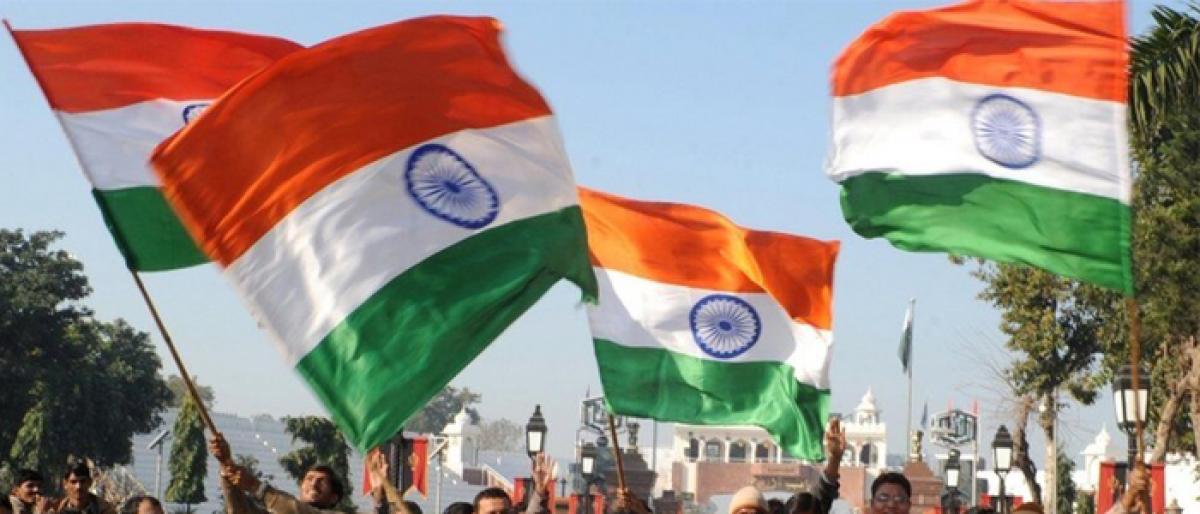 Highlights
Prime Minister Modi, in his recent address at Vigyan Bhavan said New India is where the power of hope prevails over mindless hate, where 125 crore...
Prime Minister Modi, in his recent address at Vigyan Bhavan said 'New India is where the power of hope prevails over mindless hate, where 125 crore Indians write their own destiny.' This aspiration of the Prime Minister to create a New India has been at the highest decibel for sometime- oft mentioned in his speeches it has become more or less the back ground score for many a patriot's vision.
Much has been written about New India - plans for great infrastructure, health, sanitation, women leadership, technology-led growth, entrepreneurship and innovation but not much about that critical element that holds these diverse pieces together. The linchpin to this design, the essence of this redolent flavour called the New India has of course not been discussed so far.
I believe the 'Keystone' to this grand architectural marvel called New India is the NEW INDIAN. Who is this New Indian? What is his DNA? Is he any different from a patriotic Indian? A patriot as we know, is someone who works for the progress of his country and countrymen with great selfless love. He gives his everything to maintain the dignity and glory of his motherland. He is ever ready to lay down his life in the service of his country. But the New Indian is a patriot with a difference. He is armed with contemporary skills. He is a nationalist with a rare panache. He is the New age Patriot.
Calm becomes him
In his sacred motherland, when women are violated, when the poor are victimised, when communal fires are ignited by a selfish few and when fake news spawns like poison itself, he won't throw a fit. He will not react in a trice. He will calmly reach for his weapons – His ammunition is his knowledge and his arsenal is his emotions. He knows which weapon to use when.
A master at 'Tao of Leadership' he knows that wars have to be won rationally and fairly.
Drama and sensation will not distract him as he has a deep sense of how things happen. Reason for him is not seasonal. A dreamer rationalist, a contemporary traditionalist, he is a 'true hybrid' of sorts. Balance is his biggest forte. His measured and calibrated responses can put any precision instrument to shame.
He is a futurist
He is like the Janus - with two heads looking in opposite directions, he has a perfect view of the past and the future. While one draws strength from the great legacy and the ancient glory of the country, the other envisions where exactly this great nation should be in future.
He is a strategist
He can gauge the pulse of people on the move. He is a walking sensor. Fake news doesn't bother him as much as fake Indians do. To purge the system and to cleanse the innards of the society, he can turn into Nara Narayana - the twin-brother avatar of the Lord Vishnu. Lord Vishnu is praised as both 'Bhaya-Karakaya' and 'Bhaya-Nasanaya' - someone who instills fear yet removes fear. How is that possible? Which form the lord assumes depends entirely on who you are. If you violate dharma, then he instills fear in you. If you live by dharma, then he removes all your fears.
The New Indian too will terrorise those who violate his country but like the Narayana on earth, he will protect those who preserve her sanctity. He knows that he needs an army of Indians to fulfill his vision. A data scientist that he is, he aggregates data on who could potentially join him in this endeavor. He knows that he can seed the idea of a New India, incubate it and grow it exponentially. Making patriotism progress geometrically is quite simple for him - he is the aggregator, incubator and accelerator all rolled into one.
His speech - A slice
"What our country needs now is an army of nationalists. A Platinum Frame for the nation. An aspirant to this coveted cadre my friends, will behave like the new age soldier – he will not dream of martyrdom.
He will not give up his life easily - instead he will breathe life into his nation with every breath he takes ! Recruited only if his heart, his head and his hands are aligned, the aspirant at will should become the hope doctor for the hopeless, may be even a skilled surgeon to make the cut without bleeding the nation. Plugged into patriotism and wired to work for the motherland this 'platinum frame', dear aspirants will not be another steel frame of India. It will not rust. It will not protect its turf. It will not lobby for its own interests".
His action - A glimpse
Its not just men that will man his army. He will urge women to join in large numbers. Its not because he believes in inclusion – it's because he knows that a woman can wield a sword while she breast-feeds her child. He is in awe of her capability to 'womb the wounded' even as she delivers a blow to the enemy. He salutes her poise when she drapes her nation as an ensemble of pride.
Finally he takes the giant leap - creates this mammoth registry of New Indians – the Indian Nationalist Registry (INR) ! He will coax and cajole every patriot to register and to others he will sell it as their 'Individual National Responsibility'. He will mobilize his head and heart, logic and emotion to enlist support. He will work tirelessly to make INR gain currency - In India and around the world!
The new Indian, despite his genius has one limitation. Like Hanuman, he is quite clueless about his own power. Not realizing that his effort has transformed a single cell into an entire body of work on New India, he carries on relentlessly only to merge into the magic of his own making - blissfully unaware of where he begins and where the country ends ..THE QUINTESSENTIAL NEW INDIAN..
Subscribed Failed...
Subscribed Successfully...