Will quota help NDA return to power?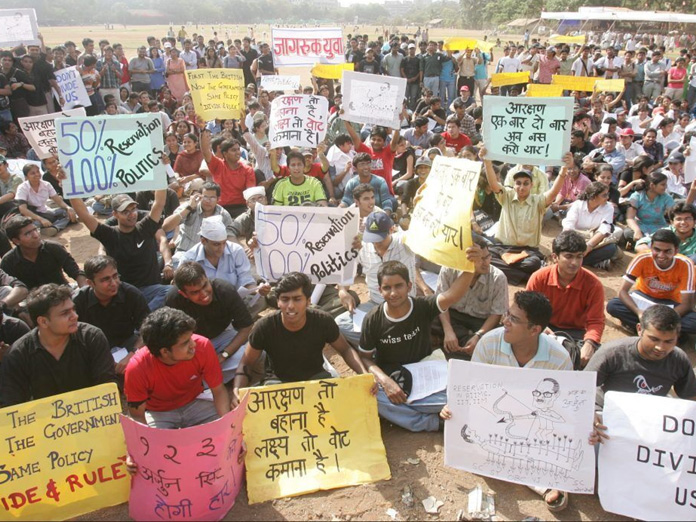 Highlights
Centre for Sustainable Employment of the Azim Premji University has released a report in the last quarter of 2018 State of Working India 2018 It...
Centre for Sustainable Employment of the Azim Premji University has released a report in the last quarter of 2018 'State of Working India 2018". It revealed that caste-based segregation continued and those employed under reservation benefits from SC, ST and PBC quota were only concentrated in 'lower' and less paying industries, occupations or jobs, while upper caste workers secured upper end of the job market.
A similar report disclosed that caste-based discrimination was one of the reasons for under-representation of Dalits and Muslims in the corporate sector. Caste-based reservations were neither reasonable nor judicially approved. Unless the backwardness was recognisable in social and educational aspects of life, reservation benefits cannot be accorded.
If a caste wholly reflects such social and educational backwardness, then such a caste could be considered as 'class' of people requiring affirmative support from State. To that extent only the 'caste' was considered as basis, not 'criterion', for reservation. But in practice and politics, different caste people started seeking reservations for their caste. Caste became a criterion. The demand for reservations from different caste groups increased while the political parties started promising 'quota' for religious groups too. Muslims were promised and accorded 'quota', but the court did not approve the same without evidence to show their backwardness.
Those who oppose reservations pleaded that quota in educational institutions and employment opportunities should be given to the poor or economically backward, irrespective of caste. But there is no provision in the Constitution to provide reservations on that ground alone. Yet, some groups developed vested interest in quotas based on caste. Forward sections like Pattidars and Jats, the religious sections like Muslims and regional or linguistic groups like Marathas were also seeking 'reservations'.
For Other Backward Classes, (OBC)s Mandal Commission's survey and conclusions formed basis for the reservations in educational and employment opportunities, in addition to SCs and STs. The Supreme Court agreed with the backwardness of the castes identified by the Mandal Commission and validated reservations to those classes. However, the Supreme Court limited the reservations to the minor part of opportunities pool. Minority means less than 50 per cent. The Supreme Court said reservations cannot cross the half mark on that reason and logic.
The ten percent quota for 'economically' poor sections among 'other' classes for whom reservations were provided by latest 124th Amendment to the Constitution, devised, declared, introduced, passed by both the Houses and sealed by the President within a span of five days. The Opposition could neither oppose nor delay it, though it was criticised jumla or gimmick.
Will 'reservations' get all the votes of the fresh 'beneficiaries' to the political party, which invented it? This is the expectation of every ruling party. But nowhere in the history it was proved to have resulted in re-electing the leader. A researcher Mr Arun Pendyala listed very interesting historical events around reservations.
During the post-Emergency period, the then Prime Minister Morarji Desai leading first ever Maha Ghatbandhan of five parties- Janata Party opposed to each other until Emergency united them, was under the pressure to bring more reservations. That pressure was from socialist section and the Prime Minister on 01-01-1979 has constituted the Mandal Commission. But before the commission submitted the report, Ghatbandhan broke and Morarji Desai's government fell in January 1980.
Mandal Commission gave report within one year on 31st December 1980, but the then Prime Minister Indira Gandhi did not bother. The report was lying idle until Vishwanath Pratap Singh in 1990 wanted to use it for his own strength. Leading a weak coalition government, Singh saw a 'ray of hope' in this report decade after its submission. His Cabinet accepted the Mandal Commission report on 07-08-1990. Even as he was hoping to get consolidated in power, the nation went into turmoil with anti-Mandal protests.
That executive decision was challenged in the apex court. While court was examining it, L K Advani, the then BJP president, raised Ram Mandir issue and organised a Rath Yatra to march the people to Ayodhya. The Mandal issue was successfully diverted by the Mandir-Masjid controversy. Interestingly, L K Advani on 23 -10-1990 spoke at Samastipur city of Bihar criticising Mandal movement as a 'ploy to divide Hindu community'. The then Chief Minister of Bihar, Lalu Prasad Yadav, ordered the arrest of L K Advani the moment Rath Yatra entered Bihar.
Soon after Advani was arrested, V P Singh lost support of the BJP, which was supporting from outside and his government fell within 11 months. V P Singh was nowhere near power in ensuing elections. He could not get any benefit from 'reservations'. Indra Sawhney challenged the OBC reservations as unconstitutional, before the Supreme Court. The apex court on 16-11-1992, in landmark order Indira Sawhney Vs Union of India has upheld the 27% reservation to OBCs subject to exclusion of creamy layer.
This order has imposed 50 per cent ceiling and rejected the reservations on the sole ground of economical backwardness. A few months before this judgment, P V Narasimha Rao, who was leading a minority government with the support of 'left' and 'right' wing parties thought of 10 percent reservation to Economically Weaker Unreserved Classes in September 1991. Narasimha Rao wanted support from all forward classes with his ten per cent reservation move.
Meanwhile PV Narasimha Rao had to appoint a committee to identify creamy layer as directed by the Supreme Court in Indra Sawhney case. Mandal based reservations for OBCs came into force in September 1993. Though he gave reservations to OBCs, his party Congress lost in 1996 elections.
Now the BJP-led NDA coalition is not a weak coalition. The leading party, the BJP, has enough majority on its own. Its strength was also proved the way it could introduce the Bill for amendment of the Constitution to provide 10 per cent reservations solely based on economic backwardness, which was not provided earlier in the Constitution, and get it passed without any hassles. The objection of the Supreme Court in Indra Sawhney case to EWS was that there was no Constitutional basis for that. Will it result political gain for the coalition?
Subscribed Failed...
Subscribed Successfully...