The giant footprints of Jaipur foot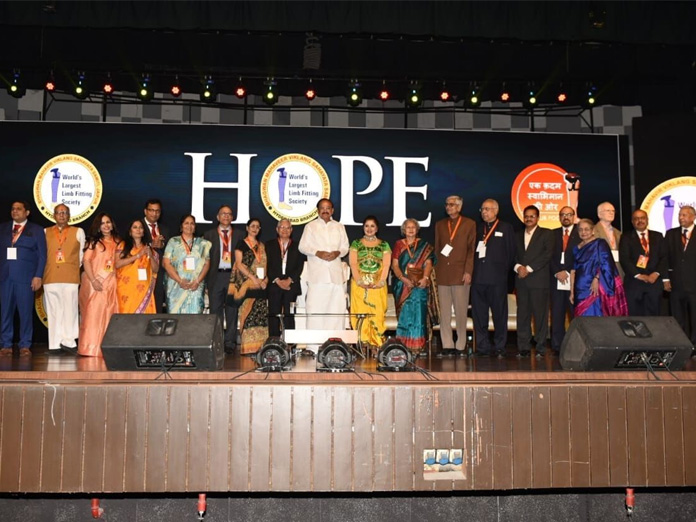 Highlights
On Sunday last, I was at Shilpakala Vedika at Hyderabad on an invitation by a senior colleague of mine Mr Parakh The occasion was the celebration of the 15th year of starting of the Hyderabad Centre of the Shree Bhagavan Mahaveer Vikalang Sahayata Samiti
On Sunday last, I was at Shilpakala Vedika at Hyderabad on an invitation by a senior colleague of mine Mr Parakh. The occasion was the celebration of the 15th year of starting of the Hyderabad Centre of the Shree Bhagavan Mahaveer Vikalang Sahayata Samiti. They could not have thought of celebrating it in a better manner than to have cultural programme of dance by the differently abled persons (most of them beneficiaries of the organisation) led by Sudha Chandran shining example of indomitable human spirit getting the better of an adverse situation. The vice- president of India was there as the chief guest and a right choice to speak on that day he himself involved in taking up a number of socially relevant programmes as part of Swarna Bharathi Trust.
It was a different but a moving and absorbing performance very well-choreographed and presented. A girl student who lost her one arm and one leg and is being helped by the Hyderabad Centre not only with artificial limb support system but also with her education gave a pleasing performance. Another person without hands did on the spot beautiful paintings. Sudha Chandran led the team of artists, most of them differently abled presenting a variety of themes of Goddess Kali to a presentation of the Karma Yoga of the Bhagavad-Gita and the victory of Human spirit over adversity of how people devastated by the terrorist attack regain their confidence and with the help of artificial limbs start leading normal life.
Bhagwan Mahaveer Samiti started its operations in the year 1975 on the occasion of the 2500th Nirvan Divas of Bhagavan Mahaveer known for his compassion and loving kindness to all living beings. D.R. Mehta, former chairman of SEBI was instrumental in setting up this non-profit organisation for providing artificial limbs to physically challenged persons free of cost in all deserving cases in a secular manner.
In the last 43 years of its existence this organisation was able to make a difference to the lives of 13 lakh people by providing artificial limbs across the country with about 23 branches and assist people in leading qualitatively better life with the help given by the organisation. The organisation uses the Jaipur foot developed by SMS medical College Hospital Jaipur in 1968 which is an example of appropriate and cost-effective technology and provides better mobility compared to other Western prosthetic foot such as Sach Foot. Cost of Jaipur Foot is $50 whereas the cost for a comparable limb in the USA would be around $12,000.
The work of the organisation goes beyond the national boundaries and have done work in Africa, Latin America, Afghanistan, Pakistan and other places. It has associate centres in Philippines as well as in Pakistan. Time magazine reported that people living in war-torn Africa and Afghanistan may not know Paris or New York but they are likely to know a town Jaipur in northern India from where the Jaipur Foot comes. Guardian reported that out of the aid that comes to Afghanistan it is the special consignment of thousand pieces of Jaipur foot which brings more happiness to Kabul than the consignment coming from the rest of the world and probably as a goodwill gesture earned India more appreciation than any amount of diplomacy.
Hyderabad Chapter of the Mahavir Samiti started in 2004 is one of the most active centres of the organisation and has by now reached out to 45,000 beneficiaries. It's a perfect example of NGO government partnership in terms of its location in King Koti Hospital free of cost and conducting of camps across both the states of Telangana and Andhra Pradesh with the help of local administration. In addition to this they also run dialysis centres in government hospitals with their active participation providing the facility at a comparatively negligible cost.
All this could not have been achieved without the dedication of the people who run the organisation like Mr Parakh as the chief patron and Lakshmi Niwas Sharma the President. There are any number of others who play an equally important role in running the organisation but a special mention need to be made of Mrs Usha Parakh and Inder Chand Jain. Mr Parakh is fully involved in a dedicated manner to the cause post- retirement with the same zeal and sincerity displayed when in service. The same would not have been possible without the total involvement and support from Mrs Parakh.
After thoroughly enjoying the evening cultural programme with a difference I came back with a feeling that this organisation is doing what Bhagwan Shankaracharya in Bhajagovindam talked about helping the needy and Jesus Christ of compassion and Prophet Mohammed of helping the poor. There is an organisation taking its inspiration from Bhagwan Mahavir doing what all other religious leaders also preached.