Ultimate bout ends in 48 seconds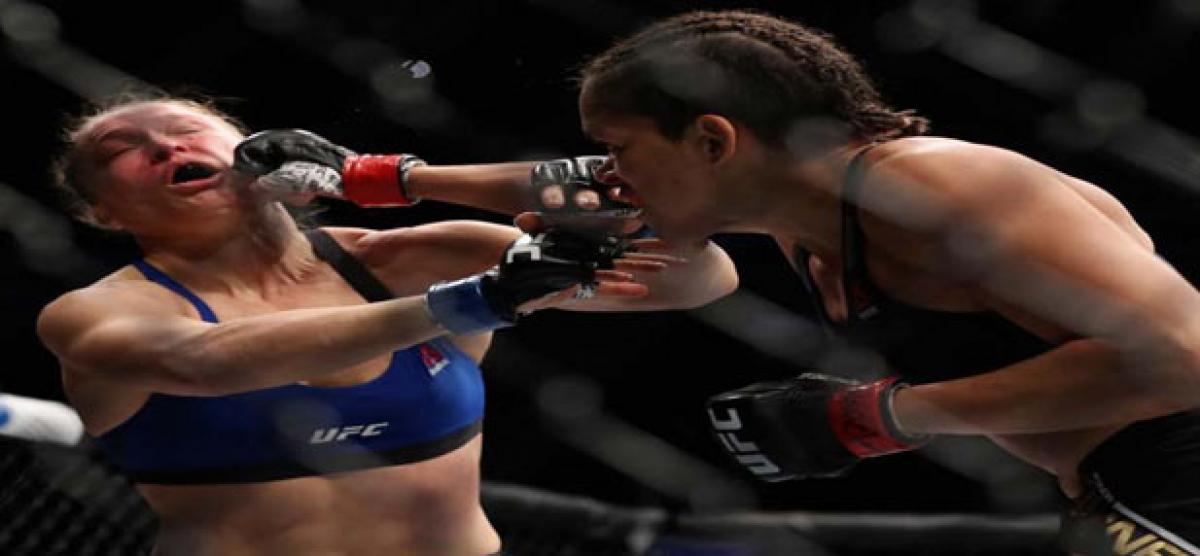 Highlights
The 28-year-old Nunes, of Brazil, barely broke a sweat against a helpless Rousey to easily retain her UFC women\'s bantamweight belt on Friday night in Las Vegas. Referee Herb Dean stopped the rout at 48 seconds of the opening round after Nunes landed an overhand right, followed by a straight left to Rousey\'s head. \"She had her time. She did a lot for this sport. Thank you, Ronda Rousey. I\'m the ch
Las Vegas: Amanda Nunes has rung in the new year celebrations with a bang. The 28-year-old Brazilian knocked out Ronda Rousey in just 48 seconds to win the Ultimate Fighting Championship (UFC) bantamweight crown in Las Vegas.
The 28-year-old Nunes, of Brazil, barely broke a sweat against a helpless Rousey to easily retain her UFC women's bantamweight belt on Friday night in Las Vegas. Referee Herb Dean stopped the rout at 48 seconds of the opening round after Nunes landed an overhand right, followed by a straight left to Rousey's head. "She had her time. She did a lot for this sport. Thank you, Ronda Rousey. I'm the champion, the Lion," Nunes said.
Rousey entered the octagon first with her trademark scowl, but the angry demeanour quickly turned to desperation as the former champion looked out of her class from the moment Nunes backed her up with the first overhand right.The 29-year-old from Los Angeles had not fought in over a year since she was pummelled in similar fashion by Holly Holm.Rousey went into seclusion and kept a low profile in the build-up to the Nunes fight.
Subscribed Failed...
Subscribed Successfully...