World Boxing Championships: Mary Kom and three others ready for semis with confidence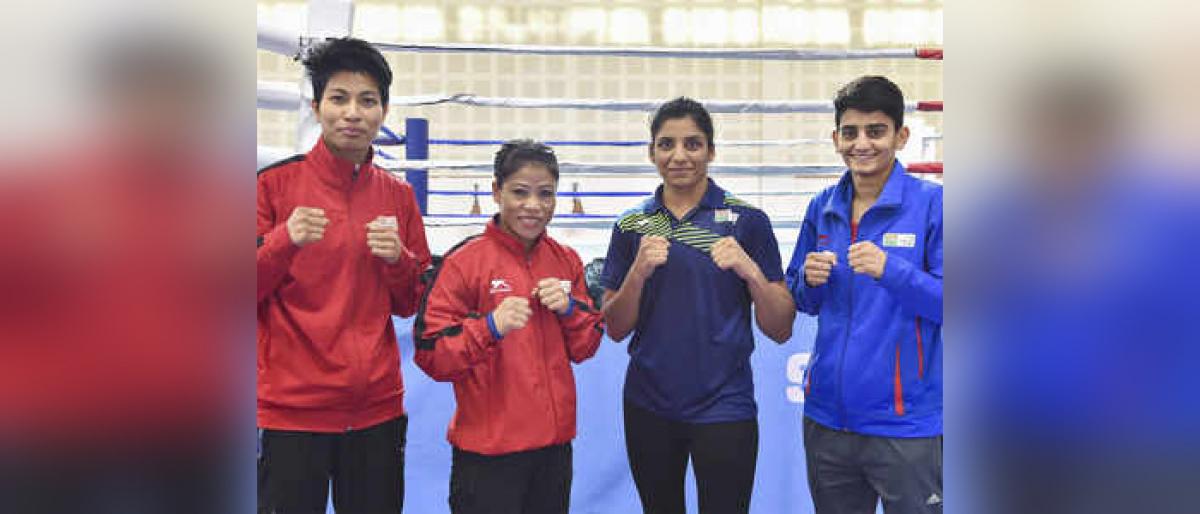 Highlights
The fantastic four have already won bronze medals for India at the Womens World Boxing Championships and now looking forward to changing the colour of the medal in the semifinals
New Delhi: The 'fantastic four' have already won bronze medals for India at the Women's World Boxing Championships and now looking forward to changing the colour of the medal in the semi-finals.
MC Mary Kom has already won six medals in this tournament and the other three are getting ready for the biggest test of their amateur careers. Simranjeet Kaur (64kg), Sonia (57kg) and Lovlina (69kg) - three of the youngest members of the 10-women Indian team - join Mary in the semi-finals, which get underway on Thursday evening at the KD Jadhav Hall of the Indira Gandhi Indoor Stadium.
To say the least, all four have been impressive. Magnificent Mary is gunning for a slice of history as she aims to win an unprecedented sixth World gold in front of her home crowd. Mary will face North Korea's Mi Kim Hyang. The 35-year-old had defeated Hyang in the final of the 2017 Asian Championships, en route to winning a gold medal. On Thursday evening Mary told about her upcoming semi-final that "I can't get over-excited or over-confident. She would have analysed my game after our bout, so I have to account for that as well. I have to be prepared that her game can change,"
The other three have already punched above their weights. Sonia, from Nimri village in Bhiwani, will be the first Indian in semi-final action on Thursday as she faces another daunting challenge posed by 2018 Asian Games silver Jo Son Hwa of North Korea. Sonia said, "It is a very tough bout. We will see what happens in the ring. I will follow the coach's advice as I have done so far in the tournament,"
On Friday in other semi-finals, Simranjeet will face 2017 Asian Championships silver medallist Dou Dan from China. In the last three rounds, the naturally-aggressive Simranjeet has posted impressive wins, carrying the gold medal tag on her from the tournament in Turkey.
Simranjeet said, "I am facing the Chinese boxer for the first time. I am naturally aggressive and that comes from the heart. Chinese boxers have speed and I will need to be quicker,"
BI Fernandes, Simranjeet's coach said, "There is no doubt that Simranjeet is an aggressive boxer but she backs that up by using her brains well. I don't want to take credit for her success, I am really happy that she is proving herself on the world stage,".
On Thursday evening Welterweight boxer Lovlina will be seen in action when she faces Chinese Taipei's Chen Chin-Nien, the 2016 World Championships 75kg bronze medallist. A confident Lovlina, from Golaghat district in Assam, told, "I have to plan for the Taipei boxer. I have competed once against her, I was a newcomer that time and my boxing wasn't that good but I am going to beat her this time,"