Mom's Special Gutti Vankaya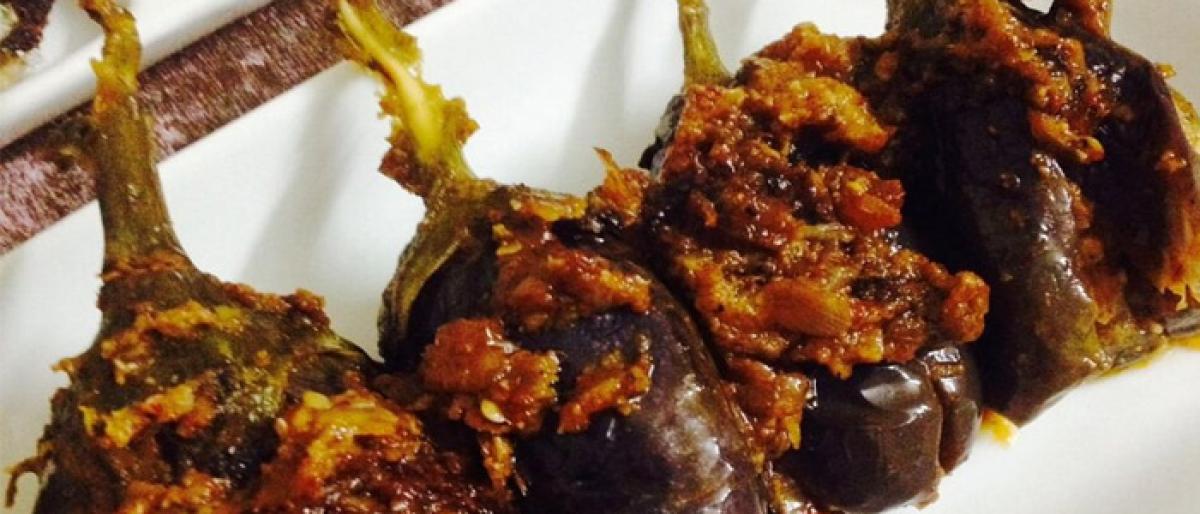 Highlights
Like most of the kids I also hated brinjal when I was young except for my mom's special gutti vankaya kura. It used to be a sunday special dish in a Brahmin household. My Knowledge of Telugu food was limited to my mom's culinary skills as I was born and brought up in Chennai. My mom's cooking skills were greatly influenced by many Telugu speaking people who had settled in a small suburb of Chennai
Like most of the kids I also hated brinjal when I was young except for my mom's special gutti vankaya kura. It used to be a sunday special dish in a Brahmin household. My Knowledge of Telugu food was limited to my mom's culinary skills as I was born and brought up in Chennai. My mom's cooking skills were greatly influenced by many Telugu speaking people who had settled in a small suburb of Chennai called "Avadi".
They had come there for their livelihood in Ordinance factory. She had greatly influenced me when I chose my profession as a chef. When I got an opportunity to work in Hyderabad, I was really excited. It was time to face Telugu cuisine on its home turf. I had tried many restaurants in Hyderabad and did come across many wonderful dishes in the same name, but it was not prepared in the same way as my mom prepared.
She used to stuff the young and tender brinjals with ullikaram made with raw onions and freshly grounded spice blend. Then they were shallow fried till they were soft like butter, ready to melt in your mouth. It goes really well with steamed rice and ghee. This recipe may be from Godavari region. Whatever it might be, till date I have never come across this type of preparation in my 12 years stay in Hyderabad and till date my mother is the only one, who can cook this dish perfectly.
By: Shyam Sunder Vadapalli
The writer is Director of Convention- Novotel Hyderabad Convention Centre & Hyderabad International Convention Centre