Going from strength to strength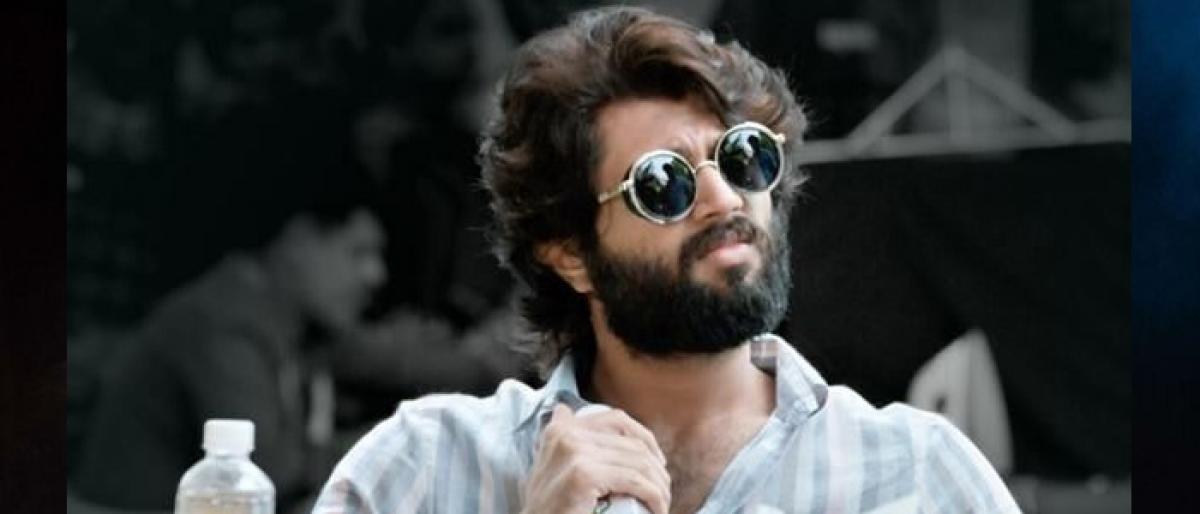 Highlights
Vijay Deverakonda is presently shooting for the final leg of Parasuram's yet-to-be-titled Geetha Arts film. Just prior to joining its sets, he went holidaying with his school buddies to the charmingly picturesque Thailand, whose locales are top draws with directors of every hue.
Vijay Deverakonda is presently shooting for the final leg of Parasuram's yet-to-be-titled Geetha Arts film. Just prior to joining its sets, he went holidaying with his school buddies to the charmingly picturesque Thailand, whose locales are top draws with directors of every hue.
In his own words, the vacay came as the perfect rejuvenation as he could connect with nature in all its pristine glory with the company of friends adding to the blissfulness. "I was completely cut-off from the world. I explored Krabi Islands and Phuket. In fact, I was so bowled over by the ambience that I didn't want to return," he chuckles.
Vijay's immediate release is Nag Ashwin-directed 'Mahanati' (May 9), where he is in a supporting role. He admits that the prospect of working with the team that made 'Yevade Subramanyam' (YS) lured him to associate with the project. The bonus was "you don't make biopics every other day and certainly not on a celebrated personality like Savitri."
He continues after a pause, "Teaming up with Swapna Cinemas again was akin to a homecoming of sorts for me. On the first day, Aswini Dutt garu, Priyanka and Swapna akka dropped by to see me. I've enjoyed shooting with Nag Ashwin for 'YS'. Three years down the line, I'm a different person, something the unit noticed pronto and applauded my career growth, considering that I was a kid on 'YS' sets. Once you give a couple of hits, there is a sea-change in people's outlook. They were like, 'Our boy has made it big of his own accord.' That counts."
Did it seem strange? "Respect is really an amazing feeling. Not just in cinema, you fight for it in every profession," he avers. His humbleness comes to the fore when he acknowledges that he did not know much about the tragedy queen before the film flagged-off. "Except for the impact she had on Telugu and Tamil cinema, I hardly knew anything about her.
As I started shooting for the film, I began to discover her and was amazed. She was a boss at whatever she did and at the same time quite vulnerable. What transpired between her and Gemini Ganesan…I wouldn't want to go through something like that in my life," he muses.
It must've been quite an experience shooting for a period film and that too on an actress? Vijay agrees. "More than anything, it was nice to do the costumes and shoot in places that transported us back to 1960s and 70s. As in those days, there was an honest respect and reverence, the dialogue and the language have been articulate."
The actor shot for the film for seven days, juggling between two other films. His portions were mostly with Samantha, who plays Madhuravani. "She was super fun to work with and we had a gala time shooting. We both are journalists (Vijay is a photographer, while Sam a reporter) who are trying to uncover Savitri's story."
'Mahanati' would be followed by the release of 'Taxiwaala' (May 18), in which he plays the protagonist. Wrapped up five months ago, the Rahul Sankrityan-directed venture is presently in post-production. "It's a thriller shot exquisitely. I am sure this will be the biggest summer stress-buster. I was looking to play a light-hearted role after 'Arjun Reddy' and luckily I got this one. When Rahul narrated the script, my first reaction was, 'How the hell did you conceive it, man?'
I heard the script two more times and each time I couldn't control my laughter and ditto was with the other cast and crew. Back then I knew if we could translate what's on paper to screen, we would have an absolute winner. Though it's an urban thriller, we are hopeful that people in towns would also have a blast," he says with a sense of optimism.
He plays a cabbie Shiva who takes five years to complete his degree. He arrives in Hyderabad to find a job, only to discover that with his qualification, he can, at the most, get a security guy job. "He later comes to realise that people are making good money driving cabs and that's how he sets off his journey as a cabbie.
He's a filmy guy who has grown up on Chiranjeevi and Rajinikanth's films. Once he starts his journey, a series of events take him on a path that makes the film," he shares, further revealing that there's a character called Hollywood (played by his friend Vishnu) who will bring the house down with his antics.
"Like Priyadarshi in '#Pellichoopulu' and Rahul Ramakrishna in 'Arjun Reddy', Vishnu will be remembered for this film. I got him cast because I felt he was tailor-made for the part."
The film was shot mostly during nights with double call sheets being the order of the day. There were days where the unit filmed from 6am to 2am straight. "Sometimes, it extended until 6am the next morning. It was tough but we had a ball shooting," he recalls, going on to add that at times the unusual timings did take a toll but his body is dealing with it. "Since age is on my side, I'm able to deal with it but I'm sure in the future it will take a toll. It messes up with your body clock and suddenly you are not able to get a normal sleep.
However, at the end of the day, it boils down to your passion; if Shiva was similar to Arjun Reddy, I would've got drained mentally by evening, but then since he was easy going, it was relatively easy."
Effusive in his praise for Rahul Sankrityan, he comments, "He pens complete off-beat stuff and has a thing for science and fantasy. He is going to be a busy boy once the film opens."
There would be more of the suave actor after 'Taxiwaala', as his film with Parasuram is being slotted for a June or July release, making it three releases for him this year. Having been associated with fairly young filmmakers and with a certain brand of cinema, this is the first time that he is teaming up with an experienced director, who is known for his family and romantic entertainers falling in commercial space. "His film is one for the industry," he smiles. "I found the script to be extremely funny. It's a typical family entertainer, so I decided if I ever do it, this is the right time. It was very new to me; in fact, such scripts never came to me."
He is super happy to be busy and has no complaints about not getting time for personal space. "From doing whatever little I got, to pick the content that I personally favour, it has been a remarkable journey; I couldn't have asked for more. It's the most comforting thing," he admits. But then he is not keen to rest on his laurels.
"After '#Pellichoopulu', many people remarked that a success of such magnitude will come once in a decade, so enjoy it. However, I comforted these prophets of doom that my next would be a bigger success than '#Pellichoopulu'. They laughed at it but 'Arjun Reddy' happened. Now they are pointing out that I can't beat 'Arjun Reddy', but I promise to deliver more memorable cinema."
Stardom is a double-edged sword given the rough and tumble of the journey. Ask him about how is he dealing with it and he asserts, "I'm simply managing it. I don't sit and ponder over it because I'm mostly shooting. If not, I'm either at the gym or spending time with family and friends. As long as I'm getting to do what I want, I don't care about the rest. But it's definitely a strange feeling; something is abnormal with it."
Indeed, it goes to show that Vijay Deverakonda is pragmatic to the core.
Subscribed Failed...
Subscribed Successfully...