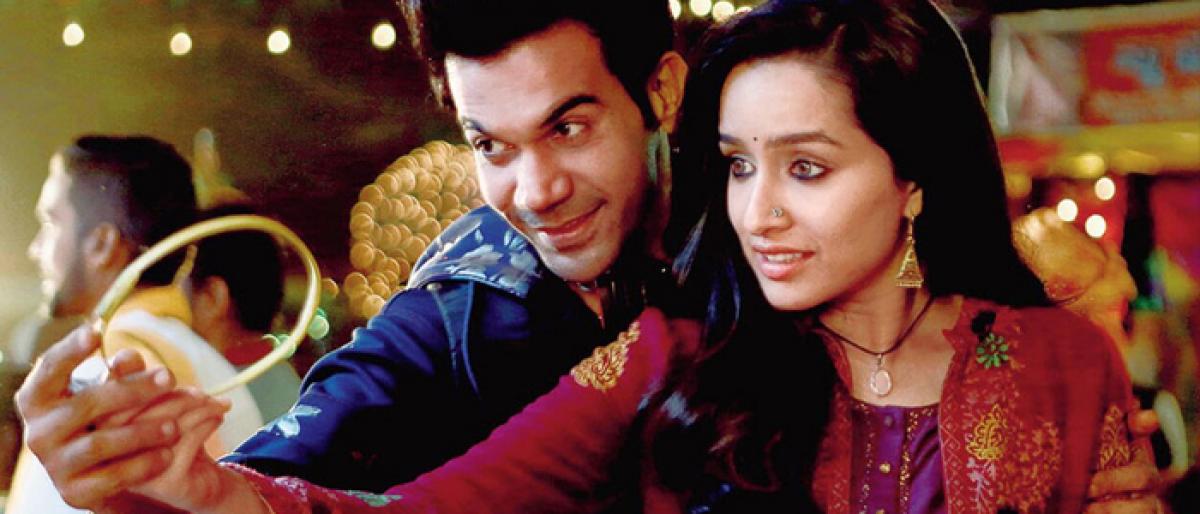 Highlights
There was a time not so long ago By the way, that time is not yet gone totally when Bollywood makers would focus on making cinema in a campbased manner Certain directors and production houses would have certain favourite actors The story would come in later A lot many character actors would also be the regular team
There was a time not so long ago. By the way, that time is not yet gone totally when Bollywood makers would focus on making cinema in a camp-based manner. Certain directors and production houses would have certain favourite actors. The story would come in later. A lot many character actors would also be the regular team.
The multiplex audiences, as we call them, are slowly forcing a change in that system. Today, you do not have just camp-based cinematic efforts. There have many such instances of box office smashers but 'Stree' is one of the biggest examples of this concept-based cinema that is now taking firm roots. This is the second concept-based movie in the last few years to cross 100-crore club with a not so well-known box office pulling stars in it.
The last time that breach happened was with 'Hindi Medium', which had Irrfan in it. 'Veerey Di Wedding' (VDW) could have taken that mantle but unfortunately, it had one heavy duty star in it called Kareena Kapoor, so while it still does have a healthy claim to a concept-based movie working we cannot but deny that Kareena's presence would have brought in some crowds. You might also note that VDW did not touch 100-crore mark.
'Stree' has a very weak star cast. Shraddha Kapoor is its biggest star and she has been out of box office favour for some time now. Add the fact that the plot moves reasonably on her presence. Yet, 'Stree' has worked with names like Rajkummar Rao and Pankaj Tripathi. Frankly, I had to do a google search to find names of certain other actors in the movie after I saw the movie. The success of 'Stree' is notable when other hyped movies from bigger production house have fallen like nine pins around it.
Alongside 'Stree' was a bigger name 'Yamla Pagla Deewana', which had two of our biggest heavy-duty stars till date – Dharmendra and Sunny Deol. The movie crashed because it had zero regards for a story or concept. Those who saw 'Yamla Pagla Deewana' loved 'Stree' more and those who saw 'Yamla Pagla Deewana' after 'Stree' probably went back to watch 'Stree' again.
'Stree's numbers are remarkable because horror as a genre has not been a money minting genre in India and you would only blame directors, who keep repeating the same storylines across same movies, which are even called the same as 'Raaz', one, two three and reloaded. 'Stree' did not have a remarkably great horror story either but it was conceptualised in a small-town environment and balanced with a love story. Aamir and Akshay are driving their career simply on concept-based cinema. Rajkumar Hirani has driven big money at the box office just on this. In short, these stars and director have caught on the audience pulse, which is concept-based now.
Talking of the biggie '2.0', which is around the corner and you will find a director's hard enough effort to push a concept to us. The fact that trailers of movies like 'Patakha' and 'Love Sonia' created a buzz and views on the internet is because audiences are fed up with the release on 5,000 screens two-line plot movies. You have stars, who are now trying to latch on to this new trend and redefine themselves, therefore, you see a Vidya Balan in a 'Tumhari Sulu' and a Deepika Padukone in 'Piku'. Audiences have loved these movies because yet again these were beautiful concepts delivered with conviction.
Concept-based cinema has also debunked the myth of audiences are not interested in the cinema watching beyond weekends. 'Stree' has worked its numbers steadily on weekdays too. Compare this with how some heavy-duty superstar garbage content, which was pushed to us in 3D versions too have crashed at the box office in recent times.
The last but not the least for sure contribution of this concept-based cinema is that it is pulling the rug from the feet of our arrogant stars, who release solo movies across screens on major weekends and leave us with no choice but to go through the below average content that they dish out. Concept cinema is pulling away from the audiences and cracking their monopoly. Well done.
- cinemawaalebaba. blogspot.com
Subscribed Failed...
Subscribed Successfully...